5 Things To Do When Your LinkedIn Messages Are Being Ignored
I had no idea how to get a job.
I could do experiments, write papers, and give presentations, but how to get hired was a mystery to me.
I was open to any suggestions.
A few people told me to network.
Honestly, I didn't really know what networking was, or how to do it.
But, I made a LinkedIn profile and sent out a few messages to people who worked at the companies I was interested in.
This was it — one of these people was surely going to read my message, and then offer me a job.
But, no one responded.
I felt slighted.
Why didn't these people respond to me?
It was discouraging, and made me start to rethink getting a job in industry.
Maybe I was only qualified to do a postdoc?
But, just thinking about staying in academia and staying at the bench made me depressed.
I wanted to do something else.
So, I readjusted my focus.
I did research and learned about the strategies that PhDs use to get hired.
I created a job search plan that involved reaching out to new people every day, and following up with them regularly.
It wasn't easy, and many of my messages went ignored.
But, it was this extensive plan that earned me my first industry position.
Why Following Up Is The Most Important Part Of Networking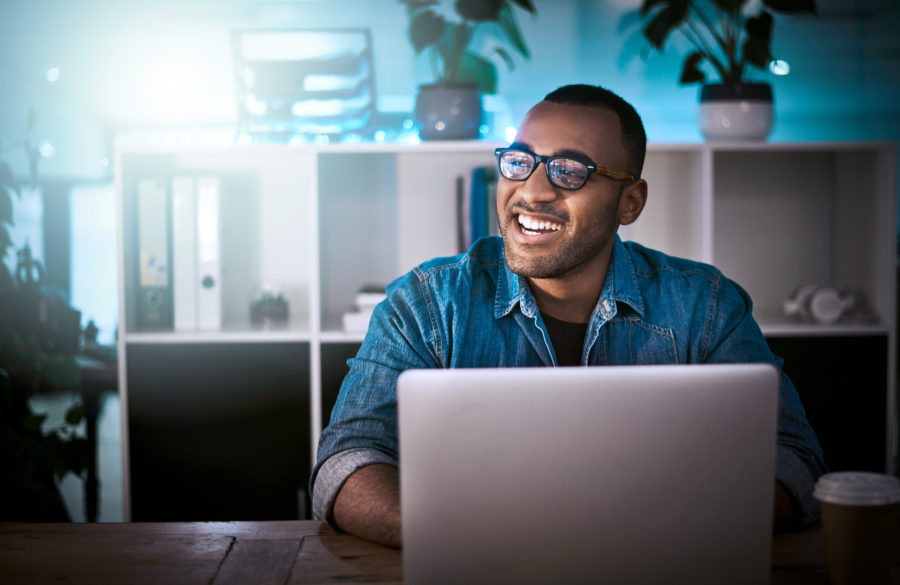 Networking, with the the goal of obtaining a referral, is the fastest way to get hired.
This is because industry employers value internal referrals.
According to the Society of Human Resource Management, employee referrals account for 72% of all interviews.
And, Undercover Recruiter reported that 1 out of every 5 candidates with a job referral gets hired.
Companies prefer to hire candidates with referrals.
Companies place a lot of value on referrals because ultimately, job candidates who come from referrals make better employees.
Referrals result in a higher employee retention rate — 46% versus 33% for candidates who were hired through a career site, as reported by Undercover Recruiter.
This indicates that with a referral, not only do your chances of getting hired increase, you are also more likely find a job that you are highly satisfied with.
It's a win-win.
Achievers also reported that hiring candidates with job referrals reduces the cost of hiring someone by more than $3,000 per hire.
That is a major incentive for companies to want to hire job candidates who have referrals.
And, the only way to get a referral is to network.
5 Strategies To Follow When Your LinkedIn Messages Are Being Ignored
Successful networking requires hard work.
Networking requires research, planning, and follow-up.
But even then, many of your networking messages will be ignored.
This is just a part of how online networking functions, but there are things you can do to improve your online networking success.
Here are 5 strategies to follow when your networking messages are being ignored…
1. Don't get discouraged.
Do not take someone ignoring your message personally.
This is especially true if you are reaching out to a cold contact (i.e. someone you don't already know).
Even if you have written a wonderful message full of value, they still might not respond.
And, that's okay.
If your message was short and added value to the new contact, then you didn't do anything wrong.
People are just busy.
You are someone new who they don't know and don't really have a reason to respond to.
But, this doesn't mean you should give up.
It takes more than one message to build up a connection with someone new.
2. Follow up again, and again, and again.
Writing one message is not enough.
Writing two messages is not enough.
Writing three messages is not enough.
Do you see the pattern here?
The success of networking lies in your ability to follow up with new connections consistently, regardless of whether they respond to you or not.
You should have a plan to follow up with the industry professionals you want to build relationships with every week or every other week.
But, each of the messages you send needs to add value in some way.
This level of follow-up will make you stand out and eventually, the person will probably respond.
A good idea is to message the person at the same time every week, or every other week, as this can help you build trust with that person.
If they know that every second Tuesday, you send them a message with an interesting article or other valuable information, this makes you seem reliable and can build trust.
So, even if someone doesn't respond to your messages, you can be working toward building rapport with that connection.
3. Increase the number of people you reach out to.
How many people have you reached out to this week?
One or two?
You need to dramatically increase the number of people you are sending networking messages to.
You should reach out to at least two people per day.
By increasing the volume of connections you make, you increase the likelihood that you will make a connection that leads to a referral.
But, when increasing volume, do not decrease the quality of your networking.
Always add value.
Networking takes effort, but if you put in the work, you will get hired.
4. Focus on building a relationship — not just asking for something.
Asking for something too soon is a major reason that messages are ignored and professional connections fall apart.
You must build up a relationship with someone before you ask for something.
Think about it — if you ask a stranger to give you $5, they will probably say "no".
But, if you ask a friend to give you $5, they will probably give it to you because you have a relationship with them.
You may even have let them have $5 in the past.
This is they type of relationship you need to build up with your network.
You need to figure out a way to add enough value to your connections so that when you ask for a referral, they are willing to give it.
It's an exchange of value.
Find people who work at your target companies, and instead of just trying to get a referral from them, try to build a relationship with them.
Send them messages regularly, ask them about their work, ask them about their hobbies, and send them interesting new articles.
Don't just try to use people to get what you want — it won't work.
5. Be specific when you ask for something.
Eventually, you will reach a place where you want to ask a connection for a referral.
But, you need to make what you ask them for very specific.
Don't just say, "Hi, can you give me a referral for XYZ position?"
You need to be more specific.
What is it exactly that you want them to do?
Do you want them to look over your resume?
Do you want them to introduce you to the hiring manager via email, or via phone?
Do you want them to give your resume to the hiring manager?
Being very specific with your ask makes it seem easier to do, and will increase your chances that it will actually get done.
Be as specific as possible.
And, if you are not sure if your connection has referred you like they said they would, follow up.
But, don't follow up by asking if they have done what you asked. Instead, follow up by adding value.
This will remind them about what you wanted and, at the same time, remind them that you are a valuable connection.
Networking on LinkedIn is an integral part of your job search. Solid networking that leads to a referral will increase your chances of getting hired. As a PhD, you have the skills to be successful in industry. But, to transition out of academia, you need to expand your network and connect with industry professionals. Trying to make new connections online means that some of your messages will be ignored. To overcome this situation, don't get discouraged, follow up again and again, increase the number of people you reach out to, focus on building relationships, and be very specific when you ask for something.
If you're ready to start your transition into industry, you can apply to book a free Transition Call with our founder Isaiah Hankel, PhD or one of our Transition Specialists. Apply to book a Transition Call here.
Get Free Job Search Content Weekly
ABOUT JEANETTE MCCONNELL, PHD
Jeanette is a chemistry PhD turned science communication enthusiast. During her PhD she realized that her favorite part about research wasn't actually doing research, but rather talking and writing about it. So, she has channeled her passion for discovery into teaching and writing about science. When she isn't talking someone's ear off about her latest scientific obsession, you'll find her on the soccer field or reading a good sci-fi novel.
More Written by Jeanette McConnell, PhD