Best Of Transition: Ph.D. Jobs & Job Search Strategies July 9, 2022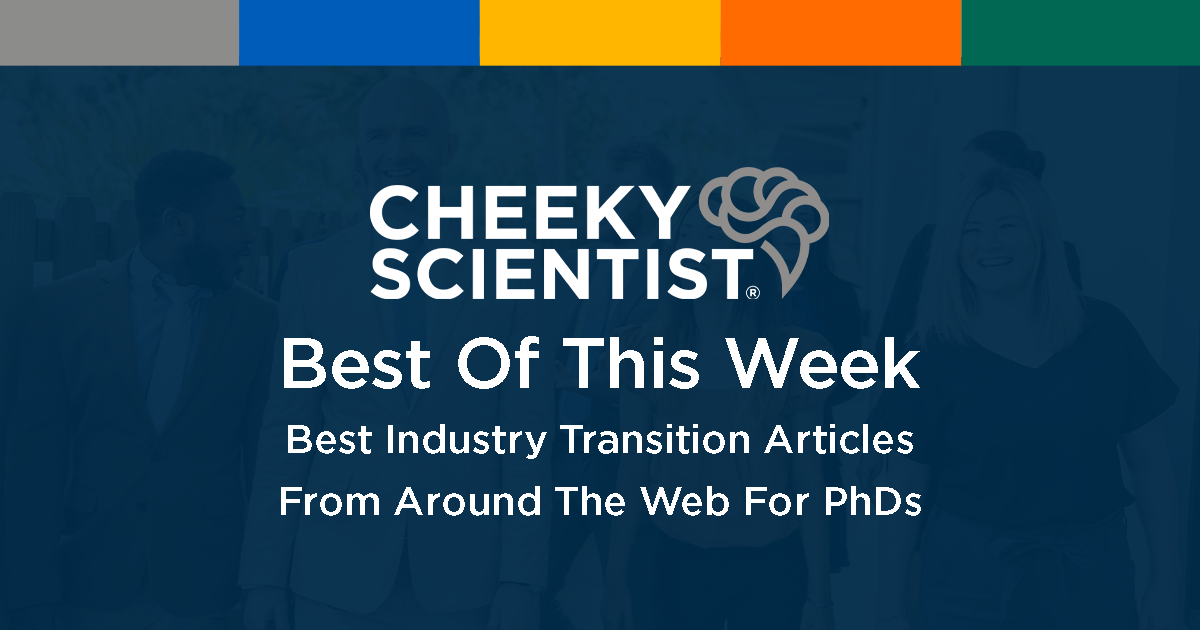 Every week, we at Cheeky Scientist scour the Internet for the best articles on topics that help in the search for the Best of Transition: PhD Job Search in the industry.
Our two consultants independently search for the most informative articles in the categories of networking, CVs/resumes, interviews, transferable skills, academic blues, industry positions, and business acumen.
Our consultants vote on a top article for each category and a top overall article for the week – if it's a recent article that can help readers find and acquire PhD jobs, then we want to include it in this weekly digest.
So without further delay, here are Best of Transition: PhD Job Search articles for the week of July 9, 2022 for PhDs.
This Week's Best Articles On PhD Jobs And Job-Search Strategies
For Saturday, July 9th, 2022
Top Overall: Resume or CV (Curriculum Vitae)? Here's the difference – Ladders
Networking
Top: The Many Phases of Networking – Anne Meyer-Miner
The Power Of Networking – Lauren Foley
Nine tips to help freelancers enhance their LinkedIn profile – Lara Smit
Your personal brand is as important as your resume. Develop it wisely – Stan Silverman
Cvs/Resumes
Top: Resume or CV (Curriculum Vitae)? Here's the difference – Ladders
Is embellishing expected on a resume? – Dear Sam
The 3 Biggest Lies Employers Find on Resumes And How Liars Get Caught – Blake Stilwell
Should You Use Canva for Your Resume? Here's What You Need to Know – Leto Papadopoulos
Interviews
Top: Five Insider Tips To Acing The Interview – Jack Kelly
If the hiring manager says these 5 things, it means you likely didn't get the job – Ryan Luke
3 smart questions to ask a hiring manager – Kirstie McDermott
5 Reasons You Might Not Be Getting 'That' Interview – Rosaleen McMeel
Transferable Skills
Top: Top Five Soft Skills That Every Employee Needs In The 21st Century – Tatiana Melnichuk
The secret to hiring is skills based – JENNIFER SHAPPLEY
Future of work: what will be the most in-demand job skills in 2032? – Felicity Glover
The Future of Skills and Learning in a Rapidly Transforming Investment Industry – CFA Institute
Academic Blues
Top: Bullying in science: largest-ever national survey reveals bleak reality – Holly Else
Revealed: the pay bump for being a straight, white man in US science – Clare Watson
Is this the beginning of the end of early career precarity? – Ben Upton
ASUU Enriching University Authorities At Expense Of Members – Anonymous
Industry Positions
Top: Job Hunting? These 29 Companies Are Hiring in July – Rebeca Piccardo
Why Now is the Best Time to Make the Switch to Pharma and Biotech – Kaley Lefevre
Data management specialist: Role and skill set for success – Peter Wayner
U.S. Job Growth Remains Solid in June: Live Updates – NY Times
Business Acumen
Top: Entrepreneurship: Kill The Myth, Follow The Science – Aki Soudunsaari
5 ways employees can help shape company culture – ANNETTE REAVIS
Tilray Brands, Inc. Reports Third Quarter Fiscal Year 2022 Financial Results – Tilray Brands, Inc.
Movers & Shakers: Adagio, Harpoon, Aravive, Nitrase and More – Alex Keown
Get Free Job Search Content Weekly
ABOUT ISAIAH HANKEL, PHD
CEO, CHEEKY SCIENTIST & SUCCESS MENTOR TO PHDS
Dr. Isaiah Hankel is the Founder and CEO of Cheeky Scientist. His articles, podcasts and trainings are consumed annually by millions of PhDs and other professionals in hundreds of different countries. He has helped PhDs transition into top companies like Amazon, Google, Apple, Intel, Dow Chemical, BASF, Merck, Genentech, Home Depot, Nestle, Hilton, SpaceX, Tesla, Syngenta, the CDC, UN and Ford Foundation.
Dr. Hankel has published 3X bestselling books and his latest book, The Power of a PhD, debuted on the Barnes & Noble bestseller list. His methods for getting PhDs hired have been featured in the Harvard Business Review, Nature, Forbes, The Guardian, Fast Company, Entrepreneur Magazine and Success Magazine.
More Written by Isaiah Hankel, PhD