Best Of Transition: Ph.D. Jobs & Job Search Strategies July 2, 2022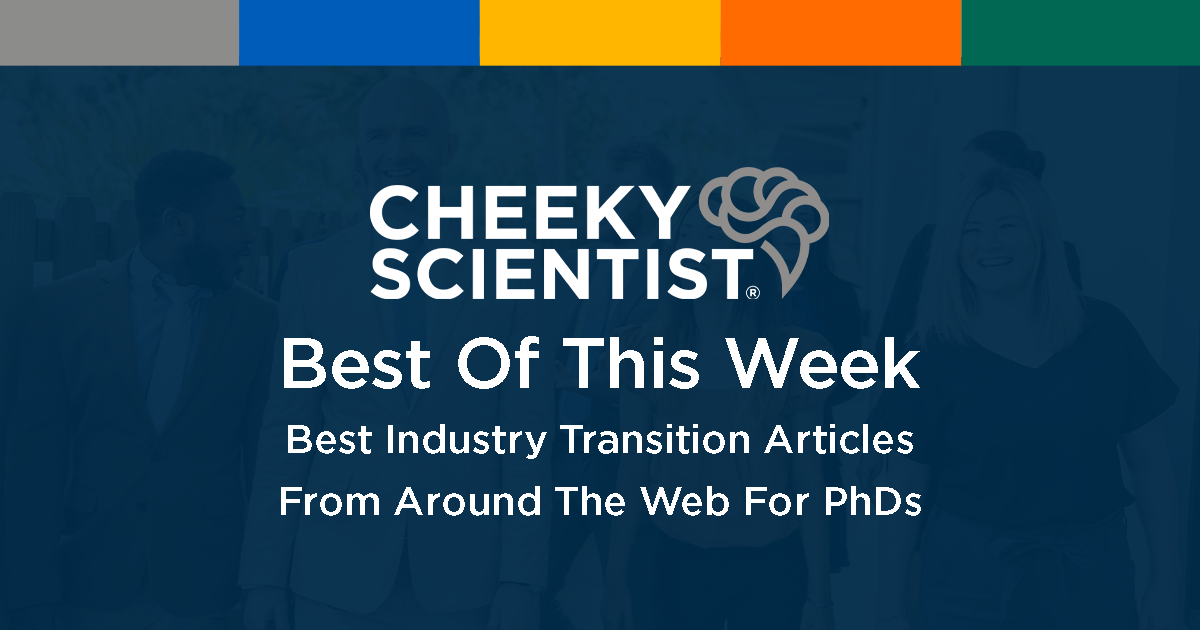 Every week, we at Cheeky Scientist scour the Internet for the best articles on topics that help in the search for the Best of Transition: PhD Job Search in the industry.
Our two consultants independently search for the most informative articles in the categories of networking, CVs/resumes, interviews, transferable skills, academic blues, industry positions, and business acumen.
Our consultants vote on a top article for each category and a top overall article for the week – if it's a recent article that can help readers find and acquire PhD jobs, then we want to include it in this weekly digest.
So without further delay, here are Best of Transition: PhD Job Search articles for the week of July 2, 2022 for PhDs.
This Week's Best Articles On PhD Jobs And Job-Search Strategies
For Saturday, July 2nd, 2022
Top Overall: 7 interview questions to help you understand company culture – Lindsay Tigar
Networking
Top: Networking on Slack Is a New Way to Find a Job, but It Takes Work – ELENA SCOTTI
Five Steps to Grow and Nurture Your LinkedIn Presence and Network – Stefanie M. Marrone
How to Effectively Use LinkedIn Even When You're Not Looking for a New Job – Laura Ross
10 best networking sites for tech professionals – Melissa Sartore
Cvs/Resumes
Top: 5 Metrics To Make Your CV Stand Out – Andrew Fennell
How to Write an Effective Cover Letter for a Research Scientist Job – Katharine Hansen
How to Make a Resume That Gets You the Job – Kayla Campbell
How To Make Your Resume Stand Out – Rebellion Research
Interviews
Top: 7 interview questions to help you understand company culture – Lindsay Tigar
Salary Negotiations: Tools For Boosting Confidence and Earning More – Kwame Christian
New Google Tool Helps Job Seekers Prepare for Interviews – Roy Maurer
Five Salary Negotiation Strategies For High-Level Employees – Tim Madden
Transferable Skills
Top: Turn Your Managers Into Your Biggest Asset for Winning the Great Resignation – Britt Andreatta
Seven Key Soft Skills IT Leaders Must Possess in 2022 – Umme Sutarwala
If You Say Yes to This 1 Question, Your Leadership Skills Are Better Than Those of Most Bosses – MARCEL SCHWANTES
Building Your Tech Career: Networking, Advanced Soft Skills, and More – Nick Kolakowski
Academic Blues
Top: University staff who can't afford to eat ask for campus food banks – Anna Fazackerley
Working in Higher Ed Sucks. Here's Why I Left. – Cobretti D. Williams
University of Ottawa part-time professors vote for strike mandate – Lilian Fridfinnson
Gender In Academia: Women In Higher Education Must Be Retained And Transformed Into Workforce – Shuvangi Khadka
Industry Positions
Top: These 12 Companies Are Hiring All Summer Long – Rebeca Piccardo
28 Companies With Unbelievable Work-Life Balance – The Muse Editors
Contract vs. Full Time: What Type of Employment is Right For You? – Franklin Carpenter
Data Science Salary: How Much Can You Make With A Data Science Degree? – Brandon Galarita
Business Acumen
Top: The Pandemic Changed Us. Now Companies Have to Change Too. – Jennifer Moss
How Upskilling Can Drive Employee And Business Growth – Claire Alexander
Tilray Brands, Inc. Reports Third Quarter Fiscal Year 2022 Financial Results – Tilray Brands, Inc.
BioSpace Movers & Shakers: Evommune, Maravai, Aptose & More – Alex Keown
Get Free Job Search Content Weekly
ABOUT ISAIAH HANKEL, PHD
CEO, CHEEKY SCIENTIST & SUCCESS MENTOR TO PHDS
Dr. Isaiah Hankel is the Founder and CEO of Cheeky Scientist. His articles, podcasts and trainings are consumed annually by millions of PhDs and other professionals in hundreds of different countries. He has helped PhDs transition into top companies like Amazon, Google, Apple, Intel, Dow Chemical, BASF, Merck, Genentech, Home Depot, Nestle, Hilton, SpaceX, Tesla, Syngenta, the CDC, UN and Ford Foundation.
Dr. Hankel has published 3X bestselling books and his latest book, The Power of a PhD, debuted on the Barnes & Noble bestseller list. His methods for getting PhDs hired have been featured in the Harvard Business Review, Nature, Forbes, The Guardian, Fast Company, Entrepreneur Magazine and Success Magazine.
More Written by Isaiah Hankel, PhD