Best Of Transition: Ph.D. Jobs & Job Search Strategies July 16, 2022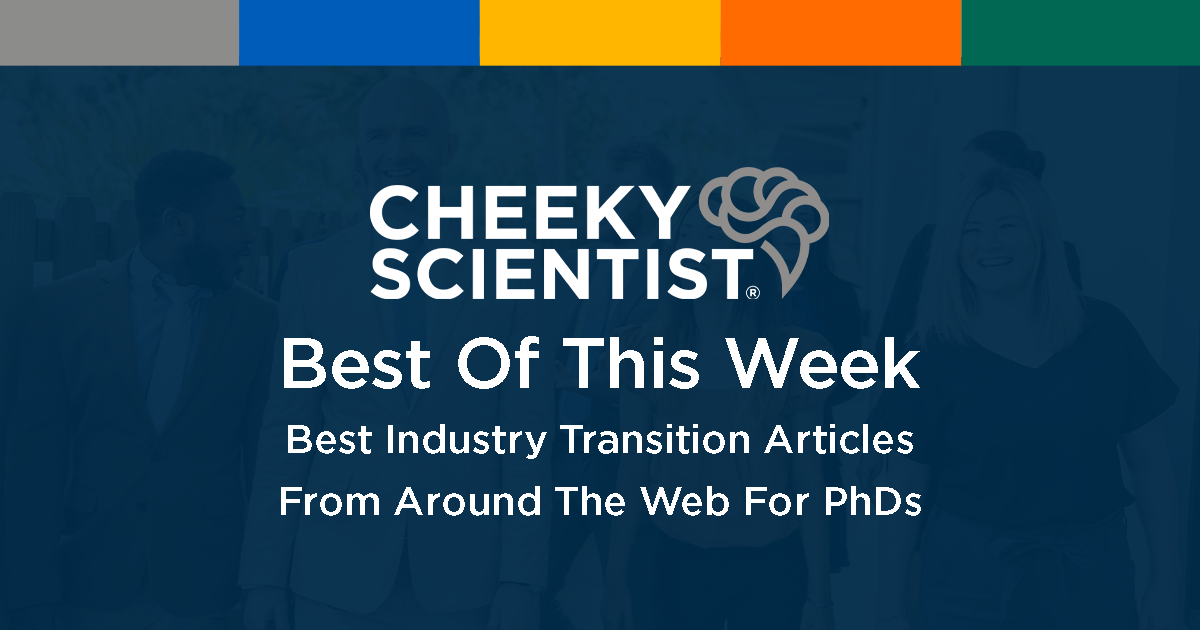 Every week, we at Cheeky Scientist scour the Internet for the best articles on topics that help in the search for the Best of Transition: PhD Job Search in the industry.
Our two consultants independently search for the most informative articles in the categories of networking, CVs/resumes, interviews, transferable skills, academic blues, industry positions, and business acumen.
Our consultants vote on a top article for each category and a top overall article for the week – if it's a recent article that can help readers find and acquire PhD jobs, then we want to include it in this weekly digest.
So without further delay, here are Best of Transition: PhD Job Search articles for the week of July 16, 2022 for PhDs.
This Week's Best Articles On PhD Jobs And Job-Search Strategies
For Saturday, July 16th, 2022
Top Overall: Does my resume need a recruiter, a review, or a rewrite? – Ladders
Networking
Top: So You've Made a New Connection by Networking—Here's What You Should Do Now – JESSICA IVETICH
How to share with your social circle that you're looking for a new job – ANDREW FENNELL
Workers are worried about losing their jobs in a recession. Here are 6 tips to keep yours or find a better one. – Sawdah Bhaimiya
TOP 10 LINKEDIN GROUPS DATA SCIENTISTS SHOULD BE A PART OF – Veda
Cvs/Resumes
Top: Does my resume need a recruiter, a review, or a rewrite? – Ladders
What is an ATS, how does it impact hiring, and what can you do about it? – Ladders Contributor
How to write a perfect cover letter, according to experts – Cortney Moore
The dos and don'ts of CV writing – Robert Half
Interviews
Top: 6 ways to show off your management skills in an interview – Ashley Jones
Most Employees Who Have Recently Asked for a Raise Have Gotten One. Here's How to Negotiate – Maurie Backman
The ultimate guide to nailing the 'tell me about yourself' interview question – GRACE BUONO
Should You Ask for a Raise? How to Tell When It's Time – Erin Wood
Transferable Skills
Top: 93% of employers want to see soft skills on your resume—here are 8 of the most in-demand ones – Gili Malinsky
Ways to show off transferable skills to employers – Inès Rutayisire Umurerwa
5 soft skills for tech jobs – Matthew Sweeney
4 skills that are essential at every point in your career – Diana Shi
Academic Blues
Top: Considering the gender-based pay gap in academia with the UTFA president – Selia Sanchez
MARYLAND INSTITUTE COLLEGE OF ART SET TO LAY OFF RECENTLY UNIONIZED WORKERS – Unknown
University senior staff declare nationwide strike – Myjoyonline.com
Strike ballot opens at Falmouth University – Fiona McIntyre
Industry Positions
Top: The Top 12 Biopharma Companies Hiring Now – The Editorial Staff
Top 5 tips for finding a job you love – Ladders
These Companies Just Posted Lots of New Jobs on The Muse – Rebeca Piccardo
10 Best-Paying Jobs in Data Science – Cynthia Harvey
Business Acumen
Top: How to Improve Business Acumen in Your Company – Sarah Lowe
5 Pillars Of Entrepreneurship – Haitham Kalakesh
Tilray Brands, Inc. Reports Third Quarter Fiscal Year 2022 Financial Results – Tilray Brands, Inc.
BioSpace Movers & Shakers: Astria, Apertura, CytoDyn, IN8bio & More Make Big Moves – Alex Keown
Get Free Job Search Content Weekly
ABOUT ISAIAH HANKEL, PHD
CEO, CHEEKY SCIENTIST & SUCCESS MENTOR TO PHDS
Dr. Isaiah Hankel is the Founder and CEO of Cheeky Scientist. His articles, podcasts and trainings are consumed annually by millions of PhDs and other professionals in hundreds of different countries. He has helped PhDs transition into top companies like Amazon, Google, Apple, Intel, Dow Chemical, BASF, Merck, Genentech, Home Depot, Nestle, Hilton, SpaceX, Tesla, Syngenta, the CDC, UN and Ford Foundation.
Dr. Hankel has published 3X bestselling books and his latest book, The Power of a PhD, debuted on the Barnes & Noble bestseller list. His methods for getting PhDs hired have been featured in the Harvard Business Review, Nature, Forbes, The Guardian, Fast Company, Entrepreneur Magazine and Success Magazine.
More Written by Isaiah Hankel, PhD