Best Of Transition: Ph.D. Jobs & Job Search Strategies July 30, 2022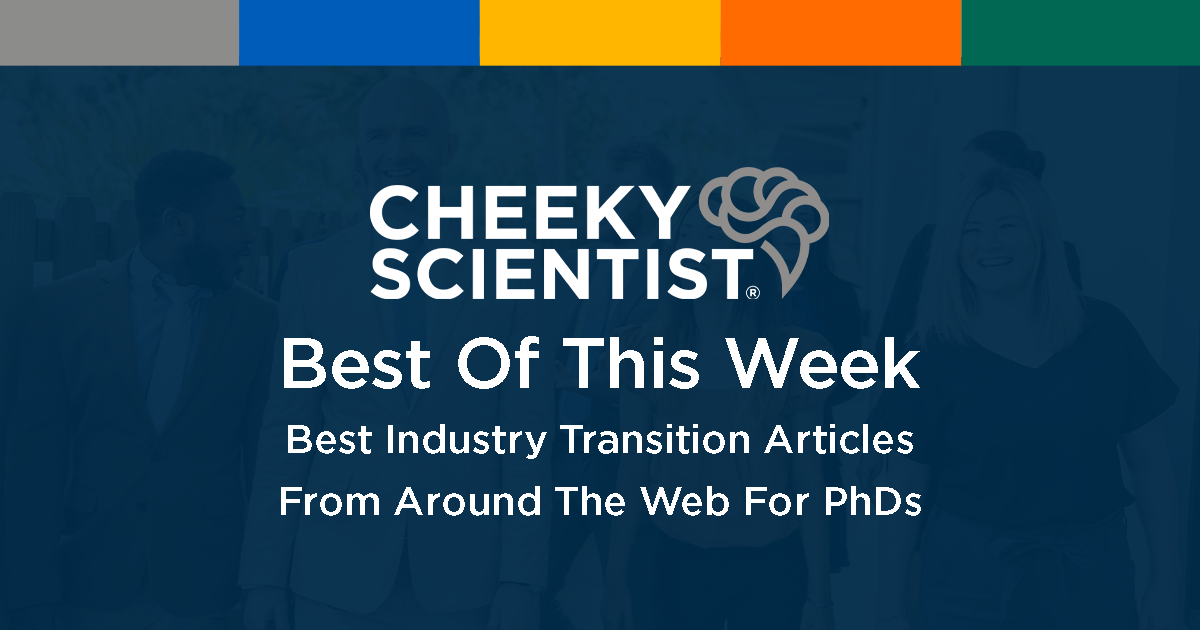 Every week, we at Cheeky Scientist scour the Internet for the best articles on topics that help in the search for the Best of Transition: PhD Job Search in the industry.
Our two consultants independently search for the most informative articles in the categories of networking, CVs/resumes, interviews, transferable skills, academic blues, industry positions, and business acumen.
Our consultants vote on a top article for each category and a top overall article for the week – if it's a recent article that can help readers find and acquire PhD jobs, then we want to include it in this weekly digest.
So without further delay, here are Best of Transition: PhD Job Search articles for the week of July 30, 2022 for PhDs.
This Week's Best Articles On PhD Jobs And Job-Search Strategies
For Saturday, July 30th, 2022  
Top Overall: 6 Transferable Skills You Might Not Realize You Gained During Your PhD/PostDoc – Sarah Ellinwood
Networking
Top: Is Your Network as Strong as You Think? – Andy Lopata
Three Ways to Use LinkedIn's Notifications Tab to Build Your Network and Business – Stefanie M. Marrone
On the job hunt? You may want to check your LinkedIn privacy settings – Aisling Murphy
How to Navigate Post-Pandemic In-Person and Online Networking – Jennifer Carter
Cvs/Resumes
Top: 5 opening lines for your cover letter that will set you apart – Kattie Thorndyke
If you want the job, tailor your résumé like this – DAVID FANO
The 3 cover letter mistakes experts say everyone makes, no matter the job you're applying for – JANE THIER
The No. 1 thing to do on your resume to turn your job search around – Dear Sam
Interviews
Top: What to Do If Your Job Offer Is Rescinded (Yes, It Can Happen) – Jenny Foss
What to Expect From a Pharma Interview – Kaley Lefevre
How To Answer 'What Is Your Biggest Weakness?' In An Interview – Kyle Elliot
The million-dollar mistake: Women fall short when negotiating salaries – Marie Leech
Transferable Skills
Top:
6 Transferable Skills You Might Not Realize You Gained During Your PhD/PostDoc – Sarah Ellinwood
List of top soft skills employers value (to use on your resume) – Ladders
'Soft skills': The intangible qualities companies crave – Kate Morgan
How to develop soft skills in a multigenerational workforce – Jacqueline Liu
Academic Blues
Top: She Was Denied Tenure at Harvard. But She's Not Done Fighting for Change in Academe. – Sarah Brown
100% strike vote by Brock University workers signals to university that it must deliver on fair wages, better jobs – CUPE
University staff could strike after voting to refuse pay rise offer – David Hannant
No, the Boys Are Not Doing Just Fine – Richard V. Reeves
Industry Positions
Top: 20 Amazing Companies That Are Hiring Right Now – Rebeca Piccardo
What You Need to Know Before Applying to a Small Pharma Company – Kaley Lefevre
The Top Remote, Part-Time Jobs And Industries – TIm Lai
17 Exciting Companies Hiring in San Francisco – Rebeca Piccardo
Business Acumen
Top: Crossing the Language Barrier – Adam Fix
Where We Work Can Redefine Company Culture and Its People – Kathryn Kaminsky
Tilray Brands, Inc. Reports Third Quarter Fiscal Year 2022 Financial Results – Tilray Brands, Inc.
BioSpace Movers & Shakers: Acer, Viridian, BioPorto, atai & More – Alex Keown
Get Free Job Search Content Weekly
ABOUT ISAIAH HANKEL, PHD
CEO, CHEEKY SCIENTIST & SUCCESS MENTOR TO PHDS
Dr. Isaiah Hankel is the Founder and CEO of Cheeky Scientist. His articles, podcasts and trainings are consumed annually by millions of PhDs and other professionals in hundreds of different countries. He has helped PhDs transition into top companies like Amazon, Google, Apple, Intel, Dow Chemical, BASF, Merck, Genentech, Home Depot, Nestle, Hilton, SpaceX, Tesla, Syngenta, the CDC, UN and Ford Foundation.
Dr. Hankel has published 3X bestselling books and his latest book, The Power of a PhD, debuted on the Barnes & Noble bestseller list. His methods for getting PhDs hired have been featured in the Harvard Business Review, Nature, Forbes, The Guardian, Fast Company, Entrepreneur Magazine and Success Magazine.
More Written by Isaiah Hankel, PhD