Best Of Transition: Ph.D. Jobs & Job Search Strategies July 23, 2022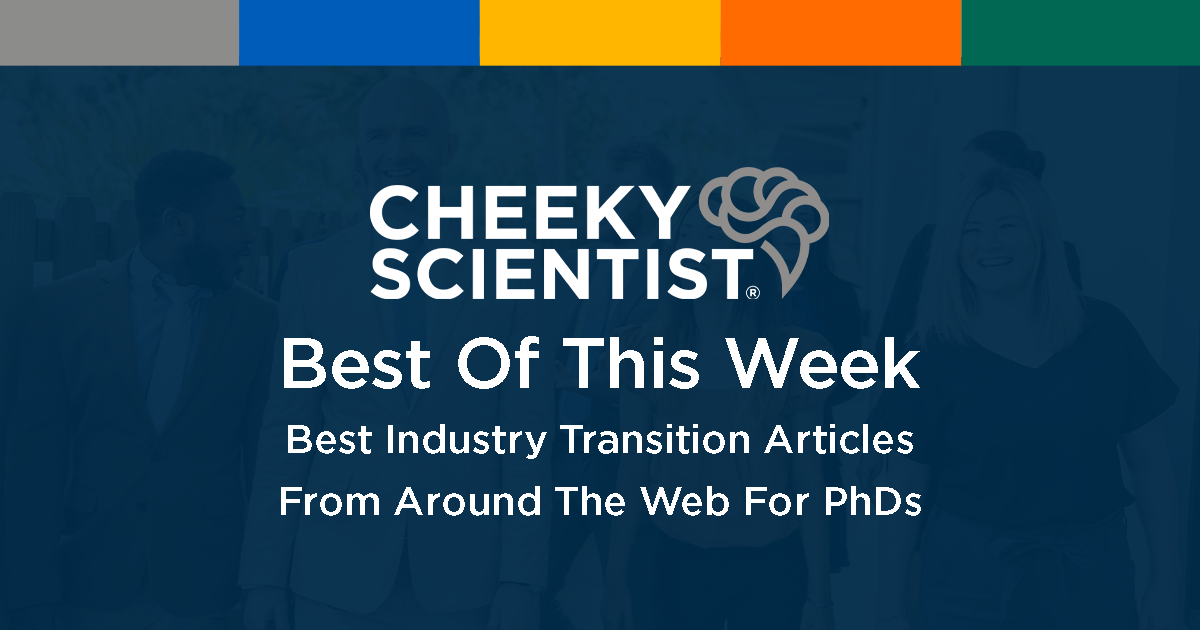 Every week, we at Cheeky Scientist scour the Internet for the best articles on topics that help in the search for the Best of Transition: PhD Job Search in the industry.
Our two consultants independently search for the most informative articles in the categories of networking, CVs/resumes, interviews, transferable skills, academic blues, industry positions, and business acumen.
Our consultants vote on a top article for each category and a top overall article for the week – if it's a recent article that can help readers find and acquire PhD jobs, then we want to include it in this weekly digest.
So without further delay, here are Best of Transition: PhD Job Search articles for the week of July 23, 2022 for PhDs.
This Week's Best Articles On PhD Jobs And Job-Search Strategies
For Saturday, July 23rd, 2022
Top Overall: Make your resume work for you – Pat Brien
Networking
Top: How to grow on LinkedIn? – Santhusha Janana Mudannayaka
Why Networking Is More Important Than Ever – Elizabeth Shultz
How to write a letter of interest (samples and tips) – Ladders
Microsoft is launching a Facebook rip-off inside Teams – Tom Warren
Cvs/Resumes
Top: Make your resume work for you – Pat Brien
Avoiding "feminine words" in a cover letter can cost women the job – Sara London
50 Powerful Keywords For Your Resume to Indicate You're a Leader – Katharine Hansen, PhD
I've helped people land jobs at Google, Facebook and Uber—here are 5 things I never want to see on your resume – Jermaine L. Murray
Interviews
Top: 5 Job Interview Techniques That Actually Work – Franklin Carpenter
This is what your management style says about you – Marjolein Dilven
How to sell yourself in a job interview – seven essential tips from experts – Ellen Scott
7 Best Video Interview Tips That Can Help You Stand Out – Kirstie McDermott
Transferable Skills
Top: 8 Soft Skills Job Candidates Need To Impress Potential Employers – YEC
4 skills that are essential at every point in your career – Diana Shi
The Tech Soft Skills You Need To Succeed – Christin Perry
The 4 Digital Skills Everyone Will Need For The Future Of Work – Bernard Marr
Academic Blues
Top: University staff reject below-inflation pay offer and vote on strike action – Unknown
IIT Bombay students won't accept a 35% fee hike without a fight – Ananya Bhattacharya
Nepalese student union launches hunger strike at Tribhuvan University to demand educational reform – Peoples Dispatch
Students Rue Prolonged Strike – Kayode Olanrewaju
Industry Positions
Top: Job Hunting? These 29 Companies Are Hiring in July – Rebeca Piccardo
How to Land a Biotech Job, According to Experts – Kaley Lefevre
The 10 best U.S. companies for career growth, according to new research – Morgan Smith
26 Work-From-Home Jobs That Can Pay $100,000 or More – Adrianne Bibby
Business Acumen
Top: 4 Things to Consider When Managing a Business During Down Times – Roy Dekel
14 Ways To Increase EEO And Build A More Diverse Company Culture – Expert Panel
Tilray Brands, Inc. Reports Third Quarter Fiscal Year 2022 Financial Results – Tilray Brands, Inc.BioSpace Movers & Shakers: National Cancer Institute, Evelo, Eagle, ROME & More – Alex Keown
Get Free Job Search Content Weekly
ABOUT ISAIAH HANKEL, PHD
CEO, CHEEKY SCIENTIST & SUCCESS MENTOR TO PHDS
Dr. Isaiah Hankel is the Founder and CEO of Cheeky Scientist. His articles, podcasts and trainings are consumed annually by millions of PhDs and other professionals in hundreds of different countries. He has helped PhDs transition into top companies like Amazon, Google, Apple, Intel, Dow Chemical, BASF, Merck, Genentech, Home Depot, Nestle, Hilton, SpaceX, Tesla, Syngenta, the CDC, UN and Ford Foundation.
Dr. Hankel has published 3X bestselling books and his latest book, The Power of a PhD, debuted on the Barnes & Noble bestseller list. His methods for getting PhDs hired have been featured in the Harvard Business Review, Nature, Forbes, The Guardian, Fast Company, Entrepreneur Magazine and Success Magazine.
More Written by Isaiah Hankel, PhD