Best Of Transition: Ph.D. Jobs & Job Search Strategies June 18, 2022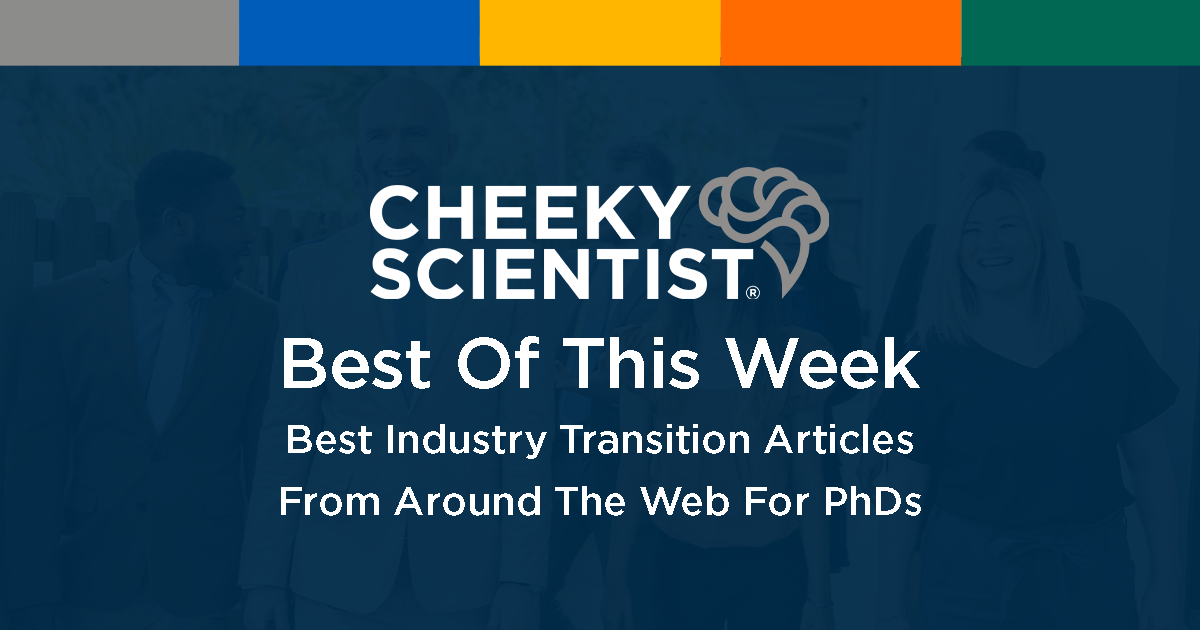 Every week, we at Cheeky Scientist scour the Internet for the best articles on topics that help in the search for the Best of Transition: PhD Job Search in the industry.
Our two consultants independently search for the most informative articles in the categories of networking, CVs/resumes, interviews, transferable skills, academic blues, industry positions, and business acumen.
Our consultants vote on a top article for each category and a top overall article for the week – if it's a recent article that can help readers find and acquire PhD jobs, then we want to include it in this weekly digest.
So without further delay, here are Best of Transition: PhD Job Search articles for the week of June 18, 2022 for PhDs.
This Week's Best Articles On PhD Jobs And Job-Search Strategies
For Saturday, June 18th, 2022
Top Overall: How to spot job recruitment traps — and unlock key information during an interview – Brian O'Connell
Networking
Top: 8 Tips on Getting a Remote Job With No Work Experience – SHREEYA DESHPANDE
LinkedIn, UN Women to create job opportunities, upskill women in India, APAC – Anwesha Madhukalya
Work
Quick Tips for a Better LinkedIn Profile Photo – Stefanie M. Marrone
I coach CEOs of multimillion-dollar businesses—here's what I wish more people did early in their careers – Liz Taxin Nemiroff
Cvs/Resumes
Top: What to include in a cover letter – Ladders
A Robot Might Be Keeping You from Getting a Job. Here's How to Optimize Your Resume – Rachel Christian
Do's and don'ts for writing a standout cybersecurity resume – Matthew Sweeney
Finding a new job is possible — even when you're burned out – Allie Volpe
Interviews
Top: How to spot job recruitment traps — and unlock key information during an interview – Brian O'Connell
How to nail that job interview with this ultimate guide to writing the perfect thank you note (with templates) – JENNIFER ALSEVER
The best interview questions, according to Europe's top tech HR heads – MIRIAM PARTINGTON
15 Insightful Interview Questions To Ask A Tech Job Applicant – Expert Panel
Transferable Skills
Top: Hiring candidates with transferable skills is key amid war for tech talent, experts say – Caitlin Paroczai
CEO recruiters increasingly prize soft skills – Emily Peck
5 Most Important Leadership Soft Skills – BB
The six essential soft skills of a successful compliance leader – Yair Kuznitsov
Academic Blues
Top: Thousands of York University workers could walk off the job July 1 if contract agreement not reached – Joanna Lavoie
Ecuador universities close due to national strike – Ana Luisa Brown
Australian university union again blocks criticism at a strike rally – Chris Gordon
Strike at university hospitals in North Rhine-Westphalia – Markus Salzmann
Industry Positions
Top: 18 Companies We Love Right Now—and They're Hiring – Rebeca Piccardo
How to Get a Job at Google – Laura Ross
The top 10 industries job-seekers want to work in right now, according to new research – Morgan Smith
Interest In Remote Work Is Up 556%: Here's How To Find The Right Remote Job – Tracy Brower
Business Acumen
Top: Company Culture: What's Working in 2022 – Motley Fool Staff
A Universal Language Of Optimism In Divisive Times: Entrepreneurship – Randall Lane
Tilray Brands, Inc. Reports Third Quarter Fiscal Year 2022 Financial Results – Tilray Brands, Inc.
BioSpace Movers & Shakers: ADC, Akari, Scorpion & More – Alex Keown
Get Free Job Search Content Weekly
ABOUT ISAIAH HANKEL, PHD
CEO, CHEEKY SCIENTIST & SUCCESS MENTOR TO PHDS
Dr. Isaiah Hankel is the Founder and CEO of Cheeky Scientist. His articles, podcasts and trainings are consumed annually by millions of PhDs and other professionals in hundreds of different countries. He has helped PhDs transition into top companies like Amazon, Google, Apple, Intel, Dow Chemical, BASF, Merck, Genentech, Home Depot, Nestle, Hilton, SpaceX, Tesla, Syngenta, the CDC, UN and Ford Foundation.
Dr. Hankel has published 3X bestselling books and his latest book, The Power of a PhD, debuted on the Barnes & Noble bestseller list. His methods for getting PhDs hired have been featured in the Harvard Business Review, Nature, Forbes, The Guardian, Fast Company, Entrepreneur Magazine and Success Magazine.
More Written by Isaiah Hankel, PhD