Best Of Transition: Ph.D. Jobs & Job Search Strategies June 25, 2022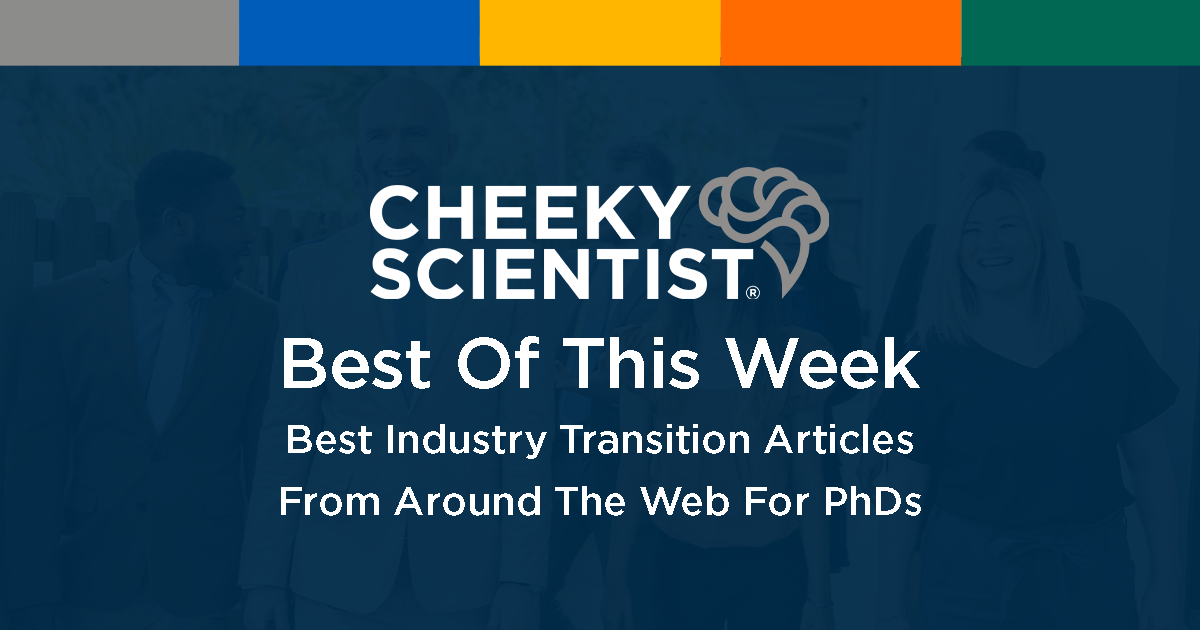 Every week, we at Cheeky Scientist scour the Internet for the best articles on topics that help in the search for the Best of Transition: PhD Job Search in the industry.
Our two consultants independently search for the most informative articles in the categories of networking, CVs/resumes, interviews, transferable skills, academic blues, industry positions, and business acumen.
Our consultants vote on a top article for each category and a top overall article for the week – if it's a recent article that can help readers find and acquire PhD jobs, then we want to include it in this weekly digest.
So without further delay, here are Best of Transition: PhD Job Search articles for the week of June 25, 2022 for PhDs.
This Week's Best Articles On PhD Jobs And Job-Search Strategies
For Saturday, June 25th, 2022  
Top Overall: How To Communicate Effectively On LinkedIn – Will van der Sanden
Networking
Top: How To Communicate Effectively On LinkedIn – Will van der Sanden
How to network as an introvert – Matthew Sweeney
Top 5 Simple Networking Tips for Students – Niagara College Canada
PODCAST: How to Find a Job After Graduation, with Beth Handler-Grunt – David Muhlbaum & Sandra Block
Cvs/Resumes
Top: This is the ultimate guide to writing a standout résumé – NICHOLAS HAWKINS
Seeking Internal Mobility? 5 Expert Resume Tips To Avoid Disappointment – Rachel Montañez
Do You Actually Need To Write a Cover Letter? Here's What 10 Recruiters Say – Gabrielle Olya
JAC's Top 5: Five tips when reviewing your CV – Jacaranda FM
Interviews
Top: These are the questions candidates must ask during a job interview – TANIA RAHMAN
5 Unspoken Job Interview Rules About What You Should Wear – Monica Torres
What to do when a job interview question leaves you stumped – Kathryn Vasel
Job Search Success Strategies If You're Over 50 – Robin Ryan
Transferable Skills
Top: Hiring Is Broken—Here's How We Can Fix It – Maxime Legardez Coquin
'Soft' Skills May Get You Your Dream Job in Today's Labour Market – Srivindhya Kolluru
Improving soft skills in the workplace – HEMANTHA KULATUNGA
The top seven skills to succeed in a hybrid work environment – Vikrant Gupta
Academic Blues
Top: IU faculty warns of disastrous semester if grad student worker strike isn't resolved – Rachael Krause
Punjabi University guest faculty begin hunger strike – PATIALA
91% of York University staff vote in favour of a strike mandate – York University Staff Association
Australian university union defends silencing socialist and delaying strike action – Our correspondent
Industry Positions
Top: How to get a tech job with no experience – Hannah Riley
These Exciting Tech Startups Are Hiring Now – The Muse Editors
What Employers Really Look For in Medical Sales Candidates – Franklin Carpenter
An Expert's Take on a Career in Neuroscience – Porschia Parker-Griffin
Business Acumen
Top: Your Company Culture Is Everything – Shep Hyken
Diversity In Mentorship: Four Tips To Making The Relationship More Meaningful – Cesar Herrera
Tilray Brands, Inc. Reports Third Quarter Fiscal Year 2022 Financial Results – Tilray Brands, Inc.
BioSpace Movers & Shakers: ADC, Akari, Scorpion & More – Alex Keown
Get Free Job Search Content Weekly
ABOUT ISAIAH HANKEL, PHD
CEO, CHEEKY SCIENTIST & SUCCESS MENTOR TO PHDS
Dr. Isaiah Hankel is the Founder and CEO of Cheeky Scientist. His articles, podcasts and trainings are consumed annually by millions of PhDs and other professionals in hundreds of different countries. He has helped PhDs transition into top companies like Amazon, Google, Apple, Intel, Dow Chemical, BASF, Merck, Genentech, Home Depot, Nestle, Hilton, SpaceX, Tesla, Syngenta, the CDC, UN and Ford Foundation.
Dr. Hankel has published 3X bestselling books and his latest book, The Power of a PhD, debuted on the Barnes & Noble bestseller list. His methods for getting PhDs hired have been featured in the Harvard Business Review, Nature, Forbes, The Guardian, Fast Company, Entrepreneur Magazine and Success Magazine.
More Written by Isaiah Hankel, PhD