Top 5 Hiring Trends Savvy PhDs Leverage To Get Hired In Industry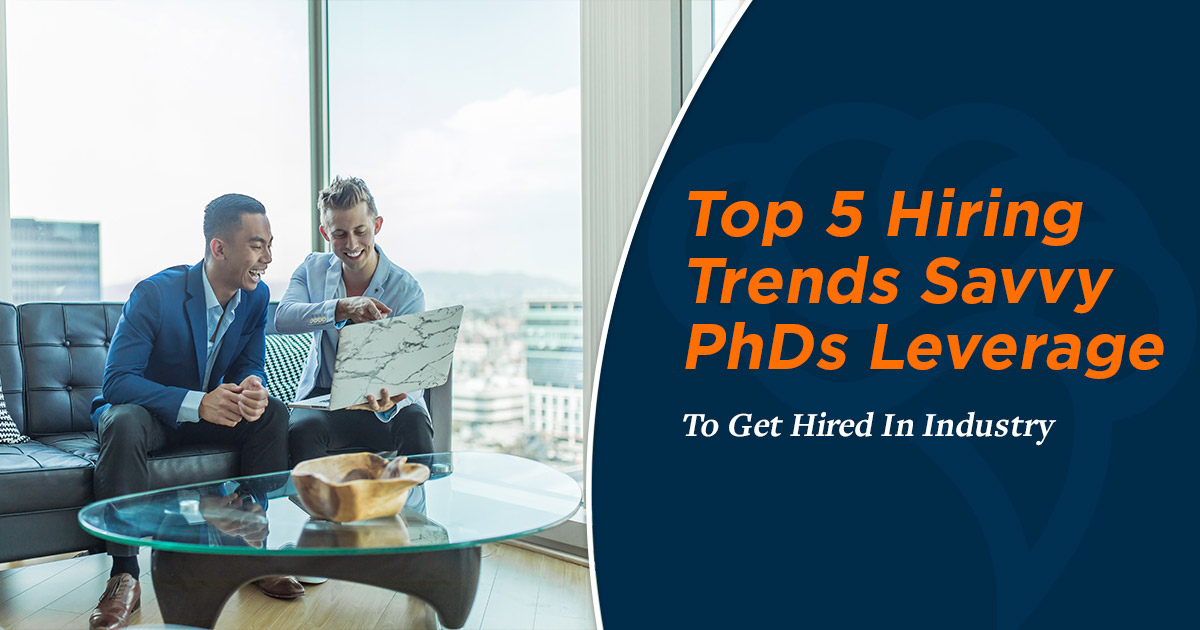 I was about to finish my postdoc soon, my project was nearly complete.
I had submitted my research manuscript for publication; it was accepted after some revisions.
I was going to have a great closure to my academic career, something from which a lot of PhDs are deprived.
I was ready to move on in my career, and explore new, exciting territories.
In short, I was seriously considering transition into industry.
I did a lot of research to find out what options were available to me in the industry.
I figured out what industry roles interested me the most, and prepared my resume to target those positions.
I was ready.
At least, that is what I thought.
To make my transition efforts successful, I attended industry events and networked with industry professionals.
I got several informational interviews.
People were generous with their time and knowledge, and willing to share information with me.
I even got a few referrals. This was exciting!
I prepared thoroughly for all sorts of interview questions.
I thought I was going to breeze through because I had done everything perfectly and made a great impression.
I had no doubt that I would get the position of my choice, in the company of my choice.
Until I came across an article that talked about HR recruitment trends.
I realized that my transition efforts would not be successful if I did not educate myself on the hiring trends in industry and align my job search and interview preparation accordingly.
So I set out to learn and understand the latest hiring trends and how I could use them to my advantage.
Why Hiring Trends Matter For Your PhD-Level Job Search
PhDs who cultivate an awareness of industry hiring trends will find it easier to create an effective job search strategy.
An effective job search strategy is one that includes the right kind and the right amount of preparations.
For example, Jobvite reports that 83% of recruiters consider culture fit an important factor in making hiring decisions.
So this is one of the things you should be including in your job search preparations.
PhDs can use their knowledge of hiring trends to ask the right questions during informational interviews.
They can narrow down the focus of their preparation by leveraging this knowledge, to areas that matter the most to employers.
They can use it to demonstrate their commercial acumen and commitment to industry career in during networking, interviews and through their online presence. .
According to a CareerBuilder survey, 70% of employers use social media to screen job candidates during the hiring process.
Ultimately, being well-informed of hiring trends in industry will not only help in getting hired in industry, but also in spotting career opportunities after transition.
How Savvy PhDs Integrate Hiring Trends Into Their Successful Industry Job Search
In academia, PhDs are used to working on their own, on independent projects, often purely for the sake of learning.
Industry, however, is market-oriented and only projects that will lead to revenue generation are considered.
This means that anyone considering a career in industry must learn to educate themselves and align their career plans with current and future trends.
Knowledge of hiring trends is extremely important, they are the direction in which most recruitment efforts will align in that company/industry.
PhDs ignorant of hiring trends will face more challenges in finding a great job in industry.
They will find it harder to face the interview, or to convince the company that they have the skills necessary to do the job if hired.
PhDs working toward industry transition should consider these 5 industry hiring trends while crafting their job search strategy…
1. The rise of the machines – AI and data-driven assessment and hiring tools in recruitment.
Hiring new talent is a major decision for a company and employers want to be sure that they are recruiting the right candidate.
Interviewing trends are changing to accommodate new technology and workplace needs.
Diversity and inclusion are now a top priority for recruitment in industry. Employers are using assessment tools to overcome recruitment bias.
The increasing use of Artificial Intelligence (AI) and data-driven tools in HR analytics means that employers now have a new tool at their disposal for evaluating job applicants.
AI is used to assist employers in screening and shortlisting potential job candidates with the desired skills and experience.
Employers are also increasingly using cognitive assessment tools to evaluate potential hires and choose the best fit for the company.
These tools allow screening of job candidates based on not only experience, skills and aptitude but also motivation and behavioral factors.
New tools used in the interview process include assessments conducted in virtual reality (VR), on-the-job auditions, video-based assessment, psychometric tests and casual meetings outside the workplace.
2. Hiring for potential is the new normal.
According to the Bureau of Labour Statistics, the US has over 7.5 million unfilled jobs. This tight labour market has made companies reconsider their hiring criteria.
Companies do not want to miss out on talented hires who do not conform to the traditional academic and career routes.
Instead, employers are increasingly willing to provide competency-based training to develop potential talent for the company.
Hiring decisions based on the potential career trajectory of the job candidate instead of their educational qualifications or experience level is the new normal.
PhDs serious about an industry career must be aware of and prepared for, fierce competition for industry roles.
PhDs must be willing, and able, to demonstrate high value in the job market.
They must build on their rigorous research training and work toward upskilling to meet the needs of the job market.
PhDs with a history of developing new skills are top candidates for any employer in industry.
Transferable skills are key to getting hired in industry.
According to a report by LinkedIn, the top transferable skills valued by employers include creativity, persuasion skills, teamwork, adaptability and time management.
PhDs that able to demonstrate their transferable skills are top candidates for any industry role.
3. Videos are here to stay.
Videos are now the employers' top choice for communicating their brand to potential hires and for screening job candidates.
LinkedIn research shows that over 75% of job seekers research the company's employer brand before applying.
Job candidates are increasingly selective about the roles and companies they join.
Companies are increasingly investing in employer branding to attract the best candidates and retain their best employees.
Employer branding refers to a company's reputation and popularity as an employer. It also shows its employee value proposition.
Companies with a poor employer brand struggle to attract and retain talented employees.
Videos are great as tools to communicate the employer brand and company culture.
More and more companies are leveraging videos in their recruitment branding strategy to communicate their employee value proposition to talented job seekers.
A company's videos are a glimpse into its organizational culture.
Savvy PhDs can leverage this information in their resume and interview preparation.
PhDs can use information gathered from company videos and other sources to develop discussions during networking and informational interviews.
Informational interviews and a core component of job search strategy.
PhDs who are able to demonstrate knowledge of the company in informational interviews improve their chances of generating referrals and getting hired.
4. Social recruiting is big.
Social recruiting refers to the use of social media platforms for recruiting.
Employers are using various social media channels including Facebook, LinkedIn and Twitter, as well as blogs and platforms like Glassdoor to attract new talent.
More and more companies are proactively reaching out to high-calibre candidates via social media to vet them, and build a relationship with them.
In fact, social recruiting is one of the top 10 recruiting trends.
Previously companies hired talent locally, but with increased remote working options or limited talent pool for skilled job, recruiters are reaching out to international candidates to fill vacancies.
PhDs can leverage social media to make their career transition into industry, and land the industry role of their choice.
The social media footprint of candidates provide a wealth of information about their character, and if they are a good fit for the role and company.
According to a CareerBuilder survey, 70% of employers use social media to screen job candidates during the hiring process.
PhDs able to convey their personal brand through a polished, industry-oriented LinkedIn profile and social media networking improve their chances of getting hired.
Building a personal brand will highlight their key skills, demonstrate their business acumen and attract recruiters.
5. It is a candidate-driven job market.
This is music to the ears of any highly-skilled job seeker.
Research shows that 90% of recruiters believe that the labor market is candidate-centred and is likely to remain so in the future.
Job candidates have no hesitation in turning down job offers that they find unsuitable or less exciting.
Many companies are now competing not only for recruitment but also for retention of talent.
Great candidates can easily gain multiple job offers by being strategic in their approach.
Recruitment focus is shifting from what the employer wants to what the candidate wants.
So the outlook for PhDs seeking to transition into an industry career is…..great!
This is the right time to make the switch.
This is the best time for transitioning into industry.
All PhDs need is an excellent job search strategy that they execute perfectly.
Because, although the market is candidate-driven, employers are still careful in their recruitment.
Companies want to be certain that the candidate they hire has not only the right technical skills but also the soft skills required for the job.
They want to be sure that the candidate will be committed to the job and company if hired.
So what can PhDs do to take advantage of this candidate-driven job market and be successful in getting hired?
PhDs keen to transition into industry should take these steps in their job search strategy:
1. Be committed to industry transition, and ditch the academic mindset.
2. Develop their business acumen to understand business dynamics and demonstrate value to employers.
3. Develop their soft skills, as teamwork, negotiation, time management and communication are essential, and emotional intelligence highly valued in industry.
4. Create the job search strategy that will get them hired even in a competitive job market.
Understanding the latest trends and developments in hiring is essential to getting hired. It is how you can prepare yourself to shine in interviews. Don't leave this to chance, do your research. A few of the trends you should be aware of include the rise of the machines – AI and data-driven assessment and hiring tools in recruitment, hiring for potential is the new normal, videos are here to stay, social recruiting is big and it is a candidate-driven job market. These trends and others are influencing how hiring managers make decisions. The more you know the higher your chances of getting hired.
If you're ready to start your transition into industry, you can apply to book a free Transition Call with our founder Isaiah Hankel, PhD or one of our Transition Specialists. Apply to book a Transition Call here.
Get Free Job Search Content Weekly
ABOUT SURAYYA TARANUM
Surayya is a PhD in Biochemistry and is currently a cohort member at Entrepreneur First in Paris. She is also Director of Membership at the Healthcare Businesswomen's Association Paris Chapter, and Communications Lead in its Entrepreneurship Group for Women. Surayya is passionate about biology, science communication, and inclusive leadership. She is also an avid reader and hiker.
More Written by Surayya Taranum