How PhDs Can Find The Best Fit Company To Work For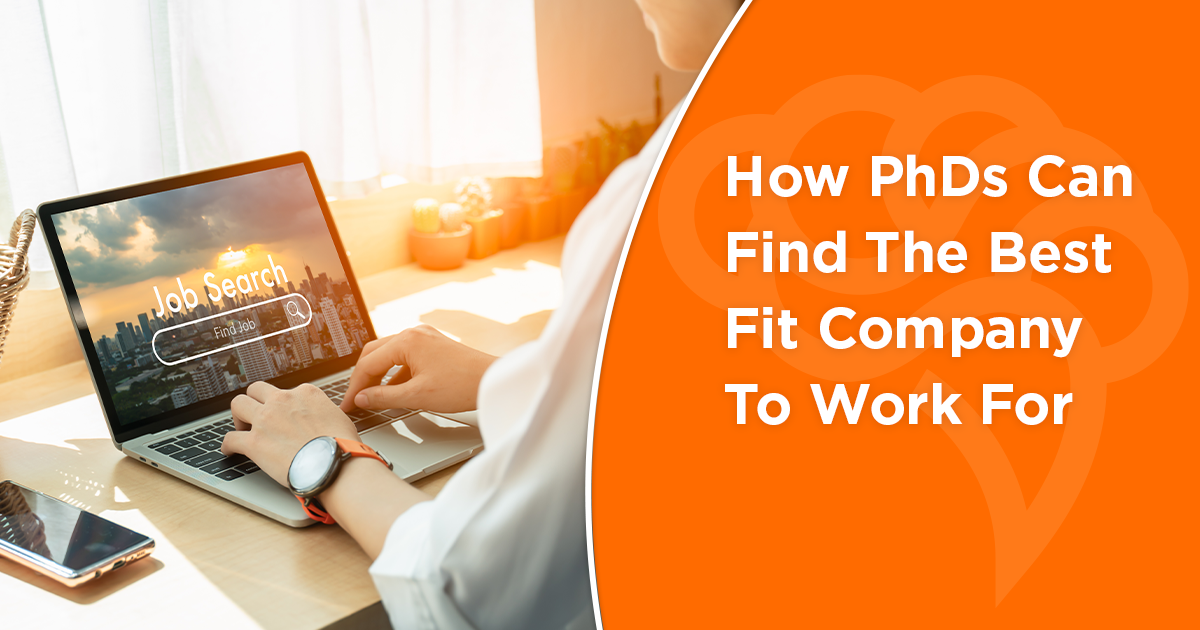 When I started my job search, I was obsessed with finding the right job title.
I wanted to make sure that I got into a job that was a good fit for me. So I scoured the internet for jobs that sounded interesting.
By that I mean I would read a job posting, play out scenarios in my head of working in the role, and then based on what I imagined, would apply to the job, or not.
This was a disastrous strategy.
First, job titles are so variable and numerous that I was lost in a sea of phrases that I didn't understand.
I would read one job posting with XYZ job title and then read another job posting with the same job title, but the descriptions were wildly different.
As I continued researching, I realized there are up to 100 million companies in the U.S. alone, many of which have dozens of job titles. This meant that there were half a billion to one billion different job titles.
Worse, I started hearing from peers who got hired that the job title they applied to was changed during the interviewing process as the employer got to know them.
In some cases, these peers negotiated their job titles. That's when I came to the conclusion that obsessing over job titles and scrolling through online job postings based on job titles was why my job search wasn't going anywhere.
Once I shifted my focus to finding the right fit company first, not the right job title, everything turned around and I got hired.
Ghost Job Listings Makes Chasing Job Titles A Losing Strategy
In today's competitive job market, finding the ideal company to work for can be a daunting task.
When you ghost job listings into account, it becomes a nightmare.
Ghost job listings have become a concerning trend in the current job market. These listings seem legitimate at first glance, but they are actually non-existent or misleading positions.
Companies may post these ghost jobs to gather resumes for future reference, gauge the talent pool, or simply to create an illusion of growth.
Job seekers often invest time and effort in applying, only to receive no response or discover the job never existed.
The rise of ghost job listings has led to frustration and wasted resources for job seekers, highlighting the need for increased transparency and ethical practices in the hiring process.
And it's only getting worse.
A few months ago, Yahoo News less than a third (27%) of hiring managers admitted to posting ghost job listings.
Today, again – just a few months later – the same publication, Yahoo News, reported on a new survey showing that 50% of hiring managers are posting fake ghost jobs, including "leaving up ads for expired or already filled jobs."
As a job seeker, it's crucial to invest time and effort in researching and evaluating potential employers, as in the company.
Otherwise, you'll spend immense resources chasing ghosts.
The best strategy in today's job market is to find the companies that are a good fit for you, then apply to the best-fit job at the company – the best fit, not the perfect fit.
And before you apply, reach out to a few gatekeepers at the company (hiring managers, talent acquisition specialists, etc) and verify that the job is still available.
7 Strategies For Finding The Best Fit Company To Work For
This all starts with finding companies that fit you though, which most PhDs are not used to doing.
Below are 7 valuable insights and tips to help you navigate the process of finding the best company to work for.
1. Define Your Priorities
Before starting your job search, it's essential to clarify your priorities. Take a moment to reflect on what matters most to you in a company.
Consider factors such as company culture, work-life balance, career development opportunities, compensation, and benefits.
By defining your priorities, you can narrow down your search and focus on companies that align with your values and goals.
2. Research Company Culture
Company culture plays a significant role in your overall job satisfaction.
Researching and understanding a company's culture can give you insights into its values, work environment, and employee engagement.
Start by visiting the company's website, reviewing their mission statement, and exploring their social media presence.
Additionally, read employee reviews on websites like Glassdoor to gain a better understanding of the company's culture and how employees perceive it.
3. Assess Career Development Opportunities
A thriving career requires continuous growth and learning.
Look for companies that prioritize employee development and offer opportunities for professional advancement.
Research if the company provides mentorship programs, training initiatives, or educational reimbursements.
Additionally, consider whether there are clear avenues for career progression within the organization.
A company that invests in its employees' growth is more likely to be a rewarding place to work.
4. Seek Feedback from Current and Former Employees
One of the best ways to gain insights into a company is by connecting with current or former employees.
Leverage your network or online professional platforms to reach out and ask for their opinions about the company. Inquire about their experiences, work-life balance, management style, and overall satisfaction.
Their honest feedback can provide valuable information to help you make an informed decision.
5. Evaluate the Company's Stability and Reputation
Working for a stable and reputable company can provide a sense of security and confidence in your career trajectory.
Conduct thorough research on the company's financial health, market position, and long-term prospects. Explore news articles, industry reports, and financial statements to assess the company's stability.
Additionally, consider the company's reputation within the industry, its commitment to ethical practices, and its track record of success.
6. Consider Work-Life Balance and Employee Well-Being
Maintaining a healthy work-life balance is crucial for your overall well-being and job satisfaction.
Look for companies that prioritize employee well-being by offering flexible work arrangements, wellness programs, and support for work-life integration.
Research if the company has initiatives in place to promote a healthy work environment and a positive work-life balance.
7. Attend Industry Events and Job Fairs
Industry events and job fairs are excellent opportunities to network, learn about different companies, and gather information firsthand.
Attend events specific to your field of interest, engage in conversations with company representatives, and ask questions about their values, culture, and work environment.
These interactions can provide valuable insights and help you establish connections within the industry.
Concluding Remarks
Finding the best company to work for requires careful research, self-reflection, and a clear understanding of your priorities. By investing time and effort into evaluating potential employers, you can increase your chances of finding a company that aligns with your values, offers growth opportunities, and fosters a positive work environment. Remember, the job search process is a journey, and finding the perfect fit may take time. Stay persistent, remain open to new opportunities, and trust that the right company is out there waiting for you to shine.
Get Free Job Search Content Weekly
ABOUT ISAIAH HANKEL, PHD
CEO, CHEEKY SCIENTIST & SUCCESS MENTOR TO PHDS
Dr. Isaiah Hankel is the Founder and CEO of Cheeky Scientist. His articles, podcasts and trainings are consumed annually by millions of PhDs and other professionals in hundreds of different countries. He has helped PhDs transition into top companies like Amazon, Google, Apple, Intel, Dow Chemical, BASF, Merck, Genentech, Home Depot, Nestle, Hilton, SpaceX, Tesla, Syngenta, the CDC, UN and Ford Foundation.
Dr. Hankel has published 3X bestselling books and his latest book, The Power of a PhD, debuted on the Barnes & Noble bestseller list. His methods for getting PhDs hired have been featured in the Harvard Business Review, Nature, Forbes, The Guardian, Fast Company, Entrepreneur Magazine and Success Magazine.
More Written by Isaiah Hankel, PhD