How To Dress For Success At A Job Interview

Written by: Gemma Paech, Ph.D.
My first industry interview at a startup was a disaster.
Looking back, I had so much confidence going into the interview.
I had a job referral from a friend and my resume made it straight into the hands of the CEO.
The job was perfect for me and I was excited at the prospect of working in the startup culture.
My friend told me that the environment at the startup was very relaxed — everyone wore graphic tees and jeans to work.
It sounded amazing.
I wanted the people interviewing me to think that I would be a good fit for the company.
I confidently walked in wearing a T-shirt, jeans, and Vans to my interview.
I didn't know it was a mistake at the time.
But as soon as I walked into the room, I could see the faces of my interviewers turn sour.
One of the interviewers asked me if I was lost. "This is the interviewing room", he said.
I was dressed so casually that instead of looking like a capable job candidate, I looked like a lost child.
I couldn't hide my embarrassment as I struggled to explain that I was actually there for the interview.
I had destroyed my first impression.
The interview proceeded uneventfully and needless to say, I did not get the job.
My skill set was matched perfectly to the position, and having a PhD gave me many advantages over the other candidates.
But, as soon as I set foot into that interview room, in such inappropriate clothing, my chances of getting the job dropped to zero.
I would not make that mistake again.
Working at a startup was still my goal, so I continued networking and got another interview.
Again, my contact told me that the dress code of the startup was very casual, but this time I knew better than to interview in the employee dress code.
I wore a matching suit and polished shoes, and no one thought I was a lost kid.
At the interview, I was the most professionally dressed person in the room.
Instead of feeling uncomfortable, I felt empowered and qualified for the position.
The truth is, your appearance is the first thing that someone will notice about you.
Your clothes can make or break your interview because of how they inform first impressions.
I learned the hard way that I if wanted an industry job, I would need to dress professionally.
Whether the interview is at a fancy corporate firm or a casual startup, professional dress is essential to successfully transition from academia into an industry position.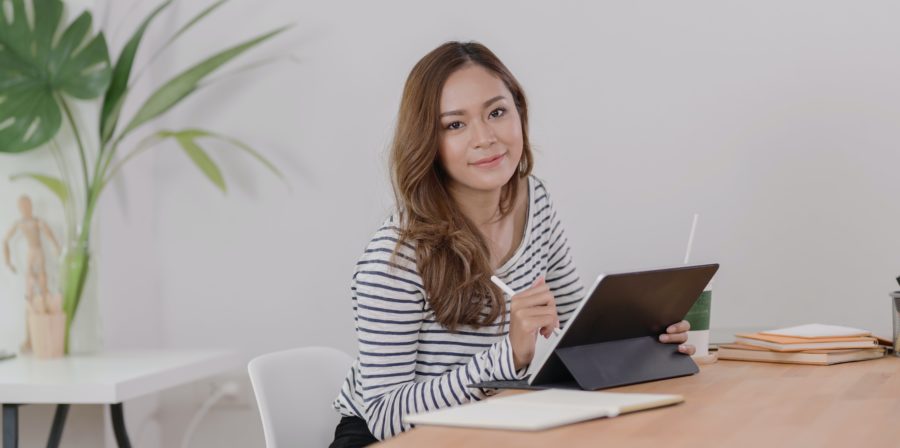 Why Your Job Interview Attire Is Critical
A good industry resume and networking can help you get your foot in the door.
However, if you dress poorly for an interview it may ruin your chances of getting your dream industry job.
This is especially important now that many companies and businesses are opting for 'relaxed' dress codes for employees.
While more lax dress standards may apply to current employees, if you wear Birkenstocks, shorts, or jeans to an interview, you are likely to be unsuccessful.
Unsuccessful and embarrassed.
A study reported in The Guardian found that in the first 15 seconds of meeting you, an interviewer has already developed an opinion about whether or not to hire you.
You have only 15 seconds to show the interviewer you are the right candidate.
15 seconds is hardly enough time to ask a difficult interview question, but it's plenty of time for your appearance to make an impression.
No matter how well you have prepared for your interview, how you dress has the potential to create a bad first impression.
Dressing appropriately is just as important for Skype interviews as it is for in-person interviews.
Whether you meet someone for the first time in person or via a video call, making a good first impression is essential.
In a survey of 500 managers, 37% of them reported deciding against a job candidate because of how they were dressed for the interview.
The old time saying "dress for success" is still very relevant and important for PhDs to succeed in industry.
According to the same survey of bosses, men who failed to wear a tie or jacket, or wore polo shirts, jeans, or chinos were regarded poorly by interviewers.
For women, dangly jewelry, low-cut tops, and bare legs were deemed to be inappropriate attire for an interview also.
To successfully transition into industry, PhDs need to come across as professional, confident, and competent.
Your appearance to an industry job interview needs to communicate that.
Whether you like it or not, the clothes you wear can make or break your interview.
How PhDs Can Dress For Success At A Job Interview
Many businesses, particularly in Silicon Valley, are opting for a more relaxed dress code.
But these relaxed dress codes can make PhDs complacent in their interview attire.
Employees or hiring managers from the company may give you the advice to dress casually or to wear an outfit similar to that of current employees to demonstrate that you are a good fit for the company.
You should not follow this advice heedlessly.
PhDs always need to dress professionally for interviews.
Whatever the corporate culture is in terms of dress code, you should keep that in mind but always scale up.
Failure to dress professionally can give the impression that you are not taking the job seriously.
The right outfit can demonstrate that you are a professional and high-quality job candidate.
Here are three tips for choosing winning interview attire for an industry job interview…
1. Interview attire for men.
The details of how you dress for an interview are just as important as making sure you are prepared to answer all types of interview questions.
All interview attire falls into one of two business categories: business formal or business casual.
For men, formal business attire means wearing a single-breasted suit of a conservative color such as black, navy blue, or grey.
Always keep the top button of your jacket buttoned and the bottom button undone.
If the jacket only has one button, keep it buttoned.
Pair your suit with a plain dress shirt, ideally white, and a matching tie.
Do not wear shirts with colored collars and do not wear a tie that distracts.
The tip of your tie should meet the center of your belt buckle.
Make sure that your pants match the color of your jacket.
If you wish to be slightly less conservative, you can wear a fine-lined pinstripe suit or opt for a pastel dress shirt, but make sure that your tie and shirt colors don't clash.
These alternative options, while still formal, are less so.
If you are unsure if a colored shirt or pinstripe suit is appropriate, it is best to stick to the conservative option.
For those rare situations where dressing formally will leave you overdressed, business casual attire may be an appropriate option.
Business casual can be hard to interpret, so remember that you still need to look professional.
You might choose a plain sports shirt (e.g. a polo shirt) or a plain button-up shirt paired with navy blue, grey, or brown slacks.
You should not wear short sleeves, so be sure to wear a jacket, blazer, or a fitted sweater over short sleeved shirts.
To maintain professionalism, match the color of your jacket or blazer with your slacks.
A fitted sweater, with or without a tie, can create a neat appearance, but be sure that it is plain and not baggy.
Whether you opt for business formal or business casual attire, you should wear clean and polished conservative dress shoes.
Shoes should be black or brown, with laces.
Do not wear white socks. Instead, wear socks that are dark in color and not distracting.
Loafers or tennis shoes are never appropriate for an interview.
Match your belt with your shoes and be sure that your belt does not show signs of wear.
With regards to accessories, a simple watch is appropriate, but do not wear cuff-links or a large belt buckle.
Your hair should be trimmed, neat, and clean.
Keep your face clean-shaven unless you normally wear a full beard or mustache, in which case it should be neatly trimmed.
Pay attention to the appearance of your hands and keep your nails cut short, filed, and clean.
Along with comprehensive interview preparation and avoiding common interview mistakes, a sharp and professional appearance will help you make an excellent first impression.
2. Interview attire for women.
For women, it can be harder to determine what to wear to an interview, as women's fashion typically has more options than men's.
However, like men's interview attire, women should wear formal business clothes to an interview 99% of the time.
Only in exceptional circumstances should you wear business casual clothes.
Give yourself the best chance at success in your industry interview by adhering to the professional dress guidelines.
You should wear a seasonal business suit that is either a solid color or a conservative pattern, with a tailored or pleated skirt or pants.
Match your suit with a blouse in a complementing solid color, such as white or cream.
If you wish to add some color to your outfit, choose neutral colors or pastels.
If wearing patterns, be sure that they do not clash.
Your skirt should be knee-length or longer.
Shirts or blouses should be long-sleeved.
If you do wear a sleeveless shirt or blouse, pair it with a jacket that covers your arms.
Pant suits are an equally acceptable and professional option as well.
When wearing a skirt, wear stockings or pantyhose, even in the summer.
These should be flawless, with no runs, and conservative in color, such as skin-toned or black.
Remember to keep a spare pair in your bag in case of accidents on your way to the interview.
In the exceptional circumstance when business casual is appropriate, a fitted sweater is a professional, yet casual option.
For the rest of your outfit, the formal business attire guidelines apply.
Shirts and blouses should never be low-cut or gaping.
In both business formal and business casual environments, your shoe choice should be medium-to-low heel pumps or professional flats.
Do not wear open-toed, open back, or high-heeled stiletto or platform shoes.
Open-toed shoes may be acceptable for business casual, but if you're unsure, wear closed-toe shoes.
Shoes should be a dark color, such as black.
You should make sure that your shoes are polished and free from scuffs or marks.
Accessories should be kept simple and to a minimum.
Stick to simple earrings, a single necklace, and a plain, elegant watch.
Wear only one ring per hand, with the exception of an engagement ring and wedding band.
Do not wear jewelry that is dangly or that makes a lot of noise.
Be sure to have clean hair, and style your hair so that it is off your face.
If your hair is short, you can wear it down. However, long hair should be tied back to look neat and professional.
Make-up should be plain and simple.
Do not use brightly colored make-up and do not apply make-up too heavily.
Women tend to put on more make-up to try to look better but for interviews, less is more.
Nails should be short-to-medium length, cleaned, and neatly manicured.
Do not apply bright nail polish or have overly designed nails, as this can be distracting.
A professional look will create immediate rapport with your interviewer.
3. General wardrobe guidelines for men and women.
As a general rule, conservative outfits are a safe option and will give a professional appearance without offending or being off-putting.
If you do decide to dress more casually, only do so in exceptional circumstances where you feel like a full suit would be overdressing.
While your general color palate should be dark or neutral, never wear all black.
Also, note that colorings for tops and bottoms can vary slightly.
To ensure a complete match, you should purchase your slacks or skirt at the same time as your jacket or blazer.
If you wear glasses, keep frames up-to-date with clear, clean lenses.
Make sure that you do not wear sunglasses or glasses with tinted lenses, and make sure your glasses do not look worn out.
Facial or body piercings should be removed and tattoos should be covered.
Additionally, if your everyday gender presentation does not fit within gender norms, it is your choice how to dress for your interview.
However, wearing the professional clothing that best fits with your everyday presentation will help ensure you join an accepting workplace.
Most importantly, remember your personal hygiene.
On the day of your interview, have clean hair, shower or bathe, brush your teeth, and wear antiperspirant deodorant.
You do not want nervous sweat patches ruining your professional look.
Keep perfume, cologne, aftershave, and deodorants to a minimum and avoid strong scents.
It is best to apply these at least 30 minutes before you leave home to allow for any strong smells to dissipate.
Avoid smoking and do not have any objects in your mouth, such as gum or candy.
Carry a good leather, or leather-like portfolio or slim briefcase with copies of your resume and cover letter.
Include a new, working pen and some clean paper, or a clean notebook.
If the weather is very hot, you may choose to not wear a suit jacket, however, be sure to still wear a long-sleeved shirt or blouse, and a tie if you're a man.
Dress in a manner that is flattering to your body type.
Never wear outfits that are too loose or too tight.
Getting your outfit tailored by a professional can help make sure your look is polished, while keeping you comfortable.
Many stores that sell business wear offer tailoring services and some offer stylist services to help you choose an outfit to flatter your body type.
Finally, remember to turn off and put away all electronic devices to prevent distractions.
Making a good first impression is essential to nailing the interview. No matter how well you have prepared for the interview, if you fail to dress correctly you will not create the professional impression you need to succeed. When unsure, always opt for formal business attire and wear a conservative outfit. Dress up for Skype interviews like you would for in-person interviews. You may also wish to dress up for a phone interview. Dressing up professionally can put you in a professional mindset which may come across in your responses and tone. Create an excellent first impression by dressing for success.
If you're ready to start your transition into industry, you can apply to book a free Transition Call with our founder Isaiah Hankel, PhD or one of our Transition Specialists. Apply to book a Transition Call here.
Get Free Job Search Content Weekly
ABOUT GEMMA PAECH, PH.D.
Gemma has a PhD in Social Sciences specializing in sleep and circadian rhythms with a background in genetics and immunology. She is currently transitioning from academia into industry. She has experience in communicating science to lay audiences and believes in sharing scientific knowledge with the public. She is passionate about educating the public about the importance of sleep and the effects of sleep loss and disruption on general health and wellbeing to increase quality of life and work productivity. She is also committed to mentoring students across all demographics, helping them reach their full potential.
More Written by Gemma Paech, Ph.D.