Industry Transition Spotlight: Sedef Iskit, PhD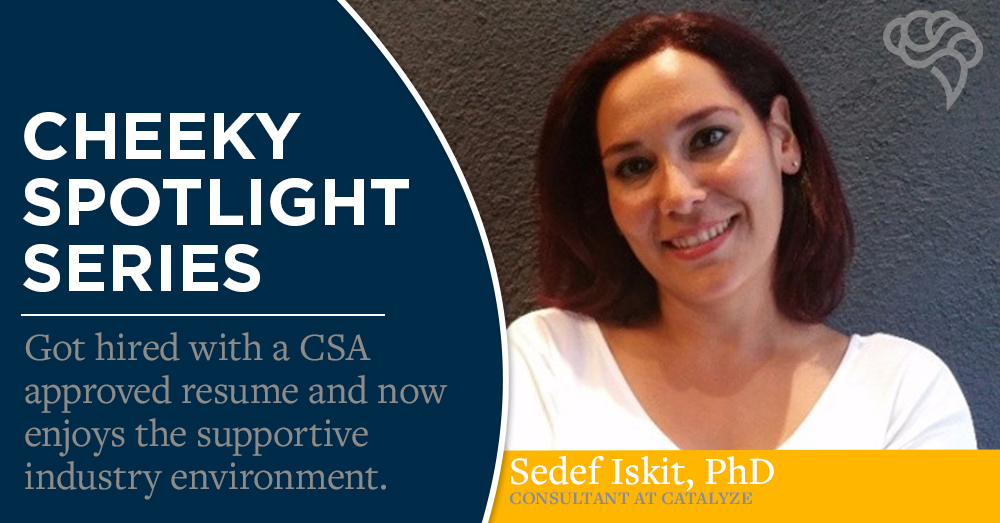 An interview with Sedef Iskit, PhD
What is your name, your full job title, and the full name of the company you work for?
Sedef Iskit, Consultant, Catalyze.
What is your favorite part about working in industry?
First thing is definitely work-life balance, and how everyone understands and respects these boundaries. We are also relatively flexible about working from home every once in a while, or changing our contracts to a 36 hour or a 32 hour one.
Being able to achieve this work-life balance is closely related to planning, which I never had at academia. I have always known myself to be a chaotic person but it turns out that I love planning, and having milestones and deadlines. Because I know exactly what I have to deliver and when in the very foreseeable future. It is not like in academia: here is a project and a side project, you have 5 years to discover some new things and publish them. Good luck. When your manager has an excel sheet of how many hours each person has, and how many hours each project is expected to take, the work is distributed accordingly and the normal 8 hours a day is simply enough to deliver all you have to deliver.
Can you describe what a typical day at your job looks like?
I usually come in sometime between 8:30-9:00. I pour my cereal and fill my coffee cup (cos I am usually not awake enough to go through the whole breakfast-coffee thing and still be at work on time). Then some small talk with office mates. We are a team of 4 people. A couple days a week I have morning meetings to discuss projects: one meeting as a team, one alone with my team lead. The rest of the day is working on projects. This may include client meetings (mostly on the phone), preparing documents for clients, integrating their feedback, writing up the projects, and some administration. I leave somewhere between 17:15-18:00. I tend to leave later than I planned though, which must be the remnants of bad habits from academia. Days before a deadline can be quite busy but it is never stressful in a negative way and we always have drinks after deadlines.
How is your current industry position different from your academic postdoc or experience as a graduate student?
It is an entirely different world. There is always constructive and positive feedback, nobody puts you down for something wrong you might have done, nobody focuses on negatives. There is always a way to turn things around and see the positive or fix whatever is wrong. And there is real team work, truly shared projects or immediate help if somebody's project is in trouble (because of a deadline for example). So far I haven't witnessed any nasty competition or bad gossip.
If you could go back in time, to before you received your job offer, and give yourself one piece of advice or encouragement, what would it be?
Advice: Start working on your career sooner. (I started way too late, after my lab work was finished, after I was already unemployed for 6 months because I was focusing on my thesis and recovering from post-academia stress disorder 😊)
Encouragement: You've got the skills necessary to make the transition to wherever you want. It might not be easy or fast, but prepare well and it is somewhere out there for you to take.
What was the most memorable moment for you (so far) as a Cheeky Scientist Associate?
My CSA membership is on my CV in the ''Organizations and Achievements'' section at the very end. I remember feeling slightly concerned about what I would/should tell if somebody asks about CSA. Then I thought nobody reads a CV until that part anyways. When I was at my first interview at Catalyze, they did go through my CV in front of me, section by section. And they asked about something in each section. In the end they arrived Organizations and Achievements and bam, number two was CSA (first is European Medical Writers Association so no need to ask about that). I had zero plans or preparation about what to say so I just opened my mouth and heard myself for the first time explaining very proudly how CSA helps all of us make this transition, how it facilitates all of us to help each other, and what I learned from it, including writing CVs. The hiring manager, now my manager, said something like "Yes, I see how well you learned your CV looks really good, concise with only the necessary/relevant information and so easy to read".
What do you see as the next step in your career?
I will have to see where I want to go from here. I love where I work now but I also realize that it is a small company with a limited focus. Right now we are writing business cases and project proposals. I know absolutely nothing about the business world. I would like to learn all I can first, then I will decide whether I want to climb the seniority ladder here for a while, move deeper into the business world, or carry on with my enthusiasm for scientific communications. Or find a way to combine them!
How can the Association and the Association's members help you continue to achieve your career goals?
I still actively follow CSA posts. Especially the ones related to negotiations. This will never end, it is just the beginning. The rest of my career will be full of negotiations, for salary, for a promotion, even for business deals with clients. I also recently asked for advice on how to ask for a promotion/raise after my 6-month evaluation meeting. But aside from these, there is always valuable information shared on CSA pages. Even when I briefly scroll through, I always gain a few new ideas/inspirations or learn a good approach. Finally, I know that whenever I need information or advice on something I cannot already find in the pages, I can simply write a post and tens of people will contribute their opinions and resources.
Now that you've spent some time working in industry, what is the biggest takeaway(s) you'd like to share with those who are still executing their job search?
You have useful skills that people out there will realize and value. Learn to communicate these and sooner or later you will get what you want.
To learn more about how you can transition into an industry career like Sedef, including instant access to our exclusive training videos, case studies, industry insider documents, transition plan, and private online network, get on the wait list for the Cheeky Scientist Association.
Get Free Job Search Content Weekly
ABOUT ISAIAH HANKEL, PHD
CEO, CHEEKY SCIENTIST & SUCCESS MENTOR TO PHDS
Dr. Isaiah Hankel is the Founder and CEO of Cheeky Scientist. His articles, podcasts and trainings are consumed annually by 3 million PhDs in 152 different countries. He has helped PhDs transition into top companies like Amazon, Google, Apple, Intel, Dow Chemical, BASF, Merck, Genentech, Home Depot, Nestle, Hilton, SpaceX, Tesla, Syngenta, the CDC, UN and Ford Foundation.
Dr. Hankel has published three bestselling books and his latest book, The Power of a PhD, debuted on the Barnes & Noble bestseller list. His methods for getting PhDs hired have been featured in the Harvard Business Review, Nature, Forbes, The Guardian, Fast Company, Entrepreneur Magazine and Success Magazine.
More Written by Isaiah Hankel, PhD