5 Onboarding Steps For PhDs That Protect Your New Industry Job
Onboarding expert and contributing author Sarah Smith, PhD, shares her company onboarding experience.
The day I had been waiting for was finally here. My first day in industry.
I had been looking for a job for nearly a year, and this one seemed like a great fit for me.
I couldn't wait to get started…But when I showed up, no one was prepared for me to be there.
I had no desk.
One of my coworkers seemed very annoyed that they had to find a random table for me to sit at. I didn't have a computer either.
I was there, but I had nothing to do.
I just stared at the 1-page document they gave me when I arrived. I felt like I was bothering everyone, and I wasn't supposed to meet my manager until the following week.
It was so awkward.
Was this what it was like when you started a new industry job? I was not ready for this. I was frustrated with the lack of onboarding, and it created tension between my manager and me. I was visiting their office to talk over every little detail I didn't know how to handle.
But I had no idea what I was supposed to be doing.
It took us a while to reach a comfortable place. I wish that I had understood more about what it takes to integrate into a company. Ultimately, I enjoyed my first industry position. But I never forgot that bad first impression. So when I interviewed for my next industry job, I always asked about the onboarding process.
How Onboarding Can Make or Break Your New Industry Role
Most companies spend money on the onboarding process. They want to make sure that you are fully integrated and ready to work.
If they don't do this, new employees will struggle, and they will lose money.
Business reported that 22% of staff turnover occurs within the first 45 days. Yes – after 45 days, almost a quarter of new hires leave. According to Harvard Business Review, 33% of new hires look for new jobs within the first 6 months.
Bad onboarding makes people want to leave.
Yet good onboarding not only encourages employees to stay but makes them more productive. The Society for Human Resource Management observed that strong onboarding processes improve new hire retention and productivity by 82% and 70%, respectively. So be prepared to create a good onboarding experience for yourself – even if the company does not have a formal onboarding process.
5 Ways PhDs Contribute To Good Onboarding Process
Onboarding is simply the process by which you are integrated into a company. The company needs you to perform and do high-quality work as soon as possible. If you aren't integrated into the company's processes or teams, you will not perform well.
If the company isn't doing a good job of integrating you, then it's time to take matters into your own hands. Here are 5 key onboarding concepts that many PhDs can use to take charge and integrate themselves into a new job.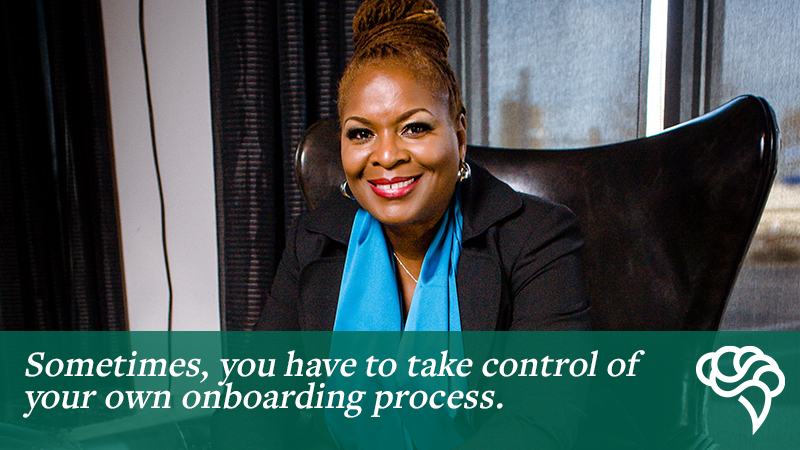 1. Orientation is not the same as onboarding.
A formal orientation is an event where you sit in a room with other people who were probably hired on the same day.
This is a 1-time event.
At orientation, you'll go through HR policies and get a nice shiny booklet about what the company is all about. Don't confuse orientation with onboarding.
Orientation won't provide the "deep dive" that you need to get integrated into the company and start being productive.
Onboarding is more about adapting you as you learn to do your job. Since the orientation is not enough, you need to be engaged and ask good questions as you are working.
In meetings, you should be sitting forward, paying attention, and asking appropriate questions.
If you take a real interest in what others talk about, being intellectually curious is not that difficult. And as a PhD, once you do take an interest, your natural intellectual curiosity will help in examining important company issues. This curiosity is something that sets you apart from the rest, and it demonstrates your dedication to succeeding.
2. Being patient and curious will make you a valuable team member.
Adjusting to the new environment may be challenging – especially if you've never worked in industry before. It's your job to observe these changes and to see how things are done at the company.
But as a PhD, you likely want to impress the boss right away.
You want to demonstrate your value within the first days on the job. Don't fall into this trap – it can make you come across as really cocky and aggressive. And if that's not the company culture, then you will stand out in a very bad way.
Instead, you need healthy intellectual curiosity.
Ask questions and observe. Don't try to "fix" anything just yet. After meetings, go to your manager and ask questions about how things are done so that you know what they expect of you.
Spend some time practicing active listening and asking good questions. This will leave a good impression on your teammates.
Good questions show that you're humble enough to learn.
And they demonstrate that you're smart enough to know what the important questions are. This is just temporary, but it's important that you don't rush in and try to take the lead before understanding how things get done.

3. Learn company processes by asking direct questions.
Set up a 1-on-1 meeting with your manager as soon as you can. Ideally, you should set it up within the first week.
A 1-on-1 meeting is important because it gives you time to ask key questions.
Use this meeting to ask your manager what your day-to-day work is supposed to look like.
Ask:
What you should be doing with your time
Whom to work with on certain projects
What processes you need to learn the fastest
Where you can get all the information you need
What they would like to see by the end of your first month on the job
This is also the time to start planting seeds for the conversations about your end-of-year goals.
It will take a little time—probably 30 to 90 days—to actually solidify what those goals are. Your manager needs to know right away that you're a very goal-oriented person, and that you're looking forward to setting the goals for the year.
You will need to attend the appropriate meetings, so don't wait for an invitation – ask about these meetings on your first day.
It's embarrassing when you're new at a company and somebody asks why you weren't at the last meeting. The most critical question to ask your manager is,
What communication method do you prefer?
Are they somebody who wants to receive text messages? Do they want to communicate with you through email, Skype, or some other digital platform? Do they want you in the office, or can you work from home?
How do you alert them to critical concerns versus minor updates?
Learn the answers to these questions now so that you can move forward without changing the system in unwanted ways.
4. Build strong relationships with coworkers by being reliable and adding value.
Networking is an important part of getting a job, but it doesn't end after you're hired. After you land your new job, networking will teach you the best way to get your team's work done.
Thankfully, building relationships with coworkers should be easier than networking with random people.
You share the work you do, which is a great starting place for getting to know people. But it can still be challenging because everybody has their own objectives and their own goals.
You have to work really hard to build that network and those relationships.
Your coworkers won't want to sit down for coffee with you unless they understand how your work overlaps with their own. So you should be asking questions when you're meeting these people 1-on-1:
What are you working on?
How do you foresee [their work] overlapping with what I'm going to be doing?
How can we help each other out?
Those are very real conversations you hear in the hallway all the time, and they're a great way to build relationships.
Once you know this, you can build dependability and reliability by delivering on what you say you're going to do.
You will accomplish this over time by being reliable and consistent.
5. Onboarding takes 3-6 months, so don't expect immediate results.
As a PhD, you are probably ready to hit the ground running in your new position. You want to get through this "onboarding" phase as fast as possible.
This is a bad idea.
It's going to take a while for you to get up to speed with everything. Onboarding can take anywhere from 2 months to a whole year. The average time is 3-6 months, and you need to be patient during this time.
It's actually a good thing that onboarding takes a while.
If you don't need some time to get comfortable with your new job, you may not be in the right job for you – it's not as much of a stretch as it should be. If this new position is really the next step for you, it's going to be a learning process.
It's going to take you several months to master your new industry skills.
It's uncomfortable to know that mastering things takes a while, but that's okay. That's why there is an onboarding phase.
But remember that orientation is not the same as onboarding. Orientation is basically just a small series of introductory meetings. You need to help build your own onboarding process as outlined in this article. Have a good attitude – being patient and curious will make you a valuable team member. Learn company processes by asking direct questions, and build strong relationships with coworkers by being reliable and adding value. Onboarding takes 3-6 months, so don't expect immediate results. Over time, your new job—and your place in the company—will take shape in a satisfying way, and you'll feel comfortable in your role.
If you're ready to start your transition into industry, you can apply to book a free Transition Call with our founder Isaiah Hankel, PhD or one of our Transition Specialists. Apply to book a Transition Call here.
Get Free Job Search Content Weekly
ABOUT SARAH SMITH, PHD
Sarah Smith, PhD, holds a degree in Biochemistry. A tireless science consultant at large, her rigorous pursuit of pristine labwork is unflinching. Yet Sarah's keenest passion--guiding emergent academics into the business world--stems from personal experience with the transitional struggles she would have no PhD face alone.
More Written by Sarah Smith, PhD