PhD Student? Here's How To Get A Job Offer Before Graduation
Graduate …then get a job?
Why must it be sequential?
How can I do both at the same time?
When should I start my job search?
If I'm a PhD student, what should I be doing?
How can I avoid the most common fate of ending up unemployed after I defend?
Should I start my job search before or after I defend?
We have come across several PhD students who had the same questions.
And the answer is: you can have both.
You can graduate from your PhD with a job lined-up and avoid unemployment.
But to achieve that, you will need to prioritize your job search while you are still in grad school.
You can write your thesis and search for a job at the same time. They do not need to be mutually exclusive. Yes, it might be easier to separate the two but it's also the surest way to end up unemployed after graduation.

I'm going to tell you the story of how I decided to leave academia and transition into industry. This will be extremely relevant to you if you are a PhD student trying to get a job.
I started as most PhD students, training to become a professor. But eventually I realized that I wanted to get a job in industry.
So, I decided to discuss my plans with my PI, hoping that he would help me plan my transition.
Unfortunately, what happened was the complete opposite.
As soon as I said, "Hey, my plan is to leave academia for industry." He withdrew his support.
Now, I understand it. When you have been programmed since the 1970s to pursue tenure, it's all you know; all you'll ever know. How do you support something you don't know?
Once my PI knew I didn't plan to stay in academia, each day became more challenging than the last. He wouldn't even review my presentations. and frequently pointed out that anyone who received training as a PhD student, but did not stay in academia, was considered a failure by academic standards.
It came to the point where I had to push for a meeting with my PI and the department head. I ended up sitting in a room with two individuals, at least 20 years older than me, who were trying to use the authorship order of a paper against me.
They proclaimed that I couldn't use a shared first author paper to graduate. They went as far as looking at all the figures of the paper to determine the percentage of my contribution and determined that almost 40% of the data in the paper were mine, which was not enough.
The conversation didn't make any sense. None of the arguments was based on a clear standard that would allow me to know when I could defend my thesis. And so, I decided to make a plan and transition with or without my PI's support.
If you're a PhD student, you are not crazy for wishing to advance your career. Moreover, you are not crazy for wanting to know what the next step is, or what at the clear milestones you need to achieve to graduate.
Don't get stuck in apathy, start working for free, or wait until you have defended and are unemployed. Start your job search early. Graduate with a job in hand and avoid all the uncertainties.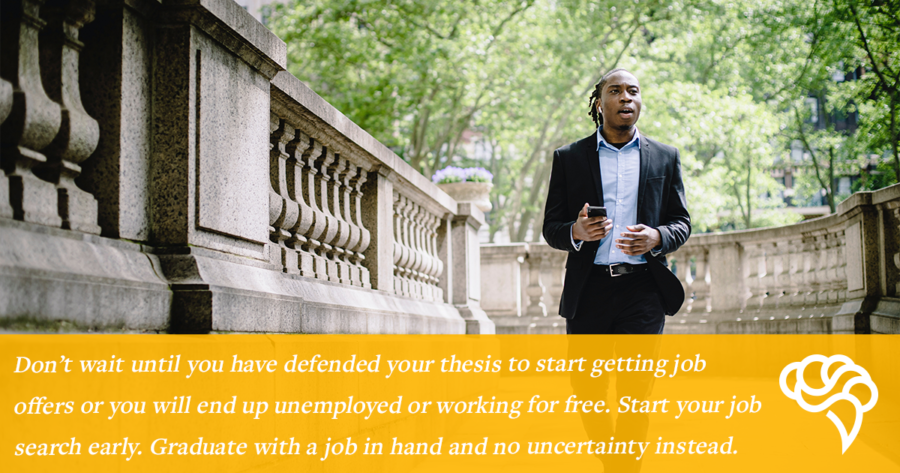 5 Excuses Academics Make To Discourage PhDs From Leaving Academia
The primordial norms and thoughts of academia haven't changed much over the years. Publish or perish is still a rule of thumb. Being overburdened, tolerating academic bullying, working for free are norms.
Yet, many PhDs let their PIs or other academics convince them that pursuing a career in industry is undesirable, or that they can't leave academia until they achieve some absurd goal that keeps changing.
Don't let your PI pressure you into feeling guilty about leaving. As a mentor, your PI has to support you and provide a safe environment. They are bound to facilitate your progress not demotivate you. If that's not the case, they are failing you, you are not failing them.
Once you decide to transition into industry, commit to it. Find a job and leave. The average salary for a PhD-level industry job is $91,112 and you can have a fulfilling job where you feel appreciated too. There is no reason to keep wasting time in academia once you graduate.
Let's explore some of the excuses that hold PhDs back from committing to their job search before graduating.
1. You won't get to stay close to the science
You probably have heard this far too many times. Industry has a dark side. They are a business, they don't care about the science, only about the money.
This is simply not true.
Research and development are the backbone of industry. Currently, the best science and the best research is done in industry.
Funding restrictions and improper project management have cost academia its ability to innovate.
There is a reproducibility crisis in academia. A study conducted by Nature found that 70% out of 15,000 participating scientists were unable to reproduce experiments done by academics. Industry, in contrast, has streamlined the process, they don't believe in wastage. Every project is dealt with high importance, every aspect is researched and discussed, no development occurs unless risk mitigation is in place.
As a consequence, 80% of the most relevant scientific breakthroughs are done in industry, not in academia.
2. PhDs who leave academia are a failure
This is probably the worst myth that PhD students have to deal with.
First of all, this only applies to academic standards. Therefore, looking for better opportunities or wanting to change careers to find a better fit are not considered failures in the real world.
Second of all, the academic system is broken and tenure is dying, job prospects in academia are bleak to say the least.
A study found that for every 200 people who finish a PhD, only seven will be able to procure permanent academic positions and only one will become a professor. This dim outlook contributes to high rates of anxiety and depression among students.
Stop evading reality. There is no future for you in academia and that is not your fault.
3. You are doing noble work
PhDs tolerate hardships and work relentlessly because they want to have an impact, to make the world a better place. And so, they remain in academia because they are told that this is the only place where they can do meaningful work.
Yet, academia is not a productive environment. It lacks a management system. There is no project scope, project charters, or statements of work.
Universities are losing funding. They have been pushed to close departments and terminate programs due to financial losses. PhDs have to pause experiments halfway through to wait for reagents.
This is sadly true for many of you. Your research will probably have no impact in the world, it's merely cheap work that will only benefit your PI. You should be doing bigger things.
Remember, hardly any development occurs in academia; 80% of breakthroughs are done in industry.
4. Authorship order are journal publications are important
Peer-reviewed publications are the currency of academia. PhDs spend years working towards new publications and spend hours discussing who should be the first author.
Industry norms are different. Publications don't matter there.
Industry hiring managers want to see your accomplishments, your transferable skills, what you can bring to the table.
Smart PhDs know that putting their publication record on an industry resume is a waste of space. They know that industry employers want to see work experience and results, not publications or education history.
Your ability to work with a highly structured team and add value to the company is what will get you hired. You don't need a first author paper to graduate. You don't even have to have a paper to graduate.
You've worked hard on your publications and should be proud of them, but don't let your pride get in the way of your dream job. Focus on learning industry language and stop working for free on that 'final' publication.
5. Doing a postdoc after your PhD increases your chances of getting hired
We have heard of many PhDs who decide to do a postdoc to increase their chances of getting an industry position down the line. Unfortunately, they are misguided because the opposite is actually true.
The longer you stay in academia, the more difficult it will be to get a fulfilling industry position. Industry employers want PhDs who can quickly learn the industry mindset, not unteachable academic PhDs.
Doing a postdoc will only damage your career.
On top of that, the average postdoc compensation in the US and Canada is about $43,000 a year. Below that of a mail man or a librarian. There are huge variations in the salaries of postdocs and some are barely above a graduate student's stipend. Postdocs are just cheap labor. Administrators at universities have fought against governments to prevent overtime pay for postdocs. So, you should never do a postdoc.
This is your life. It's your career and no one can play with it. You can't live on a stipend alone. $1,400 a month is nothing.
If you're going through any of this, I want you to know you're not alone. The system is broken. Take charge of your career.
5 Strategies To Graduate With A Job In Hand
If you know that you want to get an industry job, but are unsure about when is the right time to start your job search. The answer is now. It is never too early to start.
Don't let yourself be deceived thinking you have a lot of time to set up your job search after your thesis submission. Most importantly, a PhD job search requires a rigorous multi step strategy. As a result it can take up to 18 months from the moment you start looking for jobs to the moment you get hired.
This is the moment to take care of your future. So, get ready to face the conflict ahead of you. Above all, get a job and leave academia. Your PI and advisors can work for themselves. They can take care of their own careers.
If you are past your comprehensive exams, in other words halfway point of graduate school, you've done the work necessary. You've produced new data. That's what a PhD requires.
That's your leverage. And you've earned it.
Now, it's time to focus on your transition into industry.
Let's explore the strategies that PhDs can use to land a job by their graduation date.
1. Set up a goal, get clarity
You can't hit a target that you don't set.
You need clarity.
Analyze your graduate work and list the skills and the results that you can leverage to add value to a company.
Understand that you're able to excel at several industry positions, but the requirements for those positions are different and you need to set up a target and show certainty.
What is your desired lifestyle?
Where do you see yourself in 5 years?
What kind of impact do you want to make in the world?
By answering these questions you will be able to determine the best career path for you and target your job search.
Don't let imposter syndrome get the best of you. After all, you're a master of a field. You know research and innovation.
Identify the top skills and set a target industry career track.
2. Aggregate information, get organized
Create a spreadsheet to organize your job search.
Make a list of companies you would like to work for. After that, enlist the job opportunities available in those companies. Subsequently, include people working there in your spreadsheet – gatekeepers, recruiters, talent acquisition specialists, hiring managers, and directors.
Focus your networking efforts on proximal roles.
If you want to be a R&D scientist, then reach out to a Scientist in your target company and ask for a quick call. This will help you understand the role better, especially the expectations that the company has for the role. First hand information is precious since it is company- and position-specific.
3. Network to build up industry credibility
The most time-intensive part of your job search is to build a network of industry professionals. A strong network is also the most important investment that you can do if you want to transition into industry.
Having industry connections will show hiring managers that you are a credible candidate who has made the shift from the academic mindset and has adopted the industry mindset. This is important.
Informational interviews are a great way to build rapport with your network and aggregate information about the work culture of the company, specific details about the job title, exclusive information needed on the resume for that position, among others.
Reach out to the professionals listed in your spreadsheet using our networking scripts and set up informational interviews. Then add value by congratulating them on their success, quote a good thing about them, and tell them your story.
Mention your expected graduation date and let them know that you're exploring career opportunities.
Keep the information of your connections organized, including the last time you reached out to them, and follow up every month.
Approach networking with a discovery mindset. If you do this while still in grad school, you'll be far more effective as you will not be desperate. You'll be approaching people as an end in themselves rather than as a means to an end.
Don't wait until you have graduated and need a job tomorrow to start investing in your network.
4. Speak the language of industry
Once you start building your network, you will notice that industry professionals have their own lingo. Therefore, pay attention to the expressions they use and incorporate them into your vocabulary.
Companies want PhDs who can speak nerd and normal.
So, you need to show them that you can speak the language of industry and that you know how to apply your technical skills in a business setting.
This is called business acumen and is one of the most sought after skills in industry.
If you keep talking to your network using academic language, it's going to be very hard for you to make connections on LinkedIn or otherwise. It's going to be very hard for you to pass an interview.
Show industry employees that you have done your homework and are ready to become one of them because this will boost your credibility at all stages of the hiring process.
5. Revamp and upload your resume
The industry resume is a marketing document. Its main purpose is to show the hiring committee that you are the best candidate for a particular role. This means that you only should add information that is relevant to the particular position.
You shouldn't apply to an industry position using your 20-page long academic CV. Because that will show hiring managers right away that you are an academic who doesn't know the first thing about working in industry.
Instead, craft a two-page industry resume. This document should clearly indicate your contact details, followed by your professional summary, work experience, education, skills, awards, and hobbies.
An easy way to target your resume for a particular position is to study the job description and add the most relevant keywords to your resume.
Brainstorm all the results that you have achieved and list them as quantified results to show the impact that you can make. For instance, quantified results can be the number of publications, patents, collaborations, optimized technologies, protocols, funding grants.
Moreover, by quantifying your results, you prove that you can deliver. It shows that you understand the importance of results and that is the language of industry.
Concluding Remarks
If you are a PhD student, organize your time to ensure you can execute your job search while you are writing your thesis. Just focus on these two things and you will have multiple job offers waiting for you by the time you defend. Don't buy into the excuses that keep PhDs in academia. Instead, start prioritizing your job search. In conclusion, set up a clear goal, keep your information organized, invest in your network, learn the language of industry, and revamp your industry resume.
Realize your worth and start thinking and acting like a successful industry professional.
If you're ready to start your transition into industry, you can apply to book a free Transition Call with our founder Isaiah Hankel, PhD or one of our Transition Specialists. Apply to book a Transition Call here.
Get Free Job Search Content Weekly
ABOUT ISAIAH HANKEL, PHD
CEO, CHEEKY SCIENTIST & SUCCESS MENTOR TO PHDS
Dr. Isaiah Hankel is the Founder and CEO of Cheeky Scientist. His articles, podcasts and trainings are consumed annually by millions of PhDs and other professionals in hundreds of different countries. He has helped PhDs transition into top companies like Amazon, Google, Apple, Intel, Dow Chemical, BASF, Merck, Genentech, Home Depot, Nestle, Hilton, SpaceX, Tesla, Syngenta, the CDC, UN and Ford Foundation.
Dr. Hankel has published 3X bestselling books and his latest book, The Power of a PhD, debuted on the Barnes & Noble bestseller list. His methods for getting PhDs hired have been featured in the Harvard Business Review, Nature, Forbes, The Guardian, Fast Company, Entrepreneur Magazine and Success Magazine.
More Written by Isaiah Hankel, PhD