5 New Rules That Will Get Your Resume Noticed
The day I finished my thesis should have been one of my happiest, but I remember it being filled with mixed emotions.
Although I was relieved that my thesis was finished, I was completely unsure of what lay ahead of me.
My feelings of joy were quickly replaced by dread.
I had accomplished something huge, but… now what?
I remember thinking to myself, "Today, I officially became a doctor and today, I officially became unemployed."
Talk about mixed emotions.
So, mere hours after submitting, I was at the computer again, updating my resume.
But, I hadn't written a resume since just after high school.
To say that my resume style was outdated is an understatement.
After adding my PhD experience, it ended up looking like weird a mixture of a resume you would submit for working at a coffee shop and an academic CV.
Unsurprisingly, I never heard anything back from the few places I submitted this terrible resume.
After the silence that my online applications were met with, I started doing my research to figure out what the problem was.
And, woah — I had been executing my job search totally wrong.
I started networking, updated my LinkedIn profile, and completely revamped my resume.
Instead of an awkward and outdated CV, I had a concise results-driven industry resume to hand over to a connection when the time was right.
Why You Must Write A Modern, Powerful Resume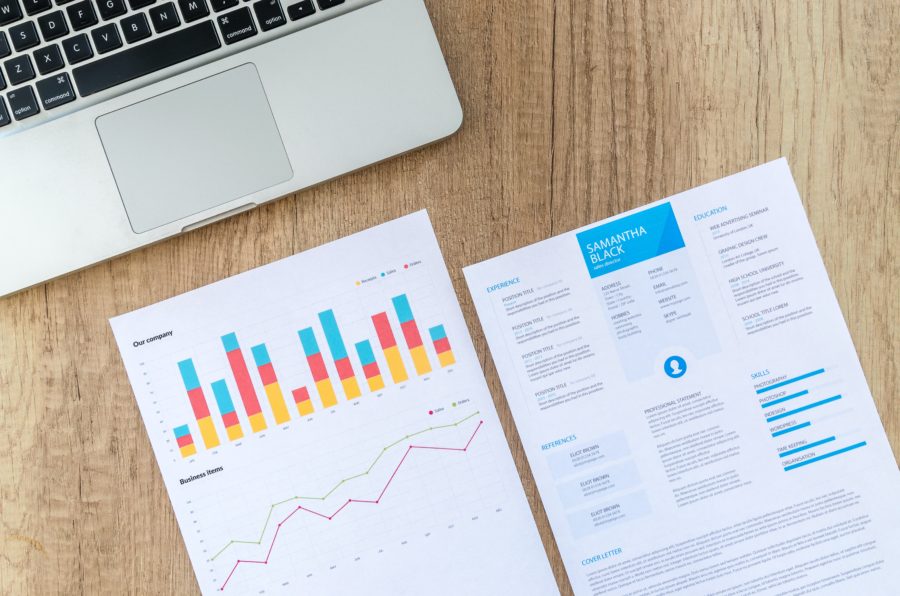 First of all, networking should be at the core of your job search.
Building up your professional network with the goal of generating referrals is the best way to land an industry position.
According to a study by the Society For Human Resource Management, just 1% of job applicants are hired.
But, your chances of getting hired are completely transformed when you have a referral.
US News reported that with a referral, your chances of getting hired increase to 53% and this number jumps to 91% if you are referred by someone in a director role.
By getting a referral, you increase you chances of getting hired by more than 50%.
So, your number one job search priority should be networking.
But, once you make the effort to put networking at the center of your job search strategy, you don't want a terrible resume ruining all that hard work.
Even with a referral, a terrible resume will lead to rejection.
Your resume is the first thing that the hiring manager will see, so it must make a good impression.
This is your chance to earn an interview, so make the most of it.
5 New Rules For Your Industry Resume
Don't be lazy and submit a non-tailored, out-of-date resume that will never get you hired.
You are a PhD.
You are an expert in your field, and a master of learning.
Do your research and learn what a modern industry resume needs to look like.
Here are 5 new rules for PhD resumes…
1. It's not a CV.
Your industry resume needs to be quite a bit different from an academic CV.
At most, you want your industry resume to be 2 pages long.
No employer is going to look beyond 2 pages to decide if you are worthy of an interview.
Crafting a clear 2-page resume demonstrates that you are able to communicate effectively and concisely, both of which are important in industry.
This means that your resume should not detail every single accomplishment you have ever had.
Only the accolades and accomplishments that are relevant to the job you are applying for should be included.
Tailoring your resume to the job will clearly demonstrate that you have the right expertise and experience for the job.
Lastly, your industry resume should not contain a list of your publications.
In academia, your publications define you, but in industry, they matter much, much less.
Your future employer does not want to see a complete bibliography of all your publications.
2. Your professional summary goes at the top.
The very top of your resume is the first place where a hiring manager is going to look.
You want this section to very clearly indicate that you are an outstanding job candidate.
Putting an objective statement, your education, or your publications at the top does not demonstrate that you are an industry-ready PhD.
Long gone are the days of the objective statement, especially for PhDs.
Instead, at the very top of your resume, you should have your professional summary.
This 3-bullet point section highlights your most relevant skills and accomplishments in a way that persuades the hiring manager you deserve an interview.
Each of these 3 bullet points has a specific purpose.
The first one is your elevator pitch.
You must show the experience and results you have achieved that make you a perfect fit for the job.
The second is your technical expertise.
As a PhD, you have a tremendous amount of technical expertise. It is here where you highlight the most relevant skills you have.
The third is your most important transferable skill.
In industry, it takes more than technical know-how to be successful. You need the soft skills to match.
Show your employer that you have the necessary transferable skills to be an asset to their company.
3. Only the first 10-25% of resumes submitted are read.
On average, recruiters and hiring managers only look at the first 10-25% of the resumes that are submitted.
This is why networking and generating referrals is essential.
With a referral, you will often find out about positions that are unadvertised, or learn about positions before they are advertised.
Plus, with a referral, you can give your resume directly to a person, not submit it into the abyss of an online job portal to be filtered out by applicant tracking software.
If you are uploading your resume without a referral, then you should be submitting within the first few days that the job posting is up.
Otherwise, your resume is probable not even going to be looked at — by software or a human.
Realistically, it's very difficult to know right away when a job is posted, unless you are networking.
You can use keyword alerts to help you stay on top of new job advertisements, but this is not a comprehensive fix.
The best way to learn about job opportunities early, and avoid applicant tracking software, is with a referral. And, to get a referral, you must be networking.
4. Lead with transferable skills, not action words.
Putting creative action words into your resume is not impressing anyone.
Using words like "maximized" or "spearheaded" is not going to convince someone to hire you for a PhD-level job.
You need more than fancy words in your bullet points. You need substance.
You need to show that you have the right skills for the job.
Hiring managers know you have a PhD, so they know you have the technical skills, but they don't know if you have the necessary transferable skills to succeed in industry.
Can you work as part of a team?
Do you have leadership skills?
Do you have market knowledge?
Have you used any of that company's products before?
Do you understand the market landscape?
Do you understand current industry trends?
Communicating that you have these transferable skills is so important, that every single one of your bullet points should start with a transferable skill.
As a PhD, you have many transferable skills that are desired in industry.
If you're not sure what a transferable skills is or what skills you have, check out this transferable skills ebook for more information.
5. Results are what matter most.
Employers want to see more than a list of the skills you have.
They need to see how you can use these skills — what results have you achieved?
And, your results need to be quantitative.
Eye-tracking studies have shown that when employers are skimming a resume, their eyes stop at numbers.
Including numbers will keep the hiring manager reading your resume for a longer time.
This increase in read-time will increase the chances that they will see something that makes them want to bring you in for an interview.
Employers spend only 5-7 seconds skimming a resume, so any extra time you can earn is important.
Include a result at the end of every bullet point and always make this result numerical.
It could be the number of publications you have, the number of conferences you've presented at, the amount of grant funding you have earned, the number of collaborations you have, how many researchers you've managed… anything with a number.
Results are what matter in industry, and a results-driven resume demonstrates that you are a PhD ready to transition from academia into industry.
Your resume is more than a list of your qualifications. Your resume is where you must persuade the hiring manager that you deserve an interview. And, to do this, you must have a modern industry-style resume. Your industry resume is not a CV. It should have a professional summary at the top. To get read, it needs to be in the first 10-25% of resumes submitted. You should write bullet points that lead with transferable skills, not action word. And, every single bullet point should end with a quantitative result. Don't let a bad resume ruin all the hard work you have done through networking and getting referrals. Follow these 5 new rules for PhD resumes.
If you're ready to start your transition into industry, you can apply to book a free Transition Call with our founder Isaiah Hankel, PhD or one of our Transition Specialists. Apply to book a Transition Call here.
Get Free Job Search Content Weekly
ABOUT JEANETTE MCCONNELL, PHD
Jeanette is a chemistry PhD turned science communication enthusiast. During her PhD she realized that her favorite part about research wasn't actually doing research, but rather talking and writing about it. So, she has channeled her passion for discovery into teaching and writing about science. When she isn't talking someone's ear off about her latest scientific obsession, you'll find her on the soccer field or reading a good sci-fi novel.
More Written by Jeanette McConnell, PhD