3 Torturous Parts Of A PhD Job Search (& How To Overcome Them)
I was going to get hired for my competency, not for my likeability.
That was what I thought anyway. Then, I had my first interview. It did not go well.
I thought that if I got an interview that I would most likely get the job. After all, I had a PhD. I even had the skills that the employer was looking for. "I was the perfect candidate!" I thought. This is going to be straightforward, logical and thus relatively easy. They want me and I want the job. The end.
How arrogant. Did I really think that someone was going to pay me a high salary for doing meaningful work at a great company without getting to know my personality at all? Did I really think that I could simply tell them that I had the skills they were looking for and that they would believe me and give me a job offer?
It turns out, they wanted to know who else I knew at the company? They wanted to know what my 1-year plan and my 5-year plans were?
Plan? What plan? I didn't even have a plan for my job search in the first place. I was just uploading resumes to aggregate job sites.
They also wanted to know if I was likable enough for them to work with. In other words, could they be around me for 8-10 hours a day without being annoyed and eventually dreading going to work. I guess the answer was no. Or, at least I didn't do anything to convince them that it could be a yes.
The Pain Of A Job Search, Or The Pain Of Staying Poor And Squandering Your Career
Face it, the majority of job candidates don't have a job search strategy.
Studies show that 525 resumes are received for every open position but only 1 person will get hired into this position. Most PhDs chase one lead at a time via the outdated process of uploading their resume to a job site whenever they feel like it, maybe getting a reply or callback, and then, when the process does not move forward, having to start all over again.
Why do these candidates never implement a real job search? Is it ignorance? Laziness? Or fear? Likely it is all of the above. Simply put, most PhDs do not have the stomach for a high level job search. They cannot stand the thought of spending weeks or months trying to get hired and having a large organization reject them outright. This is why most PhDs never make it out of academia at least not until they have floundered as a postdoc for several years or ended up unemployed.
You can be different.
By leaning into the challenging, or tortuous parts of your job search, instead of avoiding them, you can save valuable time. You will be able to rise above the grueling process of putting yourself out there over and over again so that you can make daily progress through a few strategic maneuvers rather than a minute-by-minute exhausting effort. Most importantly, if you face these challenges up front, you will end up with touch points with multiple companies so that when you do get a job offer, you can quickly obtain additional offers and leverage these offers against each other to dramatically increase your salary.
It all starts with putting first things first, and when it comes to your job search, the very first thing you need to do is set the right expectations for the difficult challenges that lie ahead.
3 Of The Most Challenging Parts Of A PhD-Level Job Search
1. Networking is tortuous. Work to get job referrals anyway.
You need to start the tortuous journey of a PhD job search by growing and engaging your network, following up consistently with an ever growing list of contacts at the companies you want to work for, setting up informational interviews with these people, and gently guiding them to your gentle ask for a job referral.
That is where you need to live for 2-4 weeks if you are networking correctly.
You may need to live there for 6-18 months if you are doing it incorrectly (giving up every 3rd day, not following up after reaching out once, and so on).
You hate people?
Great, stay a poor postdoc.
You cannot stomach talking to strangers?
Perfect, enjoy unemployment for the next 2 years.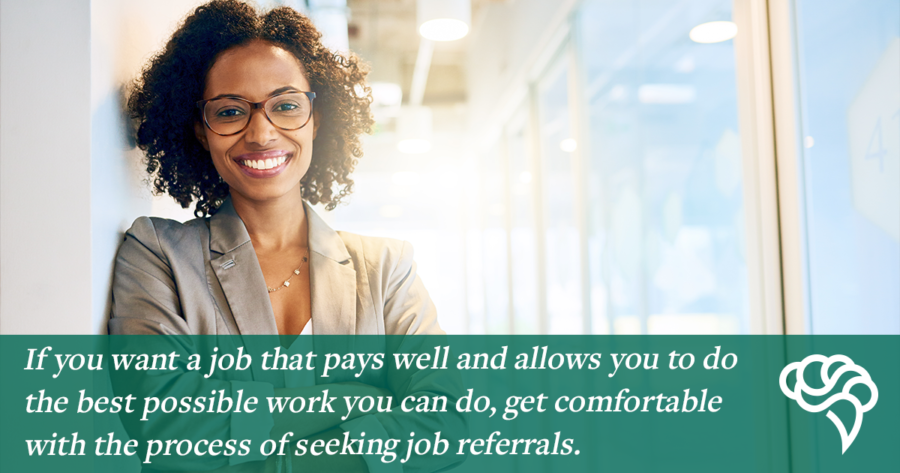 If you want a job that pays well and allows you to do the best possible work you can do, get comfortable with the process of seeking job referrals.
2. Planning on paper is torturous. Create a job search strategy anyway.
You need to have a job search strategy. Yes, a strategy. Your job search isn't a battle or a sprint. It is a war. A marathon. A pilgrimage.
To get hired, you have to design a campaign. You have to map out from A to Z what steps you are going to take and you have to plan for contingencies. You cannot just fly by the seat of your pants. You cannot wake up on Tuesday and submit a few resumes, do nothing on Wednesday or Thursday, reach out to a few contacts on Friday (the WORST day to reach out to employers by the way), coast on the weekend, and then search for more online job postings on Monday.
Be honest, the above sequence is pretty close to your current job search strategy, isn't it?
If you mapped out your current job search activities hour by hour, you would be shocked with how little time you are actually spending DOING anything about your job search. Oh sure, you are thinking about it a lot. You really want to get a job. But you have done next to nothing.
Where is the strategy? Where is your plan? Your map? Your drawing board? Where are you documenting your progress? Where are you writing down your plans for each day of the month? Is it any wonder why the average person spends 18 months searching for a job before getting hired? Do you have 18 months to spare? If not, you better build a better strategy.
3. Trying to be liked is torturous. Work to create a great first impression anyway.
You must be prepared to make a perfect first impression, starting with the phone screen and onward to the video interview, video panel interview, in-person interview, site visit, and interview presentation.
To get a job offer following any one of these real-time interactions requires you to display a certain level of mastery – not mastery over your skills or over the job at hand, but mastery over yourself. That is all you are really being evaluated on during any interview. The average in-person interview is 45 minutes but the average interviewer knows within the first 90 seconds of the interview whether or not they will recommend you to the hiring committee.
How is this possible?
First impressions matter.
Beyond this, very few employers will require anything from you beyond answering a few questions during an interview, which, if you think about it, is absolutely insane. Employers will pay you tens of thousands of dollars a month based on the answers you give during a few short meetings.
How illogical is that?
They are going to commit not only their money, but their people and numerous other resources to YOU based on what you say about yourself during a few real-time interactions.
Most often, when interviewing, you don't have to prove you have the skills you say you have. You don't even have to prove you can do the job. Imagine applying to an industry role and the hiring manager brings you into an interview and says "okay, today you are going to manage 3 of our team members all day while we shadow you and evaluate your every move." Or, we are going to stand over you while you run 10 different lab experiments. Or, we are going to put you on the factory floor for 8 hours to see how you do.
This does not happen for a variety of reasons. You have not been onboarded and been trained specifically on that company's processes yet. The team's current employees don't know who you are or what their working dynamic with you is or will be yet. There are liability issues. On and on.
Sure, some companies for some jobs might have you do a take home test, or submit a writing sample, or take a few support calls before hiring you, but that's it. They are committing entirely to you based on very little information. So, instead, these employers will evaluate your behavior. They will see how you master yourself under stress. This is why studying common interview questions is a waste of time. It is also why waiting until you get an interview to prepare for an interview (or "cramming") is ineffective. You need to practice interacting with other professionals in a very professional way behaviorally, and constantly if you are trying to get hired now.
If you are prepared for the 3 most torturous parts of a PhD job search, which includes networking, planning on paper, and getting others to like you, you will get hired. The key is to make networking and generating job referrals a way of life during your job search. You need to also consciously build a job search strategy and then actually execute that strategy. Finally, you must work to create a great first impression during every interaction you have with an employer.
If you're ready to start your transition into industry, you can apply to book a free Transition Call with our founder Isaiah Hankel, PhD or one of our Transition Specialists. Apply to book a Transition Call here.
Get Free Job Search Content Weekly
ABOUT ISAIAH HANKEL, PHD
CEO, CHEEKY SCIENTIST & SUCCESS MENTOR TO PHDS
Dr. Isaiah Hankel is the Founder and CEO of Cheeky Scientist. His articles, podcasts and trainings are consumed annually by millions of PhDs and other professionals in hundreds of different countries. He has helped PhDs transition into top companies like Amazon, Google, Apple, Intel, Dow Chemical, BASF, Merck, Genentech, Home Depot, Nestle, Hilton, SpaceX, Tesla, Syngenta, the CDC, UN and Ford Foundation.
Dr. Hankel has published 3X bestselling books and his latest book, The Power of a PhD, debuted on the Barnes & Noble bestseller list. His methods for getting PhDs hired have been featured in the Harvard Business Review, Nature, Forbes, The Guardian, Fast Company, Entrepreneur Magazine and Success Magazine.
More Written by Isaiah Hankel, PhD