10 Career Opportunities For Humanities PhDs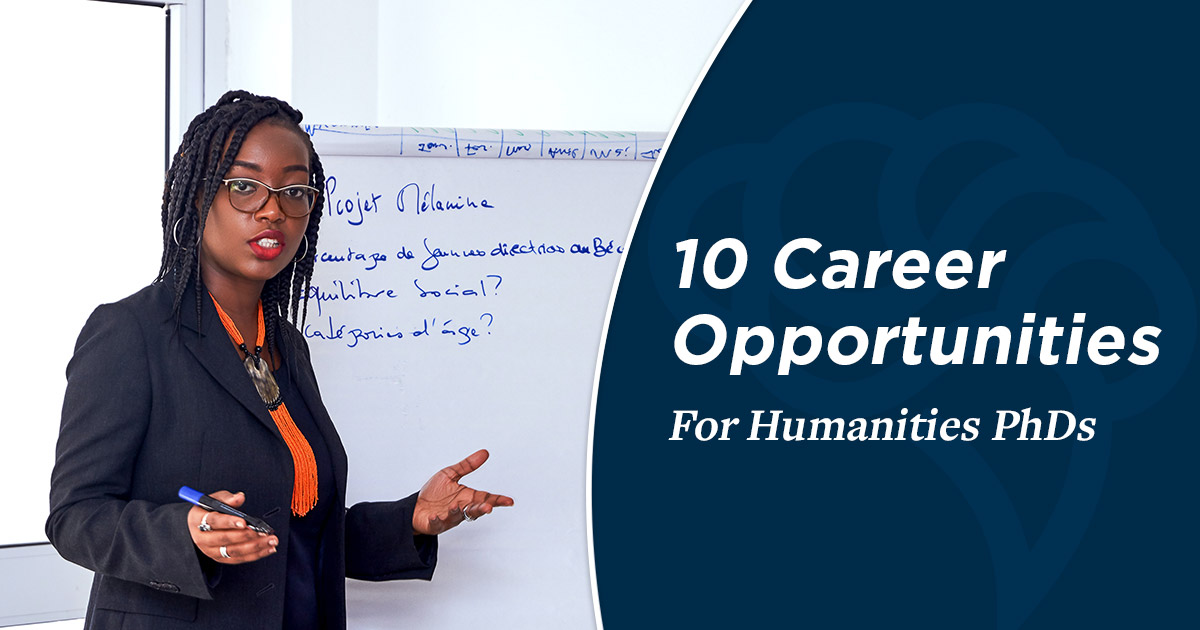 We talk a lot about STEM PhDs.
Our search for an alternative career and the challenges it entails.
But the struggle doesn't discriminate.
It's the same no matter your PhD background.
And the same job search strategy can be used as well.
It is not enough to sit around and wait for a faculty position to open up.
There are not enough to go around.
That is the sad reality.
As a Humanities PhD, you have gained just as many transferable skills as a STEM PhD.
At the end of the day, a PhD is a degree in knowledge.
The ability to create and innovate.
Not simply regurgitate information.
But can you translate what you have learned during your PhD to business?
I know this is something my academic friends struggled with.
I remember speaking to a few of them at a campus-wide networking event.
We all knew we wanted to leave academia and were sharing stories of our transitioning woes.
One of my friends with a PhD in German Literature said…
"I have no idea what I am even looking for. My brightest opportunity at the moment is barista at the local café."
Wait — I thought — don't you have any career paths in mind?
The truth is, alternative careers were rarely, if ever, discussed in their departments.
It was taboo.
That, and the fact, that most of them spent their days tucked away in a library, sheltered from human contact, and certainly not networking with other industry professionals in their fields.
How were they supposed to learn about career options?
I told them about my job search strategy: creating online credibility through LinkedIn, reaching out to companies and employees for informational interviews, mapping out careers that interested me, contacting recruiters, and applying for positions with internal referrals.
They were in a state of shock.
Soon, they realized they needed to step outside the ivory tower and have a look for themselves at what was out there.
The Employment Future Is Bright For Humanities PhDs
There was previously a widespread belief that humanities PhDs have narrow job prospects outside of academia, and must continue hunting for their place in a faculty to be successful.
However, this notion is far from the truth.
According to an extensive investigation conducted by The Atlantic, humanities PhDs have been successfully moving to careers in industry for a long time.
Victoria Blodgett, Director of Graduate Career Services at Yale, stated in the same publication that PhDs who take their careers into industry are being hired primarily for their process skills: like the ability to conduct research, write clearly, and make convincing arguments.
But it's not just the process skills that put humanities PhDs in great stead for professional roles outside of academia.
Humanities PhDs are highly sought after by the right employers because of their specialist subject knowledge, forged from years spent researching and analysing high volumes of information to draw new insights and ideas.
And yet, 45.7% of Humanities PhDs leave academia without employment commitments.
Part of the blame falls on the stigma of leaving academia for industry.
And yet, according to the American Historical Association, the number of tenure-track positions available in a given year for history PhDs are below half the number of PhDs that are conferred in the same year.
These hard-fought insights and ideas are incredibly valuable to employers operating within these areas, and can make a vital contribution towards the policy-making, strategic direction, and overall success of a wide range of organisations.
Top 10 Career Paths For Humanities PhDs
It is time to put an end to the stigma and think about your future and the value you can offer outside the ivory towers.
You are not a dishonor to the academic system.
You are smarter than the rest.
If you hold a humanities PhD and you're craving opportunities in industry that will leverage your skills and years of experience, this list is exactly what you've been looking for.
Here are ten of the best academic jobs for humanities PhDs on the market today.
1. Higher Education Administrator.
Besides tenured professors, there are hundreds of different professional roles at universities that contribute towards the overall success of the institution and the courses it offers.
You can work directly with undergraduate or graduate students, internally on processes or communications, with academic colleagues, or even with external business leaders to achieve funding or garner support for your institution and course.
Professional jobs at universities, colleges, and community colleges benefit greatly from the skills and specialised knowledge of PhDs in the humanities and social sciences.
Skills like preparing and analysing data, project management, ability to identify future issues before they arise, and proficiency working with high volumes of information make humanities PhDs valuable members of a range of professional teams around campus.
2. Financial Analyst.
PhD graduates in humanities and social sciences have skills highly sought after by many employers in the financial services industry.
Research skills, project management, and highly curated quantitative skills are valued greatly by finance companies large and small, in areas such as banking, hedge funds, and private trade groups.
PhDs are suitable for jobs including analytics, risk monitoring, equity and trend research, product development, and trading.
A standard day would be analysing large sets of data, preparing trend forecasts, presenting findings in meetings, or writing recommendations or policy documents based on your research.
According to the Bureau of Labor Statistics, financial analyst positions are expected to grow by 12%, or 32,300 jobs over the next 10 years, which is much faster than the average for all professions.
A great benefit of finance roles is once you have entered the industry, it's easy to move around with your skills and forge a career from several different types of positions.
3. Government Policy Advisor.
As a PhD in humanities, you have a highly specialised knowledge base that is appreciated and sought after by a range of departments within local, regional, and federal governments.
The government in the US alone is spread across more than 100 agencies and bureaus, each with its own specialist area that's in charge of hiring.
What's more, the jobs are spread out across the country.
According to USAJobs, about 15% are found in the Washington, D.C. metro area while 83% are found in multiple locations throughout the country, and 2% are outside the United States.
In-depth knowledge of particular cultures, languages, or even historical events can make you a valuable asset to government agencies and bureaus, who need candidates with your skills to inform how to approach sensitive issues, write effective policy, and create social change in their areas of focus.
4. Industry Researcher.
If you have completed a PhD in any humanities area, one of your most valued and respected skills in industry is your ability to research effectively, and distil your findings clearly into formats consumable by a range of different people.
Think tanks, research centres, and most medium to large private organisations engage in some form of information analysis and reporting.
They need PhDs to put their skills to use in areas like fundraising, market research, public sentiment research, program evaluation, and more.
To be a successful professional researcher in industry, you must have strong qualitative and quantitative research experience, strong communication skills, and an ability to work with large amounts of data and information — all of which as a humanities PhD, you already possess.
5. Technical Writer.
Technical writers are responsible for producing communication documents such as instruction manuals, journal articles, how-to guides and technical reports.
They are also experts in developing, gathering, and distributing complex information through an organisation's communications channels.
According to the US Bureau of Labor Statistics, technical writing positions are expected to grow by 10% between now and 2022.
As well as a high level of English skills, humanities PhDs also hold valuable experience working with tight deadlines, initiative and self-reliance, and reliability to complete complex tasks with minimal supervision.
Many employers hiring for communications roles are looking for candidates who tick these boxes, can work in a fast-paced environment, and can hit the ground running from day one.
6. Secondary School Teacher/Learning Consultant.
Many PhDs have found rewarding careers in teaching outside of academia.
The opportunity to continue to interact with students and contribute to their education is a drawcard for many PhDs, particularly in the humanities fields.
There were almost 1 million secondary school jobs across the United States, according to recent reports.
As well as putting your organisational and presentation skills to work, schools are often seeking to add new staff to their faculties with in-depth knowledge in humanities areas, such as English, Social Science, Geography, and History.
You can choose either private or public institutions, or even charter schools to pursue your education career.
There are also opportunities to teach younger students, or tutor as part of a school's learning program.
If you transition to secondary school teacher or a similar position, you may need to study or complete a course to gain the specialised skills needed for the students you will be teaching.
At some schools and institutions, however, your PhD will be enough to get started.
7. Not-For-Profit Officer.
Not-for-profit organisations cover all humanities areas and can benefit greatly from the background and experience candidates gain from completing a PhD in a related area.
NPOs cover a range of organisations, including education, health, religion, arts, and more.
There are lobby groups, charities, foundations, and institutes that seek the services of professionals who can write grants, conduct research, fundraise, and develop programs for their clients.
In addition to providing day-to-day support with these skills, you can be instrumental in determining the direction of an organisation through strategic advice and expert insight into the challenges it will face in the future.
As a humanities PhD, you will already have experience in many of these areas and can provide valuable skills and insights to many of these organisations immediately.
8. Consulting.
You may have thought that consulting roles were reserved for MBAs.
This is no longer the case. As a PhD, you are proficient in identifying problems and thinking of creative solutions to those problems.
This critical thinking and the ability to troubleshoot will be beneficial for companies to develop better strategies for success.
Prior business knowledge can be helpful but is no longer required. Even the most reputable consulting firms have specialized job opportunities for those with advanced degrees.
Some consulting firms even offer workshops and internships to help PhDs gain this business acumen and help them transition into the business world.
A recent Bloomberg report cited that 82% of surveyed US clients will not cut the amount they spend on outside consultants.
In fact, 42% plan to bring in even more consultants in the upcoming years.
Consulting also gives PhDs the opportunity to travel and, although it may require a demanding schedule, consultants are well-paid and you are able to see the fruit of your labor quickly, as opposed to the monotony of academic research.
9. International Development.
A deep understanding of cultural nuances, history, and languages can make humanities PhDs stand-out candidates for jobs within international development organisations.
You can contribute to areas such as policy development and analysis, communications, sponsorship, and international relations, giving you the opportunity to contribute to social change and forge a career helping the world to move forward.
One of your targets could be United Nations organizations.
Diplomats, lobbyists, political analysts, international lawyers, and intelligence specialists all fall under this category as well.
It is a career path where you can make a direct impact in society.
Often, international development consultants and workers spend considerable time overseas, and require a significant amount of acquired experience before climbing the career ladder to mid-to-upper level roles.
You may be spending time at lower levels for a while, but if it's a pathway you're passionate about, it will be worth the time.
10. Academic Publishing.
Academic publishers print and distribute content in books, journals, and theses formats in a wide range of fields.
It was once believed academic publishers would become irrelevant with the coming of the digital age, but that couldn't be further from the truth.
Most recently, academic publishing house Elsevier boasted an annual revenue of $25.2 billion, a higher percentage than Apple Inc.
As a humanities PhD, you already have many of the skills necessary to succeed in the industry.
A long and fervent commitment to completing a large body of work, as well as navigating complex information, and applying negotiation and problem-solving skills in a literary area, are just some of the reasons PhDs are looked upon favourably for publishing jobs.
In addition to academic publishing, there are a number of related fields that are seeking skills of PhDs like education publishing, trade book publishing, and consumer magazines.
These could lead to careers in editing, marketing, management, sales, information technology, and many more.
It is time to stop thinking that academia is the only place for you if you have a PhD in humanities. The stark reality is that there is simply not enough jobs for the number of PhDs that are given out. It is time to start leveraging the transferable skills you have gained and search for alternative careers. And there are many. Reach out to industry professionals in these areas, build your network, and leave the ivory towers for a company that values your skills.
If you're ready to start your transition into industry, you can apply to book a free Transition Call with our founder Isaiah Hankel, PhD or one of our Transition Specialists. Apply to book a Transition Call here.
Get Free Job Search Content Weekly
ABOUT CATHERINE SORBARA, PH.D.
Cathy has a PhD in Medical Life Science and Technology and is COO of the Cheeky Scientist Association. Cathy is passionate about science communication including translating science to lay audiences and helping PhDs transition into industry positions. She is Chair of Cambridge AWiSE, a regional network for women in science, engineering and technology. She has also been selected to take part in Homeward Bound 2018, an all-female voyage to Antarctica aimed to heighten the influence of women in leadership positions and bring awareness to climate change.
More Written by Catherine Sorbara, Ph.D.