5 Positions In Biopharma Perfect For Any PhD
It was by chance that I even considered a career in biopharma.
As far as I was concerned, academia was all there was. The world of industry was a big question mark to me, and that was fine.
I found myself working on a postdoc, waiting for a tenure-track position to open up.
At first, it was exciting: a real, paying job as a PhD-level scientist. I showed up early, stayed late, and was happy to do it.
But a change happened, gradually.
There was so much repetition in my day, and so much emphasis on performing tasks that required very little skill to do.
I tried to show initiative and take on more responsibility, but my efforts or ideas were always dismissed.
It really began to wear on me a year into my three-year contract. I started to wonder if the problem was me or this particular postdoc position.
And then I heard from Tim.
We were in the same cohort a few years back. I hadn't heard from him since graduation, and when I saw his name on my phone's caller ID, relief washed over me.
This is exactly what I needed, I thought. Someone to swap stories with. Camaraderie is all it would take to put this frustrating chapter of my post-grad life into perspective.
Wrong.
Tim was calling me because there was a position open with his current industry employer, Lilly. They needed a Quality Control Specialist, he said, and he'd thought of me. Would I be interested?
If you would have asked me a year ago, I would have laughed the idea off. But to be honest, I was curious: What did a Quality Control Specialist do, and was it something that I was interested in?
You're Qualified For More Than Research In Biopharma
Bringing a drug to market. Breaking ground on new medical devices. Developing transgenic crops. These are industry-leading innovations that take time, testing, and a truly excellent, dedicated team to achieve.
There are so many roles that bring biopharma's life-changing products to market, and, as a PhD, you're qualified for almost all of them. To name just a few, there are:
clinical trials
regulatory affairs
drug safety
manufacturing
engineering
quality assurance
quality control
validation
marketing
sales
distribution
Don't think, like I once did, that your options are limited to research and lab work. Whatever your skills, background, or experience as a PhD, you will find a career in biopharma to match.
Academia has provided you, as a PhD, with all the necessary knowledge, skills, and experience to succeed in this field. You can draw on all of your academic skills to position yourself as an industry savvy job candidate.
PhDs in biopharma are often attracted to this industry because they have a strong foundation in biology, chemistry, and biochemistry. They may also have experience in research and development, clinical trials, and regulatory affairs.
While these skills are great to have, they are not a requirement to getting hired in biopharma today.
Five Careers In Biopharma For PhDs In Every Discipline
Biopharma is a rapidly growing field that offers its workforce so much potential for growth.
The industry is constantly innovating, developing new drugs and therapies to treat diseases, and working to create hardier plant species. This means that there is always something new to learn and new work to be done in biopharma. That's also what makes the field a perfect fit for PhDs who are afraid that leaving academia also means leaving learning behind for good.
Many PhDs also appreciate that biopharma is a very collaborative field. Scientists, engineers, and other professionals work together to develop new drugs and therapies. Together, they create a sense of community and teamwork that can feel very rewarding to be a part of.
Most PhDs cite the fulfilling nature of their work as a major draw to this field. Biopharma professionals have the opportunity to make a real difference in quality of life on a very large scale by addressing bio-focused problems. This can be a very rewarding experience.
The pay is commensurate with your experience as a PhD, too. Biopharma professionals typically earn high salaries and receive excellent benefits. This can make biopharma a very attractive entry-level career choice for PhDs transitioning out of academia.
And, as I said, there are positions for PhDs in every facet of the development process for biopharma. Below, I'll discuss one from each of the five major departments you'll find in nearly every biopharma company today.
1. R&D: Senior Scientist / Engineer
PhDs in biopharma can work in research and development (R&D) for pharmaceutical companies, biotechnology companies, and academic institutions. R&D scientists are responsible for developing new drugs and therapies.
Senior Scientists/Engineers are subject matter and technical experts. The serve as senior professionals within a research team. Their job is to drive discovery and technology development. They do so by conducting research aimed at achieving specific outcomes, reporting their findings, and collaborating with other scientists or engineers. They are project leaders who report to department leadership and advise junior team members.
A Senior Scientist/Engineer position can be a good fit for PhDs with science and engineering backgrounds who want to use their research skills to make discoveries and develop technologies that will impact society. Even though these positions involve some leadership, most Senior Scientist/ Engineer roles do not absolutely require experience beyond the PhD.
Look for Senior Scientist/Engineer roles in the pharma, biotech, tech, food, agriculture, and cosmetics industries. Merck & Co, Inc., Microsoft, Cargill, Inc., and the Ford Motor Company are examples of companies that employ Senior Scientists/Engineers.
Some national labs such as the Oak Ridge National Laboratory also employ Senior Scientists/Engineers. PhDs interested in transitioning to one of these roles should leverage their technical experience along with their interpersonal skills, problem-solving skills, leadership skills, and communication skills.
2. Clinical: Clinical Research Associate
PhDs in biopharma can also work in clinical research. Clinical Research Associates are responsible for conducting clinical trials to test the safety and efficacy of new drugs and therapies.
A Clinical Research Associate (CRA) is a clinical trial professional who oversees, monitors, and provides guidance on clinical trials. They usually conduct this work on behalf of a sponsoring organization, which could be a major life science-oriented company (for a drug or medical device) or a contract research organization (CRO) employed to carry out a trial on another company's behalf.
Their everyday duties consist of assessing the regulatory compliance of study plans, ensuring that clinical trial data is properly collected and maintained, and coordinating between trial sponsors and CROs where necessary. These duties involve communication with medical professionals and hospital staff, the establishment of collaborations with new clinical trial sites, clinical trial staff training, and explaining protocols to clinical trial participants. PhDs with life science, chemistry, and medicine backgrounds are qualified to work as CRAs.
PhDs who want a regulatory-intensive role in clinical trials may wish to consider a CRA role. The role can also provide a helpful career step for those aspiring to an MSL or clinical trials project manager position.
Look for CRA roles at pharmaceutical and medical device companies as well as contract research organizations. Abbott, Medtronic, PRA Health Sciences, and Medpace are examples. PhDs should emphasize their scientific PhD expertise along with their proven ability to document and analyze data since CRA employers favor PhDs over other applicants due to these aspects.
Knowledge of clinical trial regulations and clinical trial certifications like those offered through the Association of Clinical Trial Professionals (ACRP) can also aid PhDs in their transition into a CRA role.
3. Manufacturing / Engineering: Quality Process Specialist
PhDs in biopharma can also work in manufacturing. Manufacturing professionals are responsible for producing pharmaceutical products in a safe and efficient manner.
Quality/process professionals are responsible for the processes that turn raw material into finished products across various industry sectors including chemical, petrochemical, agriculture, mineral processing, food, pharmaceutical, and biotechnological.
Quality professionals such as quality engineers and quality control managers ensure that manufactured products are safe, reliable, cost-effective, and compliant with regulations. They establish the criteria a product should meet and conduct testing to assess product performance. When problems arise, Quality Engineers play a critical role in fixing the issue. Meanwhile, process professionals such as Process Engineers focus on process development.
This work requires extensive modeling, simulation, testing, and direct application of mathematical, analytical, and computer science skills. It also involves interacting with many stakeholders during all stages of the manufacturing process. PhDs with technical backgrounds who enjoy standardization, optimization, troubleshooting, and managing details will find these positions a great fit. These PhDs should also work well in a team environment because they will have to interact regularly with managers and other professionals.
Companies that require carefully controlled processes to reliably manufacture their products employ quality/process professionals. Quality/Process professionals can also work for governmental agencies. Amgen Inc., The Boeing Company, and The European Medicines Agency (EMA) are all examples of organizations where PhDs seeking a role in quality/process control can look for employment. To transition, these PhDs should leverage their research skills, attention to detail, communication skills, and interpersonal skills.
4. Business: Business Developer
Business Developers focus on achieving new business and increasing revenue. Their overall goal is to ensure long-term business growth. The key responsibilities of these professionals include developing new business opportunities, managing existing products, devising market strategies, and building new business partnerships.
Business Developers help decide which new innovation or product among those in the pipeline should be given priority based on market needs and the positioning of competitors. They also meet with the marketing and sales teams to review sales goals, cold-call leads to talk to them about their company and its products, and discuss successful leads and potential new projects with company executives.
A Business Developer position may be ideal for PhDs who want a multifunctional business role and are willing to build business skills if necessary through courses, certifications, or internships with startups. They are a great opportunity for those that have a passion for a particular industry and are willing to work to keep abreast of current trends.
Companies in every industry sector employ Business Developers. A few examples that demonstrate the variety of organizations where Business Developers may work include Staples Inc., AT&T Inc., Wells Fargo & Company, Siemens AG, Groupon, and UnitedHealth Group. PhDs will likely be more successful in their transition into a Business Developer role if they target a company where their background is relevant. They will need the right combination of domain knowledge, analytical skills, and interpersonal skills along with business knowledge.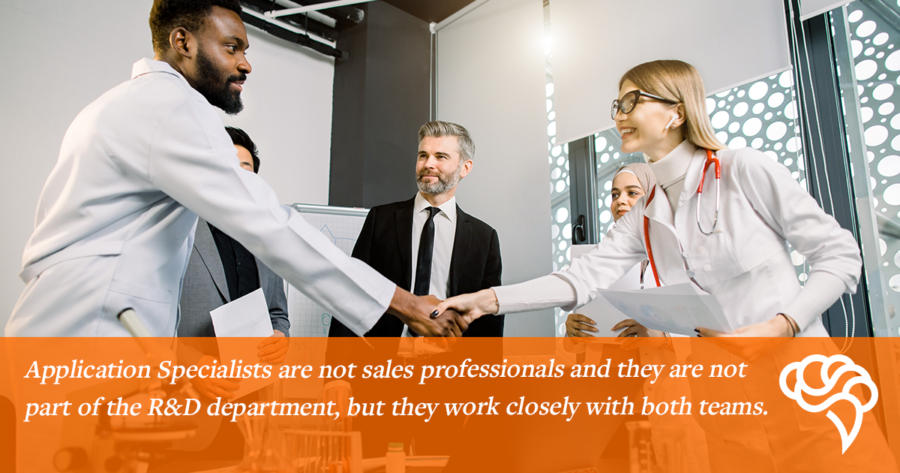 5. Sales: Application Specialist
Sales and marketing professionals are responsible for promoting and selling pharmaceutical products to doctors, pharmacists, and other healthcare professionals. Application Specialists are not sales professionals and they are not part of the R&D department, but they work closely with both teams.
Application Specialists serve as liaisons between a company that produces technical products and its customers. They help customers use these products to solve problems while gathering actionable insights into customer needs.
Application Specialists typically represent a particular medical device, piece of equipment, or software. Customers they work with include biotechnology companies, pharmaceutical companies, research institutes, hospitals, and individual clinics or labs. Many (but not all) of these positions have travel requirements to allow for on-site meetings.
This role is ideal for those with a technical background who want to leverage their technical expertise and soft skills to help others' projects advance. It can also provide a path for those interested in moving away from a research-heavy role towards a business-oriented role such as Business Development or Project Management.
Look for Application Specialist positions at any company that specializes in technical products. A few examples of major companies that hire these professionals include Thermo Fisher Scientific, Medtronic, and Mathworks. To transition, leverage your technical knowledge along with the communication, interpersonal, presentation, and teaching skills you gained during your PhD.
Concluding Remarks
Biopharma is a great place to start a career in industry if you're a PhD transitioning away from academia. Aside from all the benefits I discussed earlier – the rewarding relationships, high salaries, and interesting work – there is a balance this field strikes that appeals to academics. Yes, the work can take quite a while to go to market. New drug treatments, for instance, can take between 10 to 15 years to gain FDA approval. But it also strikes an ideal balance between the familiar (the skills and knowledge you gained during your graduate studies) and the unknown (new discoveries and advancements that measurably improve lives). For PhDs who fear their days of research and study are behind them if they leave academia, this field is the answer. Biopharma is a rapidly growing field, one that's investing heavily in emergent tech to solve supply chain problems, hasten product development, and streamline testing and production. No matter what your PhD was in, there has never been a better time for you to begin your career in this sector.
Get Free Job Search Content Weekly
ABOUT ISAIAH HANKEL, PHD
CEO, CHEEKY SCIENTIST & SUCCESS MENTOR TO PHDS
Dr. Isaiah Hankel is the Founder and CEO of Cheeky Scientist. His articles, podcasts and trainings are consumed annually by 3 million PhDs in 152 different countries. He has helped PhDs transition into top companies like Amazon, Google, Apple, Intel, Dow Chemical, BASF, Merck, Genentech, Home Depot, Nestle, Hilton, SpaceX, Tesla, Syngenta, the CDC, UN and Ford Foundation.
Dr. Hankel has published three bestselling books and his latest book, The Power of a PhD, debuted on the Barnes & Noble bestseller list. His methods for getting PhDs hired have been featured in the Harvard Business Review, Nature, Forbes, The Guardian, Fast Company, Entrepreneur Magazine and Success Magazine.
More Written by Isaiah Hankel, PhD