5 Things That Qualify PhDs To Get Hired As Clinical Research Associates
Some PhDs think they're not qualified for industry work.
I was one of them – that is, before I realized the true industry value of my PhD.
Wrong.
All those skills you picked up in academia are transferable to industry, and employers in all kinds of amazing fields are desperate for job candidates with PhDs.
Clinical research is one such field, and in this field, happily transitioned PhDs are finding careers running important trials for exciting new medical products.
Here's a question: Do the following abilities define PhDs or clinical research associates?
Extensive technical knowledge
Familiarity with proper study protocol
Sharp eyes for detail
The ability to coordinate and use large amounts of data to get results
Adept talents of presentation and general communication
You've probably guessed that it was a trick question – these traits describe both PhDs and clinical research associates.
Are you starting to see why clinical research is such a popular field for PhDs who want to transition out of academia?
You don't have to be an MD to perform serious, fulfilling work in medicine.
You can also be a clinical research associate, and I want to talk about how that happens.
Why PhDs Gravitate to Careers in Clinical Trials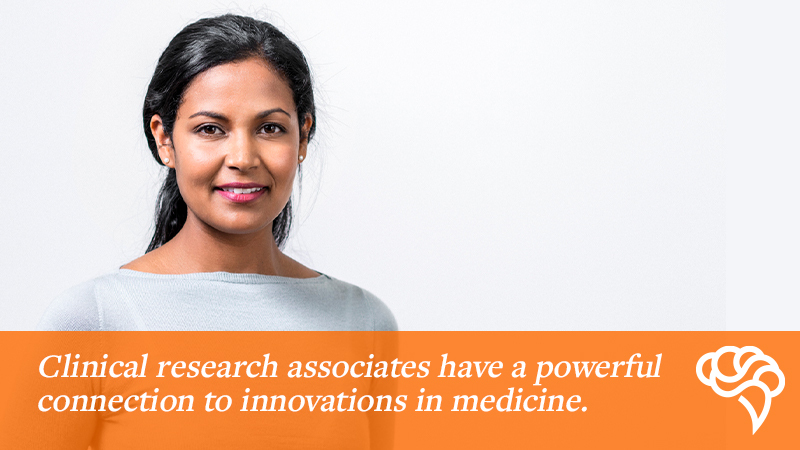 "Clinical research associate" ranks #84 on CNN Money's list of the 100 "Best Jobs in America," and with a median pay of $76k, you can begin to see why.
In fact, according to a U.K. government report, industry workers in the life sciences earn more than the average income of those employed in any other economic sector.
Despite this, you shouldn't chalk up the amazing benefits of this career to mere income…
From life-saving medical apparatuses to carefully refined treatments for lifelong debilitations, clinical research associates have a powerful connection to innovations in medicine.
You'd have a tough time naming a career with greater impact and importance than this one.
Clinical trials work puts PhDs at the forefront of modern medicine and its powerful applications – scientific advancements that change–and save–lives.
Obviously, most PhDs have scientific expertise.
They have mastered the crucial talents of data analysis and documentation, and this is exactly why employers tend to prefer PhD graduates as they go on the hunt for clinical research candidates.
What PhDs Need To Know Upfront: 5 Key Features Of Clinical Trials Work
Have you ever wondered what happens when a life science company needs to run trials for its product?
Well, it has 2 major options:
Conduct the trials on its own
Employ a contract research organization
If the company chooses to do this on its own, it might rely on investors to get the prototypes ready and fully tested.
In this case, a clinical research associate has to report progress to the investors.
And if the company contracts an associate from a research group, that associate will be reporting to the primary company, and possibly investors on top of that!
Not to mention the chief responsibility of actually overseeing the trial…
It's a good deal of responsibility, but it's definitely got its share of rewards.
Let's talk about what makes a clinical research associate and what to expect of the role – from qualifications to career prospects.
1. Here's how you spot a qualified clinical research associate.
Let's get to the real burning question: What kind of person will excel as a clinical research associate?
Well, for starters, these industry professionals come from a wide range of academic backgrounds in life science: medicine, pharmacy, chemistry, or similar.
Is there one among these fields that will put you at the top of a candidate list?
The short answer is no.
In order to be successful in a clinical trial role, you'll need to know all about the product development life cycle of specific clinical items.
So it really depends on the subfield of clinical trial work that piques your interest.
That said, a background in medicinal chemistry or pharmaceuticals might prove to be helpful for clinical research associates who aim to conduct trials for new therapeutic compounds.
Technical knowledge aside, you absolutely must possess a detailed understanding of FDA regulatory laws in the clinical trial sector.
This role involves a lot of documentation, so it helps to be detail-oriented and efficient in your data-gathering process.
Of course, most science PhDs picked up these documentation skills during graduate training!
For many clinical trial roles, it will also be key to master different systems for electronic data capture (EDC).
A working knowledge of these systems will help you avoid poring over massive amounts of documentation.
The clinical trial industry utilizes a few major EDC databases like IMPACT Harmony and Medidata Rave, which dramatically improve the acquisition and research of general data.
If you've got a handle on a few different EDC systems, you'll probably stand out among competing candidates.
2. A day in the life of a clinical researcher.
Despite the hugely different range of products that need testing, most clinical research associates can expect a certain daily routine.
Everyday duties in this role usually consist of:
Data collection
Coordinating between sponsors and clinical research organizations
Implementing clinical trial protocols (collection and maintenance of clinical trial data)
Travel isn't a daily concern, but there will be some amount of it – clinical research associates visit multiple trial sites as they run and oversee various projects.
In general, it's also expected that someone in this role will maintain communication with medical professionals and hospital staff.
Actually, various involved parties rely on clinical research associates to keep updates and information flowing.
A lot of money and effort is invested, so consistency is crucial to a trial's success – that's where clinical research associates enter the picture.
So all in all, this is a fairly social job – you can think of clinical research associates like correspondents between the company and its sponsoring organizations.
3. Skillful communication is a big deal for clinical research associates.
Doctoral degrees represent uncommon, yet highly applicable skill sets that transfer extremely well to industry.
These transferable skills are paramount to the job search process, and candidates need to demonstrate the relevance of their academic training to potential employers.
Good clinical research associates transfer communication and presentation skills to their industry work.
These skills will be familiar to anyone who has been a T.A. during their graduate training.
In fact, most PhDs are accustomed to meetings in which they must express their findings and even defend some position on an important topic.
With experience of that caliber, this aspect of the associate job is probably easy by contrast: Clinical research associates have to explain protocols to participants who enroll in their studies.
And this explanation isn't just desirable – it's necessary.
Compliance and debriefing represent legal protections for valuable participants, and regulations like these signal to the rest of the world that scientists value ethics. (A particularly important message in light of how science is portrayed by the media).
Clinical research associates must also practice their teaching chops – they'll be expected to train staff on these important trial protocols.
4. Certifications may not be essential, but they're always a great idea.
Before picking up a job in clinical trials, some employers require that a candidate hold specific trial-related certifications.
The Association of Clinical Trial Professionals is one majorly recognized standard in this industry, and you may be asked to pursue a certification that only they can grant.
But even when certifications aren't mandatory, acquiring them is always advisable.
In fact, if you land a job in clinical trials, you should still pursue any related certifications that you don't have yet.
It may seem counterintuitive to "learn the ropes" after getting the job, but once you have started working in clinical trials, additional certifications will hugely improve your chances for higher pay and career growth.
For instance: Are you thinking of negotiating for a raise at your next evaluation?
It will be immensely helpful if you're able to point both to key certifications and the initiative it took for you to pursue them.
5. Clinical trials work can lead to rapid promotions and lucrative professional transitions.
While a PhD is not strictly required for work as a clinical research associate, it's a tremendous asset.
If you already have a doctoral degree (or you nearly have one), your chances of being hired will skyrocket above candidates who don't.
But once a PhD lands this position, they also tend to get promoted to senior positions faster.
Actually, it's possible for a PhD to be promoted to a senior research associate position within just two years of joining an organization.
For long-term planners with PhDs, clinical trials is an excellent industry entry point.
Some PhDs have a more diverse array of interests and needs though.
It's normal to look for a change of pace after a few years in one specific role – is clinical research still a rewarding option for PhDs like these?
The short answer is yes.
For science PhDs, this role may serve as the basis for a transition into other positions like that of a clinical trials project manager or medical science liaison.
Once you get your bearings and really thrive in the position for a few years, your value as a candidate in the medical science field becomes incredibly strong.
So to summarize, here's how you spot a qualified clinical research associate: Atop relevant technical knowledge in the life sciences, qualified candidates will likely possess a detailed understanding of FDA regulatory laws in the clinical trial sector, and they must master a few different systems of electronic data capture. A day in the life of a clinical researcher will consist of data collection, coordinating between sponsors and clinical research organizations, and implementing clinical trial protocols. Skillful communication is a big deal for clinical research associates, and certifications may not be essential, but they're always a great idea. Finally, it is important to realize that clinical trials work can lead to rapid promotions and lucrative professional transitions.
If you're ready to start your transition into industry, you can apply to book a free Transition Call with our founder Isaiah Hankel, PhD or one of our Transition Specialists. Apply to book a Transition Call here.
Get Free Job Search Content Weekly
ABOUT SARAH SMITH, PHD
Sarah Smith, PhD, holds a degree in Biochemistry. A tireless science consultant at large, her rigorous pursuit of pristine labwork is unflinching. Yet Sarah's keenest passion--guiding emergent academics into the business world--stems from personal experience with the transitional struggles she would have no PhD face alone.
More Written by Sarah Smith, PhD