3 Things PhDs Must Know To Land A Great Project Manager Job
One thing I love about being a project manager?
I get to wear multiple hats and drive change every day.
Once I decided to leave academia, I had to identify the industry role I wanted.
I started by identifying the roles that I didn't want – for example, I knew that I didn't want to do bench research.
I wanted a multi-functional, leadership-oriented position – this led to project management.
After doing extensive research, building my network, and conducting informational interviews, I got a few project manager job offers.
I accepted a job as an associate clinical project manager, which meant that I would manage all aspects of various clinical studies.
Once I really started getting comfortable in my new role, I realized how different it was from academia.
The work I do in this role has a ripple effect across the entire company.
I have control over studies from start to finish, and I play a pivotal role in whether they are successful or not.
It's a lot of responsibility, but it's also incredibly fulfilling.
Project management represents a great opportunity for PhDs who want to transition into industry.
And sectors like pharma, biotech, and IT are always on the lookout for talented project managers with advanced degrees.
How Project Managers With PhDs Contribute To Industry
A project is an undertaking with a specific goal, and that requires more than 2 steps to be completed.
This means that every company has several projects going on at any given time.
Some of these can even make or break a company.
So decision-makers need professionals that understand those projects and can lead teams to finish them within budget, and a given timeframe.
In fact, PmSolutions reports that 85% of firms have a project management office.
And Indeed shows that base salaries for project managers can go over $100,000 per year.
This kind of investment shows that project managers are valuable assets.
As a PhD, you already have the transferable skills required to succeed as a project manager.
You have been practicing those skills on a daily basis during your research.
Anyone who's worked in a university lab or been a TA has had to manage different academic projects and lead undergrads and grad students.
That means you know how it's done, and you can take that knowledge with you into an industry career in project management.
What PhDs Must Know About Becoming Project Managers
PhDs are highly suited to work in project management, they know how to oversee parallel projects and juggle multiple tasks.
They can also coordinate different teams and integrate separate features into a cohesive whole.
Industry project managers do the same thing.
But there are some key differences PhDs need to understand before they transition into this industry role.
The driving forces behind industry and academia are pretty different, and project management encompasses a wide range of things.
Here are 3 important concepts that PhDs need to consider before they pursue careers as industry project managers.
1. Project managers perform many tasks.
In industry, project management means undertaking many tasks and adapting to different management styles.
As a project manager, you'll be responsible for removing obstacles from other team members' workloads as they develop products or services.
This means increasing the flow of communication, coordinating efforts, managing budgets, and keeping ahead of risks and changes.
Generally, project managers are problem solvers who come up with innovative solutions for the people on their teams.
You will also oversee the processes and techniques in play during project development.
This will ensure that resources are allocated properly and that the project aligns with the long-term strategy of the organization.
As a project manager, you need to guide and protect your project during all stages of development – from ideation to marketing and completion.
You'll need to understand the goals of your company, market needs and changes, and overall trends related to your specific project.
That includes decisions about which existing projects should be prioritized.
2. Industry and academia have different styles of project management.
Has a PI ever ruined your day by completely changing the priorities of your research project?
This situation can make a researcher feel lost and unmotivated – why put in the effort if it could all go to waste?
Most academic projects have no set milestones and can change without apparent reason.
Things get shuffled around, and goals are constantly changing.
But in industry, things are different.
Industry project management is broken down into defined work cycles.
Project managers set goals and team roles, hit predefined milestones, and follow up with team members – nothing changes until the work cycle is over.
Industry doesn't want theory and speculation – it wants results.
As a project manager, your goal will be to produce tangible results, and the project will only be completed once those goals are achieved.
Of course, even in industry, things can change…
This can lead to new goals or the cancellation of the project altogether.
But even then, you'll know the reasons for the change, and you can plead your case to the decision makers if you don't agree with their vision.
This kind of acknowledgment is rare in academia, and it is a major advantage that project managers have over academic researchers.
3. Project managers have to master cross-functional work.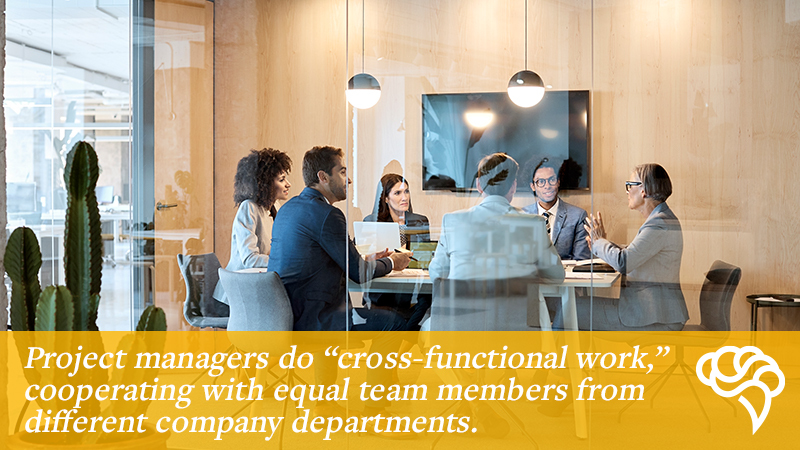 As a project manager, your projects will be carried out by certain departments within the company.
Project managers have to know the "ins and outs" of these departments, and they must interact with managers and personnel from other sections throughout the company.
A project manager won't have any authority over someone from a different department, so it will be an equal work relationship.
This is called "cross-functional" work, in which employees from different company divisions work toward shared goals.
As a PhD, you're highly trained for this.
By now, you've probably had to work with postdocs, PhD students, people from other labs, etc.
You weren't in charge of these people, and they weren't in charge of you – mastering this style of collaboration will be key once you start managing projects in industry.
You have to influence people and work together to get results.
Project managers bring all parts of the company together – they act as communication hubs for the different activities that need to happen as a project moves forward.
Does a role in project management sound right for you? Are you a PhD who loves multitasking and diverse responsibility? Remember, project managers perform many different tasks. And while you may have a lot of experience managing academic projects, industry and academia have different styles of project management. Remember also that project managers have to master cross-functional work, so the ability to coordinate with other personnel will be essential. Project management may be demanding, but if you love to wear multiple hats and take up leadership roles, few careers are as fulfilling as this one.
Do you want a career where you can leverage your leadership skills and turn meaningful ideas into transformative products? Cheeky Scientist's new advanced program, the Project Manager Consortium (PMC), is designed with PhDs like you in mind. This program provides everything you need to obtain a high-paying project management career. The PMC program leaders and board members are actual project managers currently working in industry – they will teach you to communicate your relevant experience throughout all steps of the hiring process and help you land a PM career that is right for you, no matter your background or target industry. This is the only program designed specifically by PhDs for PhDs. And it's managed by professional project managers who are currently living out their fulfilling industry careers. Are you ready to join them?
Get Free Job Search Content Weekly
ABOUT DEVSMITA DAS, PHD
Devsmita Das, PhD, is a trained physician with 7 years of experience in public health, neuroscience, and cancer research. Included among her numerous contributions to science are published studies in high-impact journals and international conference presentations. At heart a self-motivated clinical scientist, Devsmita's passion for data analysis and experimentation are lighthouses in the receding mist of the medical unknown.
More Written by Devsmita Das, PhD