5 Skills You Need To Have For A Job In Technology Transfer
When I began my PhD, I envisioned myself making new discoveries and then using these discoveries to make the world a better place.
I really wanted to make a difference.
I committed myself to my research and worked long hours, like so many other PhD candidates, to try and achieve the large goals I had set for myself.
I spent day after day in the lab, completing experiments and analyzing data.
The work was exhausting.
Some days, I could barely maintain my motivation.
But eventually, my hard work seemed to pay off.
My research led to a discovery that I knew could help patients.
But, that's where the excitement ended.
We published a paper in a prestigious journal about this new discovery, and also submitted a patent application.
Then, it was even licensed out to a small start-up.
From the beginning, this licensee ran into problems, and so the technology never developed into a product.
The whole lab had put in so much effort to make this discovery, with the hope that it would make a positive impact on society, but it did not even get a fair chance to develop into a product.
It was disappointing and made me frustrated.
But, it was also an important lesson.
This failure of our lab's invention made me realize the importance of all the various components involved in the translation of an academic innovation.
One key factor that influences the commercialization of inventions from universities is the Office of Technology Transfer.
I knew from early on in my PhD studies, that I wanted to move into industry where I could be more connected to translating and facilitating the commercialization of new technologies.
So, I decided to do an internship at the Office of Technology Transfer.
This experience proved to be highly valuable.
It helped me gain hands-on experience regarding collaborations with industry, intellectual property, and the commercialization of inventions.
This experience solidified my feeling that a future outside of academia, in a role involving business development and licensing, was the right career option for me.
Through networking and my work experience at my university's Office of Technology Transfer, I was able to smoothly transition from academia into an industry position.
My work experience at the Office of Technology Transfer demonstrated that the academic world is much more connected to industry than I was initially aware of as a graduate student.
There are affiliations and agreements facilitated by a technology transfer department available to support academic discoveries, and bring them to market.
I wish I had known more about this connection when I was a graduate student, frustrated that my lab work was not being applied clinically.
Plus, working in technology transfer allows PhDs to maintain a connection with academic research, while reaping the benefits of working in industry.
Why Technology Transfer Is A Great Career Path For PhDs
Technology transfer, also known as commercialization, is an industry-university collaboration where the scientific ideas and discoveries from an academic institution are negotiated and transferred to industry.
The role of the Technology Transfer Officer is to promote available interesting technologies and facilitate this process of out-licensing of technologies to prospective industry partners.
Universities do not have the capability to commercialize their inventions on their own.
Instead, they do this through collaborations with industry partners.
This collaboration allows start-ups or larger companies to develop promising leads from academia, and turn them into new technologies and therapies.
According to a report by the Milken Institute, over a one-year period, more than 1,000 start-up companies were launched based on university discoveries.
And, this trend is on the rise.
The number of start-ups launched by universities annually has doubled over the past ten years (also reported by the Milken Institute).
These industry-university collaborations are on the rise because they are beneficial to the advancement of future research.
According to Nature, patents that have academic and industry support spur, on average, 7 more follow-up patents than those inventions without industry support.
These industry-academia collaborations are facilitated and maintained by technology transfer professionals.
Of the 6,600 patents filed by universities in a one-year period, 6,300 were facilitated by a Technology Transfer Officer (reported by the Milken Institute).
As more collaborations are made, and more patents filed, the demand for technology transfer professionals will increase.
As a PhD, you are uniquely suited to a role in technology transfer.
Your background in academia means that you have an understanding of the academic partners' perspective, and have a solid scientific knowledge base.
Marrying these skills with an understanding of the patenting process will set you up as a prime candidate for a technology transfer position.
Top 5 Transferable Skills Of A Technology Transfer Professional
Technology transfer is a growing field well-suited to PhDs.
Technology transfer professionals are the main liaison between industry and academia in these fruitful partnerships.
As the main connection for these industry-university relationships, you will need solid interpersonal and networking skills.
It is common to see varied job titles for a technology transfer professional, such as: Technology Transfer Officer, Technology Licensing Officer, Technology Manager, Technology Marketing Associate, Intellectual Property Manager, Alliance Manager, and Licensing Manager.
Each of these positions will have a similar role, where their main function is to facilitate the transfer of new discoveries from academia to industry, where they can become viable products.
If you want to stay connected to academic research, and are passionate about seeing new technologies make it to market, a role in technology transfer could be right for you.
Here are 5 transferable skills essential to transition into a technology transfer role…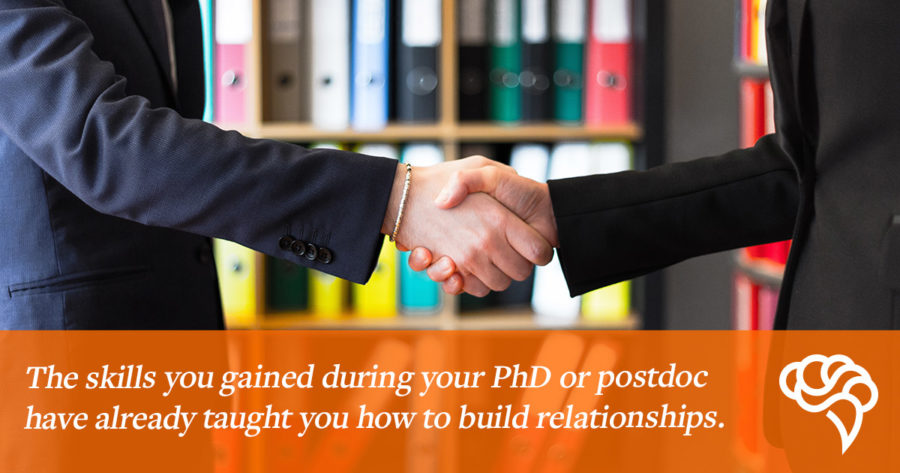 1. Relationship-building to establish industry-academia partnerships.
The main role of a technology transfer professional is to facilitate a collaboration between academia and industry.
This means you will be required to work directly with an academic and an industry professional to find a solution that meets both their needs.
Relationship-building is one of the top skills you will need.
Whether you are talking with a professor, a legal representative, or an industry professional, you must be able to build successful relationships with these people.
Plus, you will need to take this one step further and facilitate the creation of a relationship between your connections.
It will be a part of your responsibility to forge collaborations between companies and academic faculty members.
To build these relationships, there are many other related transferable skills you will need to use, such as: communication, conflict resolution, and emotional intelligence.
Biopharma companies often have positions similar to that of Technology Transfer Officer, which facilitates the licensing and formation of strategic partnerships.
This position is called Alliance Manager. This name says it all.
As an Alliance Manager, you are responsible for maintaining collaborations and facilitating efficient exchange of technology and ideas between the two parties.
The skills you gained during your PhD or postdoc have already taught you how to build relationships.
Not only have you built relationships with your fellow labmates to meet the goals of collaborative projects, you've had to build and manage relationships with the different faculty members of your thesis committee.
Plus, if you have done any collaborations with other labs or groups, you have experience building relationships from that too.
You are a relationship-builder and will definitely need that skill to be successful in a technology transfer role.
2. Strategic planning to assess commercial potential.
Not every discovery that arises in academia will make a successful commercial product.
To be successful in technology transfer, you have to understand the different expectations of the academic researchers and the representatives of the industry.
Often, an invention might be of high interest in fundamental research, but it might not have commercial potential.
As a Technology Transfer Officer, you will need to identify inventions that have significant commercial potential.
You need to execute strategic planning to identify issues before they arise.
As the liaison between academia and industry, you will have to be strategic and critical when examining new technologies.
When assessing the commercial viability of a discovery, the technology transfer professional would ask themselves some of the following questions:
Are there enough resources, like time and money, to make this a success?
Is the timing of the opportunity right?
Does the opportunity offer good profit margin potential?
You will also need to conduct a competitive analysis to understand the value or advantage of an invention over existing technologies in the same area.
This will enable you to estimate the commercial potential before you promote it to prospective licensees.
Asking these questions early in the transfer process is essential.
This assessment also determines if the technology should be commercialized by licensing rights, or strong enough to launch a spin-off or start-up company.
As a PhD, you already have strong strategic planning skills.
You have successfully planned and executed a multi-year project.
There is no way you could have accomplished this without being able to look ahead, identify potential issues, and solve them before they become a problem.
3. Commercial acumen and communication skills to promote new technologies.
As a PhD, you understand better than most the value of a new discovery or technology.
You know first-hand the huge amount of work and money that is required to develop an idea into a technology with commercial potential.
But, knowing the value of the scientific invention is not enough.
In this role, you have to also promote the new invention.
So, one of the key responsibilities of a technology transfer professional is to make sure that the value of a new technology is promoted to external clients.
This is crucial for attracting suitable licensees and industry partners who will facilitate commercialization of the technology.
This means that to be successful in technology transfer, you must have a high level of both technical and commercial acumen.
You need to be able to understand the technological value of an invention and communicate the commercial potential to prospective licensees.
Another major skill necessary for a Technology Transfer Officer is to be efficient in both written and oral communication.
You will need to have written communication skills to create promotional material for the university's inventions.
You also must have oral communication skills to present inventions to prospective licensees.
Science PhDs are able to effectively communicate with scientific researchers in academia.
But in a technology transfer role, you will need to communicate efficiently with a diverse audience, including intellectual property lawyers, industry representatives, entrepreneurs, and investors.
Communicating and promoting scientific invention to professionals outside of the academic research community is important to being successful in technology transfer.
To be efficient in this role, you must develop commercial acumen to understand the commercial potential of an invention.
You have to see beyond its scientific value and understand how a specific technology can be beneficial to the society, and financially rewarding to the licensees.
You can boost your commercial and business acumen by staying up-to-date on the current industry trends, as well as researching more about the intellectual property protections that are essential in technology transfer.
4. Legal and regulatory skills to establish licences and patents.
In a technology transfer career, one side of your role requires excellent interpersonal skills to establish partnerships between academia and industry, but there is another side to this position as well.
To be efficient in this role, you must understand the scientific information, as well as have knowledge of intellectual property and the process of commercializing it through licensing.
Once the value has been assessed, all the appropriate protections must be in place.
This includes intellectual property protections, such as patents, trademarks, and copyrights.
You need to have a solid understanding of the legal and regulatory framework for protecting intellectual property and establishing new partnerships.
One of the ways a new partnership is created between academia and industry is through the licensing of an invention through the Office of Technology Transfer.
In this case, once a desired technology is identified, the process to license this new technology to a company begins with a negotiation to ensure both parties are satisfied with the agreement.
While you certainly have experience creating partnerships, your PhD may not have set you up with a thorough understanding of licensing and patents.
It's up to you to seek out new skills where necessary and connect them back to skills that you already have.
For example, did your lab collaborate with a lab from a different university?
If so, your lab probably had to complete a materials transfer agreement.
Although different from a licensing situation, an MTA is a legal collaboration agreement between two parties.
Your PhD probably provided you with some experience in the area of legal agreements, but it's up to you to take it to the next level and enhance your legal understanding.
5. Entrepreneurial mindset to develop spin-off companies.
Creative and entrepreneurial strategies to form partnerships and commercialize inventions from academic researchers is necessary for a role in technology transfer.
Previously, the traditional way to translate a technology originating from university research labs was through out-licensing.
But now, universities are also encouraging more entrepreneurial strategies.
If an academic technology is valued highly enough, it may warrant more than a licensing agreement.
In these cases, the technology results in the formation of a start-up or spin-off company that will be responsible for developing the technology and bringing it to market.
Most major universities have incubators, and some even have set up a venture capital fund to foster the formation of spin-offs from the university's innovations.
One example of this is Berkeley Skydeck, which offers mentorship, training, and office space to facilitate the growth of spin-offs from Berkeley's technologies.
The growth of technology transfer has resulted in the development of venture capital funds, such as Osage University Partners, which specifically focuses on investing in start-ups originating from universities.
A technology transfer team plays an essential role in this process of formation of spin-offs and ensuring financial support for these start-ups.
Establishing a new start-up or spin-off requires the technology transfer professional to think like an entrepreneur.
A business plan needs to be developed with a detailed market assessment of the technology.
Then you would work with the inventors and external advisors to raise funds and recruit a management team with skills and experience capable of exploiting the opportunity.
The spin-off company has the potential to generate significant wealth, or to generate significant debt.
Careful planning and critical thinking are essential to creating a successful start-up.
This means that creating a spin-off company is more involved than facilitating a licensing agreement, as it requires involvement from founders/investors for at least 3-5 years.
PhDs who are interested in business, but want to maintain a connection with academia, should consider a role in technology transfer. Here, you will be able to facilitate connections between academics and industry professionals to help bring a new technology to market. As a PhD, you already have many of the transferable skills hiring managers are looking for in technology transfer professionals. These transferable skills include: relationship-building to create academia-industry partnerships, high-level commercial acumen, ability to promote technologies, strategic planning to assess and protect new technologies, and an entrepreneurial mindset to develop successful spin off companies.
If you're ready to start your transition into industry, you can apply to book a free Transition Call with our founder Isaiah Hankel, PhD or one of our Transition Specialists. Apply to book a Transition Call here.
Get Free Job Search Content Weekly
ABOUT ARUNODOY SUR, PHD
Arunodoy is a Ph.D. in Integrative Biology and has training in intellectual property, entrepreneurship, and venture capitalism. He also has experience with global biotechnology and biopharmaceutical companies, including clinical trial consulting. Arunodoy is passionate about the translation of academic research to the real world and commercialization of scientific innovation so that it can help solve problems and benefit people. He possesses in-depth understanding of both technological and commercial aspects associated with the life science industry.
More Written by Arunodoy Sur, PhD