Find The Right Industry Position For You With This 3-Step PhD Job Search Strategy
I had a career with all the elements that many PhDs will identify with.
A long stint as a researcher, first as a PhD, then for several years as a postdoc in different institutions. Everything that would serve as a solid foundation for a long-term career in academia.
Except that it did not.
After 5+ years of postdoc I found myself an adjunct researcher working for soft money.
It got harder when I had a baby, and could not return to work full-time.
There was simply too much pressure…
…caring for the baby as a new parent
…a grant proposal that was rejected
…an adjunct salary too small to cover childcare costs
Still, I tried hard to find a job, but failed again and again.
This was hard, and I nearly gave up on my job search.
I then decided to return to my old job on a part-time basis. This was not a long-term solution, but it gave me the resources I needed to renew her job search in industry.
I used my time there to get back on a work schedule, start networking and volunteering. And focused full force on building my career.
Still, my efforts were not successful and I was again ready to quit my job search.
Thankfully, I had joined the Cheeky Scientist Association, and I slowly started to work through the CSA training material.
I gained more insights into the hiring process in industry.
I learnt about how to prepare industry resumes, informational and job interviews and networking.
This gave me the confidence to renew my job search.
Except for one problem.
In the CSA, I learnt about the many career options available to PhDs outside of academia.
However, I did not have a clear idea of what job I should aim for.
I could not identify which role would be the best for me, even after a lot of research online about career options.
So I made the mistake of networking in too many directions, and toward very different industries, to keep all my options open.
I began to apply to a wide range of jobs that were not a good fit for me.
And I was not successful in my efforts.
In fact, this approach was blocking my progress.
I refocused on building a real transition plan with the CSA training.
This time, I was strategic in my job search and looked for roles that would allow me to spend more time with my child.
Informational interviews helped me understand my career options and identify the organizational culture that would be the best fit for me.
After a lot of thought, I decided to try out a volunteer opportunity in project management.
I enjoyed my volunteer stint and did well in this role.
When the volunteer position was over, the department I worked in made me a job offer!
I am now working as a part-time Project Manager, successfully combining parenthood with a fulfilling career.
Why Career Planning & A Job Search Strategy Is Critical For PhDs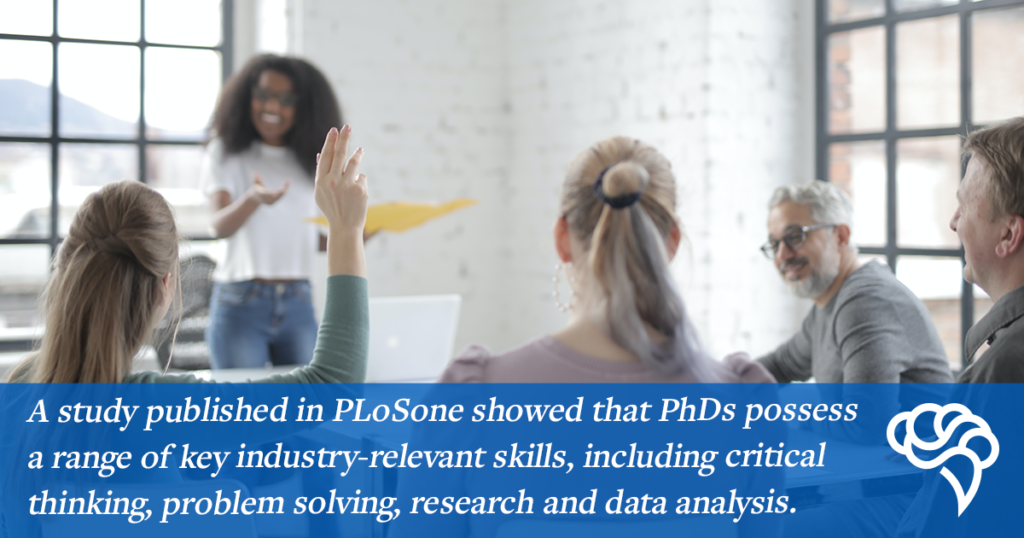 In academia, your supposed career path is fairly well defined. Get a PhD, do a postdoc(s), publish well, and try to get a professorship.
Not so in industry.
There are many career paths open to PhDs in industry.
In fact, industry is all-set to be the major employer of PhDs in future.
According to the U.S. National Science Foundation's (NSF's) biennial Survey of Doctorate Recipients, for the first time in 2017, industry hiring of PhDs was on par with academia.
Also, in industry people move across disciplines and hierarchy, changing careers very fast.
However, PhDs are generally not very well tooled to explore options outside of their research area, or proactive about career planning.
In the dwindling tenure ecosystem, this is not a good mindset to have.
Realize that as a PhD your skillset is incredibly diverse, you just need to adjust your perspective.
In fact, a study published in PLoSone showed that PhDs possess a range of key industry-relevant skills, including critical thinking, problem solving, research and data analysis.
Your interest in more than one area will be an asset while navigating your career journey.
So how does an academic PhD looking to transition to industry find a role that fits you best?
How will you decide which career path is the best for you, when there are so many choices available?
The best solution to finding the right career is to build the correct job search strategy.
3 Steps PhDs Should Follow For A High Quality Job Search Strategy
Academia is no longer the only, or even preferred, career path for PhDs.
Industry has a wide variety of roles that PhDs can transition into, and have successful and fulfilling careers.
Industry is not Plan B.
But to prepare for a successful industry transition, you need to be strategic, and build the correct transition workflow.
It takes discipline and effort to make a successful career transition to industry.
You can craft your own job search strategy using this 3-step guide…
1. Start networking to research your options.
Most PhDs spend endless amounts of time perfecting their resumes and uploading them to job postings they happen to see.
This is not a great job search strategy.
PhDs with a great job strategy spend their time networking.
Networking is the real starting point in your job search.
PhDs must increase their online presence and start building their professional network.
LinkedIn is a platform that you can leverage build your online presence and professional network.
An industry-oriented LinkedIn profile will show employers that you are serious about transitioning into an industry career.
It is also critical that you network with business professionals, people with MBAs, JDs, PharmDs, DDSs and MDs, not just other academic PhDs.
You can connect with these professionals in several ways – ask for introductions, become active in special interest groups on LinkedIn, interact with fellow alumni, share relevant posts online, and engage with other people's post.
Remember that PhDs get hired through loose connections.
You can build those connections through networking.
Networking is a great opportunity to learn more about industry roles, trends and get contacts that you can leverage.
You can set up informational interviews with the industry contacts you build. This will help you lay the groundwork for your transition.
2. Informational interviews are a goldmine.
Informational interviews are a goldmine of information that will be invaluable in your transition.
Networking also allows you to build relationships with industry professionals that can lead to job referrals.
You industry network can be a great source of insider knowledge about the role and company culture.
Your workplace is where you will spend 90% of your year.
That is why you need this information to decide whether that career option and company is a great fit for you.
Whether it suits the kind of career and lifestyle you would like to have, and in case of parents with young children, if it is family-friendly.
Informational interviews are also a great way for you to demonstrate your industry knowledge and business acumen.
In fact, there are occasions where a well-executed informational interview can even turn into an actual job interview.
Actually, a job that you accepted after having a referral and an understanding of the organizational culture will increase your job satisfaction by 13% according to Undercover Recruiter.
3. Try out positions you are interested in.
Sometimes, PhDs may still be unsure about the industry role even after all their information gathering.
The rigorous training that they receive can set them up to be successful in several careers, making it difficult to narrow down to a single option.
However, PhDs do not have to consider this a constraint.
In fact, the ability to work across disciplines and roles is a major advantage.
The Bureau of Labor Statistics reports that people born between 1957 and 1964 held an average of 11.9 jobs from ages 18 to 50 and a high percentage of younger workers had short duration jobs.
Just like in academia, the single career path or job-for-life in industry is not a default anymore.
Industry professionals change career paths, companies and industries, or more into higher positions within the same organization when exciting opportunities become available.
The industry-relevant skills you build during your PhD and throughout your industry career will be an asset in your career progress.
The network you created and the relationships you build will guide and support you throughout your career.
PhDs can, in fact, really have it all.
With the right career strategy and execution, of course.
As a PhD, you do not need an MBA to be successful in your industry transition. What you need is an excellent and strategic job search plan that will help you build your network, give you insights into the career options available and help you identify and transition into the role that is best fit for you. To achieve all that follow these 3 job search strategy steps, start networking to research your options, realize informational interviews are a goldmine, and try out positions you are interested in.
If you're ready to start your transition into industry, you can apply to book a free Transition Call with our founder Isaiah Hankel, PhD or one of our Transition Specialists. Apply to book a Transition Call here.
Get Free Job Search Content Weekly
ABOUT MARION LE VOYER, PHD
Marion Le Voyer, PhD, is a project manager for various initiatives in STEM, science education and outreach, and innovative in-situ analytical products. She works to enact coordination between scientists, educators, and communities.
More Written by Marion Le Voyer, PhD