Top 5 Reasons Your PhD LinkedIn Profile Is Not As Great As You Think It Is
As a PhD in academia, I never thought I would need a LinkedIn profile.
I was highly qualified and doing well with several publications.
I did not think I needed the support of an online platform to move forward in my career.
So when I became aware of LinkedIn during my PhD, I did not even create a profile on it.
I simply did not like the idea of online networking.
In fact I was biased against it; I strongly believed that I should be known and appreciated through my work.
Online networking seemed such a superficial way to interact, as a researcher I believed in having deep, engaging conversations with peers on absolutely everything.
Nothing would convince me to reconsider. Almost nothing, that is.
The penny finally dropped during a career workshop at an academic conference.
The workshop leader talked about the importance of LinkedIn for career advancement.
The workshop leader described LinkedIn as a tool to share and discuss state-of-art research and as a way to connect with professionals from distant places.
She also talked about LinkedIn being an indispensable tool for recruitment.
I was vaguely discomfited, but still not fully convinced.
Then, suddenly, the topic of LinkedIn seemed to come up everywhere – in conferences, journal clubs, career fairs, postdoc associations, you name it.
It seemed like there was no way around it.
I was still not excited about the idea, but looked up online about LinkedIn.
It seemed all right, but was it professional enough? Would the quality stay the same in the future?
After some thought I created my own LinkedIn account, and filled up my profile with minimum of details about myself.
I connected with a few known people.
I had no clue where this was going; being on LinkedIn had changed nothing for me.
Until I chanced upon an online webinar on LinkedIn.
It discussed about the ways in which one could leverage LinkedIn to make career progress.
It emphasized on being proactive in creating a professional LinkedIn profile and making one's presence known through networking and engagement online.
It also discussed about how an active LinkedIn presence attracts recruiters and job opportunities.
I was amazed. Clearly, there were careers to be made through LinkedIn!
It was then that I decided to try it.
I created a professional LinkedIn profile that told my story.
I reached out to connect with people I knew, and people that I found interesting.
I started posting links to articles, events or news that I found exciting.
I 'talked' to people whose posts I found interesting by commenting on them.
The results and response I received astounded me.
It seemed as though floodgates of opportunity opened for me.
Through my network and the resources that they were sharing online, I learnt many new things I had known nothing about.
People reached out to me to connect with me – professionals who were in advanced positions in their organizations, peers, students.
I even had recruiters reaching out to me to discuss potential job opportunities.
I was delighted!
Why A Great LinkedIn Profile Is A Key Job Search Element For PhDs
According to its parent company Microsoft, LinkedIn has 630 million professionals in over 200 countries registered as members.
Over 30,000 companies in the US use LinkedIn for recruiting new hires, and over 3 million US jobs are posted on LinkedIn every month.
Hiring trends in industry show that employers are increasingly factoring in the social media profiles of job candidates in their recruitment processes.
CareerBuilder reports that over 70% of employers use social media to screen candidates; 43% to check on their current employees.
That means, a professional LinkedIn profile and online engagement is a critical component of job search strategy for PhDs.
What does your LinkedIn profile look like?
Are you portrayed as an industry professional? Or a PhD student?
There are so many people using LinkedIn and you need to be identifying and building relationships with relevant parties.
According to a study by Federal Reserve Bank of New York, job candidates referred by an internal employee are 40% more likely to be hired in that company.
Have you been getting referrals?
It's time to switch up your LinkedIn strategy so you can start getting job referrals that get you hired.
A professional LinkedIn profile can get you hired in industry.
Top 5 Reasons Your LinkedIn Profile Is Not Helping You In Your Job Search
In academia, PhDs are used to doing their research independently and then publish it to build their credibility as experts in their field.
All career progress in academia proceeds from there – publications and references from research supervisors are the currency that gets them the next job.
The next job is usually another postdoc.
Industry hiring decisions are made differently.
In industry, employers are looking not only at specialist know how but also transferable skills and behavioral profiles of job candidates.
Employers pay close attention to a candidate's social media presence and footprint while making their hiring decisions.
As the world's largest professional social media platform, LinkedIn is the first place employers will check to vet a candidate.
A well-crafted LinkedIn profile and online engagement are key to making a great impression on prospective employers.
However, many PhDs do not invest enough effort toward building their LinkedIn profiles.
These are the top 5 reasons why your LinkedIn profile can fail to make a great impression…
1. Your LinkedIn lacks a 'Personal Brand'.
Although branding is a concept for businesses, the increasing influence of social media has made it important for job seekers to build a personal brand.
What is a personal brand?
According to Jeff Bezos, the founder of Amazon, "Your brand is what people say about you when you're not in the room."
In other words, an individual's personal brand is the unique combination of skills and experience they possess that can be of value to the company.
It is a person's unique value proposition.
What is your UVP?
What image do you want to portray online?
What image are you currently portraying?
PhDs must master the art of managing their online presence and reputation in order to stay current in the job market.
Job seekers must be ready and able to communicate clearly who they are and what value they can bring to the company.
PhDs must focus on creating an effective and credible personal brand that helps them build trust with employers.
A well-crafted, professional LinkedIn profile with key details that tell a story is a great asset for PhDs looking to transition into industry careers.
2. Your LinkedIn network is stagnant.
A great LinkedIn profile is critical part of job search strategy, but it is not enough to get an industry job.
A great LinkedIn profile is only the first step.
PhDs serious about their job search must get serious about networking.
Networking is the key that will open career opportunities in industry for you.
LinkedIn is the world's largest professional online platform and it is where employers go to look for their future hires.
A major advantage of LinkedIn is that it is an online platform, with members from over 200 countries.
According to Forbes, over 45% of people on LinkedIn are upper management.
These are the people who make hiring decisions in their companies.
No matter where you are located, you can leverage LinkedIn to connect with these people and build a network that will facilitate your career transition.
PhDs can discover valuable industry contacts through special interest groups, alumni associations and their second-degree connections on LinkedIn.
You can then network with industry professionals and build relationships that will help you advance your career.
Just having a profile and then sitting back is not enough.
You need to build a network around you.
A personalized, professional approach to connecting with industry professionals will help build a solid network over time.
3. You are not engaging with your network.
An excellent LinkedIn profile and robust professional network are a great way to start building a solid job search strategy.
However, a passive online presence, even on LinkedIn, is not sufficient to land a job.
You cannot just sit back and expect people to come to you.
No one knows who you are.
What will actually drive a PhD level job search is your engagement on LinkedIn.
A great LinkedIn profile will tell your network of your accomplishments, expertise and interests so far in your career.
It does not demonstrate the transferable skills you will bring to your future roles.
You can leverage LinkedIn to highlight your transferable skills by communicating and interacting with people on the platform.
Professional comments on relevant LinkedIn posts, sharing valuable content or information online, joining special interest groups are all ways to demonstrate transferable skills.
It will make your profile stand out and show recruiters that you are serious about your career and job search.
It will help you secure informational interviews that will give you precious knowledge and insights into the role and company you are interested in joining.
Plus, the more active you are on LinkedIn the more that the LinkedIn algorithm will show your profile to potential employers and recruiters.
4. You are not nurturing the people in your network.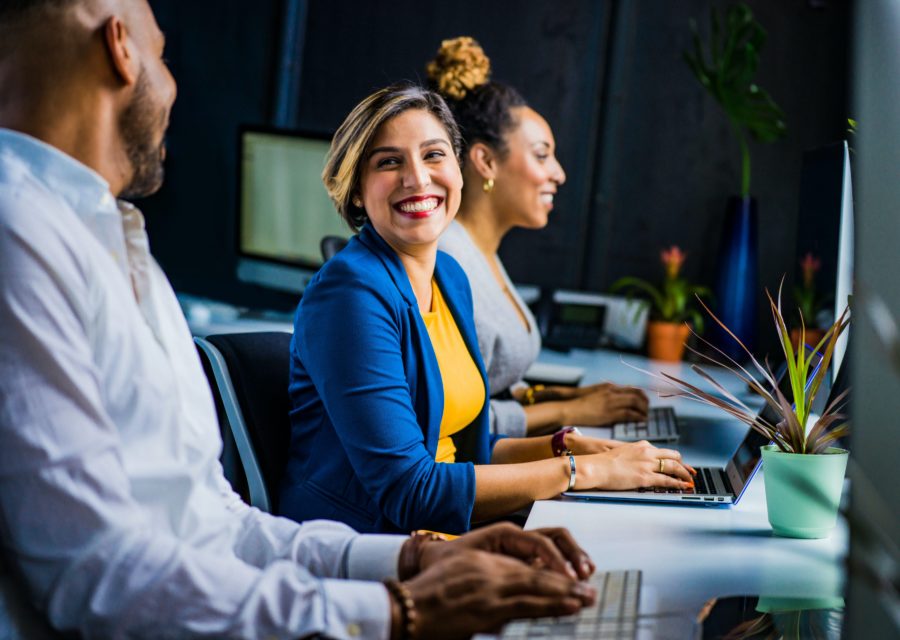 The ultimate goal of networking on LinkedIn is to secure a job referral.
The key to securing a job referral is through building rapport and trust in your relationships with industry professionals in your network.
The best way to build rapport is through consistently adding value to your network, showing interest and commitment to their cause.
In an ideal networking scenario, the relationship comes to an optimal point where requesting or receiving a referral comes naturally.
Build your network before you need it.
Always give before you ask.
Nurture your network continually.
Add value.
Always add value.
Actively seek opportunities to add value to your network.
You can add value to your network through celebrating their success, sharing your knowledge or resources, connecting people in your network to each other and valuing their advice or contributions.
Adding value to your current network will ensure that you will receive critical support in your job search from your when you need it.
Yes, this takes effort.
You will need to commit to learning about the people in your network and spend time investing in the relationships you have with them.
But it will benefit you.
Don't skimp on this part of your LinkedIn strategy, it is the most important piece.
5. Your network consists of just other PhDs.
Have a look through your LinkedIn contacts.
If the majority of them are PhDs or are people in academia you need to make a shift.
People in academia cannot help you get hired in industry.
You need to talk with more than just other PhDs when making your transition out of academia.
A diverse network is critical in facilitating key career transitions.
Additionally, you are not going to have the same job forever.
This means that you must prepare for job changes throughout your careers.
Job or career change can come through promotions within or across departments in the same company, or through change in employer or field.
Regardless of what stage you are at in your career, you must be continually building, nurturing and diversifying your network.
Remember that your network is your net worth.
PhDs preparing for a career in industry must learn to leverage the power of their network to forge ahead in their careers.
Never forget that many excellent opportunities in your career will come through loose connections!
A great LinkedIn profile is a key part of your job search strategy as a PhD. A well-crafted LinkedIn strategy will help you get hired, while a poorly conceived strategy will hinder you. If your LinkedIn lacks a 'Personal Brand', your LinkedIn network is stagnant, you are not engaging with your network, you are not nurturing the people in your network and your network consists of just other PhDs then you need to reevaluate your LinkedIn strategy in order to find success in your job search.
If you're ready to start your transition into industry, you can apply to book a free Transition Call with our founder Isaiah Hankel, PhD or one of our Transition Specialists. Apply to book a Transition Call here.
Get Free Job Search Content Weekly
ABOUT SURAYYA TARANUM
Surayya is a PhD in Biochemistry and is currently a cohort member at Entrepreneur First in Paris. She is also Director of Membership at the Healthcare Businesswomen's Association Paris Chapter, and Communications Lead in its Entrepreneurship Group for Women. Surayya is passionate about biology, science communication, and inclusive leadership. She is also an avid reader and hiker.
More Written by Surayya Taranum