How To Use LinkedIn To Find The Best Data Scientist Jobs
For the past four years, data scientist has been ranked among the best jobs in America by Glassdoor and it's easy to see why:
Data scientists command a median salary of $123,263 and they have one of the highest job satisfactions in the market.
That's not a bad position to find yourself in!
Right now, we're in the age of big data. The problem is, there aren't enough qualified data scientists to satisfy the need for their skillset.
If you have a PhD in data analytics or data science, finding a job shouldn't be hard. However, you don't want to jump at the first offer that you see. Before you make a decision, you need all the data and the best place to find open job positions is on LinkedIn.
Let's talk about how to find the perfect data scientist job on LinkedIn.
Step 1: Look For Companies Actively Recruiting Data Scientists
One of the best aspects of using LinkedIn is that the platform enables you to look up companies that are actively recruiting for almost any job that you can imagine.
If you use LinkedIn's search feature to look up "data scientist" jobs, you should find a lot of options—if you're not living in the middle of nowhere, that is.
To get started, take a look at the results that show up when you look for data scientist jobs on LinkedIn and filter them according to your experience level and location to ensure that you're getting the right results.
Then pay attention to the companies that specify they're actively recruiting since you'll be sending job applications shortly.
Look at the companies that are actively recruiting and make a list of those that you consider interesting and noteworthy, or that you know are great places to work at.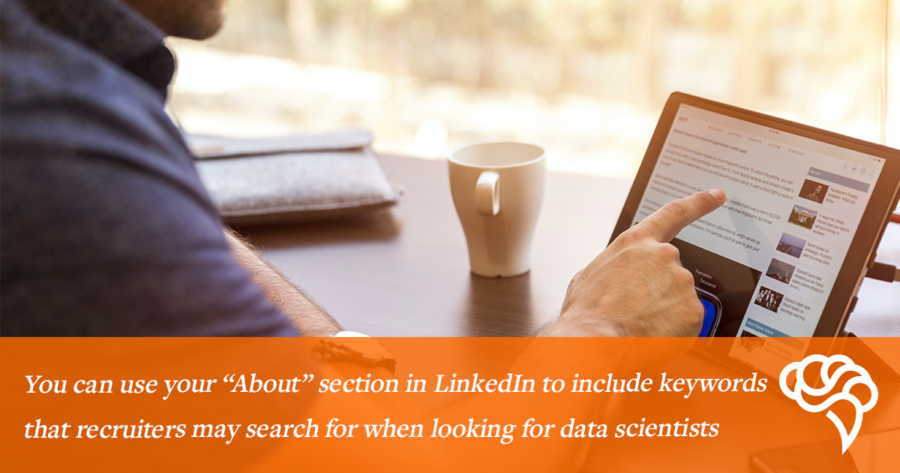 Step 2: Analyze Data Scientist Profiles For The Companies That You're Interested In
Now that you have an idea of which companies to target, it's time to take a look at some of the profiles of data scientists that are already working there.
Your goal is to identify standout data scientist user profiles.
For the best possible results, you should focus on senior level data scientists since their profiles are likely to be more fleshed out.
Now it's time to analyze what sets those profiles apart. That includes what their "About" section looks like, their experience, education, skills, and endorsements.
Since you already have a degree in data science, you want to pay special attention to the "skill endorsements" section.
Make a list of the skills that you see on the profiles that you analyze and identify what the most common elements are. Some of the most common skills that you'll see include:
Data analysis
Data mining
Mathematical modeling
Computer science
Statistics
Algorithms
Thanks to your academic and professional experience, you should be highly qualified in several skills that you'll see pop up on other data scientist's profiles. In the next step, we're going to add them to yours.
Step 3: Optimize Your LinkedIn Profile For Data Scientist Jobs
Before you start applying for data scientist jobs on LinkedIn, you need to optimize your profile using all the information that you've collected so far.
The first thing that you have to do is rewrite your profile's "About" section, to ensure that it highlights any unique experiences you might have in the field that make you stand out from other applicants.
More importantly, you can use your "About" section to include keywords that recruiters may search for when looking for data scientists, such as:
Big data
Analytics
Machine learning
Python, Hadoop, or Pivotal
Predictive modeling
Those are just a few examples, and remember: your "About" section should only reflect your strongest skills. Make sure you don't overdo it when it comes to keywords.
Next up, you want to focus on your profile's "skill endorsements" section.
In the last step, you have identified which skills are most popular among high-ranking data scientists in top companies. Now, it's time to see which of these skills you can add to your profile and get endorsements for.
Assuming that you already have an extensive LinkedIn network in place, getting endorsements from colleagues and professional acquaintances shouldn't be a problem.
If you're new to the platform, you might need to spend some time connecting with other professionals in your field and in data science careers.
Otherwise, you won't be able to take a peek into many profiles for data scientists already working in the companies that you want to target.
Step 4: Reach Out To Data Scientist Recruiters And Apply To Jobs Directly
So far, you've focused on research and preparation. Now it's time to start working on outreach. With LinkedIn, there are two approaches that you can take:
Connect with recruiters. Recruiters often have leads on jobs that might not show up on LinkedIn and they can help you connect with employers directly instead of competing against hundreds of applicants.
Apply to jobs directly. Your goal is to find a data scientist job on LinkedIn and the only way to do that is by applying to the companies that you know are hiring.
Ideally, we recommend that you combine both approaches. Using LinkedIn's search feature, you can look for "data scientist recruiters" and see who's operating in your area.
Even if the recruiters that pop up aren't a part of your network, go ahead and request a connection.
Keep in mind that recruiters have to navigate a lot of low-effort messages, particularly for competitive fields such as data science. If you want your message to stand out, make it personal!
Mention companies they've worked for, what your interests and expertise are, or ask questions about how to apply to data scientist jobs.
As far as applying to companies directly, go ahead and search for "data scientist" jobs on LinkedIn again.
You'll probably see the same list of companies that appeared during step one—only now you're ready to apply to them with your brand-new optimized profile.
Want more tips on how to get the most out of LinkedIn? Our Complete LinkedIn Guide For PhDs can help!
Get Free Job Search Content Weekly
ABOUT ISAIAH HANKEL, PHD
CEO, CHEEKY SCIENTIST & SUCCESS MENTOR TO PHDS
Dr. Isaiah Hankel is the Founder and CEO of Cheeky Scientist. His articles, podcasts and trainings are consumed annually by millions of PhDs and other professionals in hundreds of different countries. He has helped PhDs transition into top companies like Amazon, Google, Apple, Intel, Dow Chemical, BASF, Merck, Genentech, Home Depot, Nestle, Hilton, SpaceX, Tesla, Syngenta, the CDC, UN and Ford Foundation.
Dr. Hankel has published 3X bestselling books and his latest book, The Power of a PhD, debuted on the Barnes & Noble bestseller list. His methods for getting PhDs hired have been featured in the Harvard Business Review, Nature, Forbes, The Guardian, Fast Company, Entrepreneur Magazine and Success Magazine.
More Written by Isaiah Hankel, PhD