PhDs Have to Know These 5 Facts About Medical Science Liaisons
Some of us are lucky enough to land our dream jobs — I'm not one of them.
To be clear, I absolutely did get hired to perform my dream job.
But it wasn't a matter of luck – that's for sure.
My PhD was the factor that allowed me to achieve success, and I worked incredibly hard to get it.
Thanks to my other efforts in networking and good resume tactics, I got an offer for my first industry job just a few days before my dissertation defense.
This offer didn't represent my ideal position, but it was a stepping stone on the road to what I really wanted to be: a medical science liaison.
So I accepted my first industry job as a clinical scientist, but I never lost sight of my goal.
From the beginning of that first job, I communicated to my manager that I dreamed of getting into medical affairs.
He was very supportive of my passion, and he allowed me to work closely with the VP of Medical Affairs at our company.
I performed extra work as a core member of the Medical Affairs team in addition to my role in Clinical Development.
This was an amazing opportunity to pick up experience in my ideal field of work.
Once a position opened up, I had planned on applying for the position of medical science liaison.
Eventually, I learned that the company was not interested in developing a medical science liaison team at that time.
So I started looking at new opportunities, leveraging my scientific background (neurology) and my experience in Medical Affairs.
After more networking, reaching out and interviewing, I got three offers for medical science liaison positions.
I picked the one I liked, and the recruiter actually managed to get me near the top salary range for my experience level!
If you're looking to transition into your own career as a medical science liaison, this is the first piece of advice I want to impart:
Hang in there!
Perseverance is key, and the right opportunity will come to you if you continue to look for it.
How Highly Does Industry Value Medical Science Liaisons?
Even at the entry level, a career as a medical science liaison is very lucrative.
It's true that PhDs can expect excellent industry salaries, but medical science liaisons are special cases.
Data from Payscale indicates that medical science liaisons with entry-level experience can expect an average base salary of $116K.
This is a high-demand position, and it's reflected in the pay.
Additionally, the Bureau of Labor speculated that medical science positions in general are experiencing a faster-than-average growth rate of 8%.
Other countries might have different titles for this position, like "medical associate" or something similar, but worldwide, it's a very popular position for PhDs.
Not to mention the networking opportunities — 98% of medical science liaisons stated that they manage relationships with key opinion leaders (KOLs) in the industry.
This is a standard part of the job, and a KOL is definitely the kind of contact you want in your professional network.
5 Things To Know Before You Become A Medical Science Liaison
Are you looking for a job that allows you to stay close to science?
How about a job with a lot of opportunities to travel around the country?
A medical science liaison gets to do exactly these things, and a lot more.
This is an awesome career, and a lot of PhDs would be well advised to learn about what it takes to succeed in the role.
This list is a great place to start — let's talk about a few key points to get straight before you become a medical science liaison.
1. Here's what medical science liaisons do (and what they don't).
A Medical Science Liaison works in the fields of pharmaceuticals, biotechnology, medical devices, or similar healthcare arenas.
They interact heavily with personnel from hospitals, pharmaceutical companies, universities, and similar institutions.
Importantly, medical science liaisons also build and maintain relationships with leading medical doctors and researchers, also known as key opinion leaders.
The core responsibility of this job is to ensure the proper use of medical products and act as an expert scientific consultant with broad business acumen in the medical field.
One misconception to correct?
Medical science liaisons are not salespeople.
They're not even permitted to discuss drug prices when interacting with other medical professionals.
Instead, they'll discuss only the scientific aspects of medicine and other products.
Medical science liaisons focus on science education and building relationships with key opinion leaders.
2. Clinical experience is highly valuable, but not necessary to get the job.
PhDs might assume they can't be medical science liaisons because they lack clinical experience.
This seems like a reasonable assumption, right?
Previously, medical science liaisons were MDs, pharmacology experts, or experienced sales representatives with strong scientific backgrounds – but now, PhDs have officially surpassed them.
Many of the biggest pharmaceutical companies hire medical science liaisons without any clinical experience whatsoever.
Consider that as time goes on, medical product scrutiny tends to increase, and more stringent regulatory guidelines are instated.
With more focus on providing scientific evidence for drug and treatment efficacy, there is a rising demand for medical science liaisons with strong scientific backgrounds. (Like STEM PhDs!)
As a PhD, you're a doctor of learning – you can learn about any drug, treatment, or medical device that you need to.
You're already qualified and able to have high-level scientific discussions with key opinion leaders.
This is not to say that clinical experience isn't useful – it's highly useful in both acquiring and navigating the job.
In fact, a PhD combined with clinical research experience is considered, by some industry experts, to represent the best possible preparation for a medical science liaison job.
Of course, if this career is what you want, don't let medical inexperience stop you.
The relevant clinical experience can be gained by any resourceful PhD who puts forth their best effort.
3. Key opinion leaders are the biggest part of the role.
As a medical science liaison, most of your time will be spent supporting key opinion leaders.
These are usually medical professionals of some kind who will prescribe drugs, employ treatments, or use medical devices produced by the company you work for.
A medical science liaison needs to be able to have highly technical, science-based conversations with these leaders.
The ability to have these conversations represents a talent, and it's part of why you, as a PhD, can be hired into a role like this much faster than anybody else.
The other aspect of medical science liaison/KOL relationships is feedback so there is still a bit of marketing involved in the job.
You'll take KOL feedback to your company and relay any insights you have, such as:
What do the KOLs think of the product?
Is it being effectively used?
If it's a treatment, what do MDs report about their results with target patients?
Can the product be refined to better suit its users?
How difficult is it to teach KOLs about using the product?
So while it's true that you'll be having in-depth conversations and even conducting scientific presentations, your PhD represents a surplus of training in this arena.
4. You'll need plenty of clinical business acumen.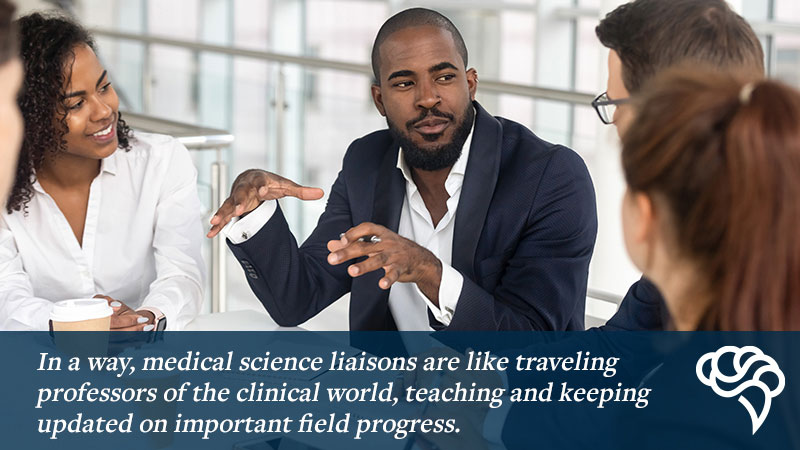 Business acumen can be thought of as an awareness of your particular field.
As a medical science liaison, this will be a crucial component of your job.
For example, drug timelines represent foundational knowledge for any medical science liaison.
You'll need to be aware of ongoing medical research, the current status of medical treatments, and how various medical devices operate.
In a way, medical science liaisons are like traveling professors of the clinical world, teaching and keeping updated on important field progress.
But ultimately, the full scope of your study will depend on your company.
If you're working for a pharmaceutical company, for example, awareness of drug timelines and functionality will be a priority.
And after that drug is on the market, you can expect to support it among your network of KOLs, providing assistance and answering questions.
In fact, most of the work is done by a medical science liaison after the product is available.
Expect to read about your product, set up informational interviews with relevant clinical personnel, and keep a network of other medical science liaisons for information sharing.
5. Regulations are important, and medical science liaisons must know them well.
Never ignore regulations!
A lot of medical companies have a regulatory affairs department, which keeps track of company maintenance in terms of legal regulations.
Depending on your country, regulations level injunctions that prevent companies from bribing doctors to push a medication, issuing kickbacks, or anything else that might go outside the bounds of good science.
With the addition of medical science liaisons, companies have a way to contact KOLs without trying to market their products.
A medical science liaison is meant to freely discuss the science of a product with KOLs, and without any pressure to make sales.
Marketing is removed entirely from the purview of a medical science liaison's job, avoiding any kind of bias that would lead to unfair promotions of a product.
But you still need a thorough knowledge of the regulations, and familiarity with them can even be helpful in securing the job in the first place.
In summary, here's what medical science liaisons do (and what they don't):
They network with key opinion leaders
They teach proper use of clinical products
They travel and present on various scientific data
They don't sell products
Clinical experience is highly valuable, but not necessary to get the job. Scientific discussions are a core part of being a medical science liaison, and informed conversations with key opinion leaders are the biggest part of the role. You'll need plenty of clinical business acumen, but this you can pick up if you don't have it already. Finally, regulations are important, and medical science liaisons must know them well.
Ready to get serious about your future career as a medical science liaison? Our MSL Alliance program is your best bet. Membership includes instant access to comprehensive core modular training for the MSL role, exclusive guides to clinical trial assessment, extensive video training from MSL professionals, and more. This private online network of medically focused PhDs will be your first big step toward one of the most rewarding science-based positions that industry has to offer. You have the talent and the education – we've got the resources. Get on the waitlist for the MSL Alliance today, and take your industry career potential to its maximum.
Get Free Job Search Content Weekly
ABOUT MINSU KANG, PHD
Minsu Kang, PhD, holds a degree in Neuroscience. His chief expertise lies in neurodegenerative diseases, a vast corpus still dense with secrets of life-changing import. Throughout Minsu's career, he has designed and executed various experiments to study axonal transport defects in Huntington's, Alzheimer's, and Parkinson's. From this dedicated brain research has stemmed new neurological discussion - Minsu has shared his exciting findings with local research forums and national conferences for professional societies.
More Written by Minsu Kang, PhD