The PhD's Guide To Picking The Best Industry Data Scientist Jobs
When I started the long road toward my doctorate, I never would have put "PhD" and "unemployed" in the same sentence.
Nevertheless, that's the reality 60% of all PhDs will face at some point in their career.
You might even be living (or soon facing) that reality right now.
With more universities scaling back in-person classes in favor of virtual learning, you can expect those secure full-time professorship jobs to grow fewer by the day, too.
Why offer a tenured position when you can just hire low-paid adjuncts – especially with online courses becoming the norm?
Fortunately, PhDs in data science face a particularly bright industry future, at least compared to other fields.
The Bureau of Labor Statistics expects computer and information research roles like data science to grow by 15% before 2030.
Oh, and median wages? Over $122 thousand per year – plus benefits, of course (not to mention the feeling you get from meaningful and well-compensated work).
In fact, it's all about big data right now. Every company is scrambling to find the best and brightest for roles like business intelligence, analysis, machine learning, and so much more.
Hint: That's you!
But what are the best data scientist jobs anyways? How do you know which roles are the most secure, rewarding, and well-compensated?
Let's take a look.
5 Of The Best Data Scientist Jobs For Finding Your Place In Industry
Here's the cool thing about data science: almost every industry needs data scientists, they have data scientist jobs. And companies don't want just any data scientist. They want data scientists with at least a master's degree.
Once you find a role that fits your background and interests, you can start building any missing skills or experience.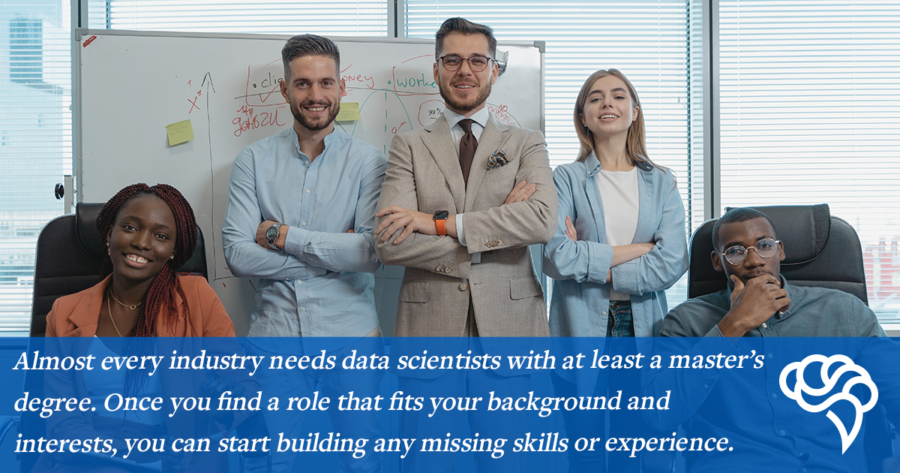 1. Machine Learning Engineer
Average base salary: $114,121
Companies in just about any industry you can imagine are hiring machine learning engineers and scientists – social media companies, tech giants, communication, government contractors, video games, entertainment, etc.
You'd create data funnels, algorithms, and software programs to carry everything out. Machine learning engineers or scientists also organize ongoing tests to improve the algorithms and consistently research fresh approaches.
2. Business Intelligence Analyst or Developer
Average base salary: $81,514
Companies across all industries are also hiring data scientists to help them develop and improve internal business processes. The biggest companies today operate globally. Global business requires macro and micro data infrastructure to make sure everything runs without a hitch: supply chains, logistics, interdepartmental communication, IT security, etc.
Not only that, but businesses need data scientists to help them research and optimize solutions for streamlining the customer experience and how each department interacts with customers.
In other words, you've got plenty of opportunities to find your place in business intelligence as a data scientist.
3. Data Modeler
Average base salary: $78,548 – with some positions starting at $100,000+
Every company today has more data than they know what to do with – literally. Shareholders and C-level managers are not data scientists. In other words, they need someone to transform their raw data into digestible visualizations.
Marketing trends, predictive analytics, churn rates, sales figures, audience demographics, sales trends, etc. You'll need a decent background in programming and statistics, but choosing an industry specialization can put you on an excellent long-term trajectory as a PhD.
4. Database Developer
Average base salary: $73,506 – with many positions starting at $100,000+
Remember, average salary positions usually apply to applicants with a bachelor's or master's degree. With the right approach and skills, your PhD gives you leverage to reach for the higher paid positions or negotiate higher salaries than what's listed.
As a database developer, your job is essentially to make a business's data more efficient. Most businesses struggle with clunky data systems, siloed data, and tons of other data management issues.
You'd find new ways to securely integrate data across departments, make data more accessible, program new data systems, clean up poor coding, run tests, and fix problems as they arise. The data developer role can be extremely frustrating for some people, but if you like a constant challenge, you'll find the role rewarding.
5. Infrastructure Architect
Average base salary: $107,309 – some starting at over $140,000
Infrastructure architects – or cloud infrastructure architects – have an important high-level job to do. You put your skills to work ensuring that an entire business's system is running efficiently and ready to take on new technology.
This is one of the best data scientist jobs for PhDs because it provides a level of independence you'll appreciate. Plus, you get to put your research skills to work finding new solutions to problems as they pop up. (The salary and bonuses aren't bad either.)
Land The Best Data Scientist Jobs With The Right Skills And Approach
One problem. Most companies hiring PhD-level data scientist positions want at least three years of industry experience.
You have a few options. First, you could start at a lower-level (yet still well-paying) role to prove yourself and work your way up. Second, you can shoot your shot with the right resume, transferable skills, and networking.
Remember, these companies are scrambling and competing with each other to hire the best data scientists available – from around the world! Data science is the new space race when you consider AI development.
You deserve the best, so why not go for it now? Without industry experience, you want to start strong:
A concise and digestible resume designed for the role in question and your relevant experience.
Transferable skills as they apply to the role – like teamwork, delegating, project management, etc.
A comprehensive and active network of other data science PhDs and industry workers at all levels within your field.
Interpersonal skills to carry your personality via your resume, networking interactions, and social media.
Develop any additional professional skills relevant to the role that you haven't developed in your research or coursework. Take courses and internship projects for experience if you have to.
If you're ready to start your transition into industry, you can apply to book a free Transition Call with our founder Isaiah Hankel, PhD or one of our Transition Specialists. Apply to book a Transition Call here.
Get Free Job Search Content Weekly
ABOUT ISAIAH HANKEL, PHD
CEO, CHEEKY SCIENTIST & SUCCESS MENTOR TO PHDS
Dr. Isaiah Hankel is the Founder and CEO of Cheeky Scientist. His articles, podcasts and trainings are consumed annually by millions of PhDs and other professionals in hundreds of different countries. He has helped PhDs transition into top companies like Amazon, Google, Apple, Intel, Dow Chemical, BASF, Merck, Genentech, Home Depot, Nestle, Hilton, SpaceX, Tesla, Syngenta, the CDC, UN and Ford Foundation.
Dr. Hankel has published 3X bestselling books and his latest book, The Power of a PhD, debuted on the Barnes & Noble bestseller list. His methods for getting PhDs hired have been featured in the Harvard Business Review, Nature, Forbes, The Guardian, Fast Company, Entrepreneur Magazine and Success Magazine.
More Written by Isaiah Hankel, PhD