How To Choose The Career Track That's Best For You
If you've recently decided you want to leave academia, chances are you don't know what is the first step you have to take in your job search.
You've probably heard of other PhDs leaving academia. You've heard that they now work as user experience researchers, business development managers, management consultants, medical science liaisons (MSL), or data scientists and think you could fit into those positions as well.
But have you stopped to consider what it actually means to work at any of these positions day after day?
Not considering how those fancy job titles match their desired professional lifestyle is a common mistake PhDs make when they start planning their transition.
Maybe you're interested in an MSL or management consultant position because you've heard they come with good salaries, but haven't stopped to consider these positions require a lot of travel.
Maybe you're desperate to leave academia and therefore think that any industry position is worth taking.
These are recipes for disaster.
Many PhDs have found industry positions where they are thriving and making significant contributions, but many are just as miserable as they were in academia after their transition, or even more.
The key to end in the first group is to determine your desired lifestyle and then find an industry position that aligns with it, instead of targeting job titles.
Take for example, the following story that was shared by one of our members a couple of years after transitioning.
I decided I wanted to leave academia in the middle of my PhD. At that time, it seemed like an impossible task.
The only industry positions I knew of were R&D scientist and sales rep. None of which seemed like a good fit for me. So, I felt lost and worthless.
Once I joined Cheeky Scientist, I started going through the transition plan, which kept talking about determining my desired lifestyle before focusing on the actual positions.
At the beginning that didn't make any sense. I thought that there were so few options for me outside of academia, I didn't have the luxury to consider my desired lifestyle.
But as I kept going through the transition plan, I started to better understand my options and my value as a PhD.
I pinpointed the components of my ideal professional lifestyle: remote working, flexible schedule, no bench work, communication-intensive…
Once I determined my desired lifestyle, I was able to target positions that aligned with that, which led to increased satisfaction both for me and my employers once I finally transitioned.
How To Determine Your Ideal Professional Lifestyle
So, how do you determine your desired lifestyle?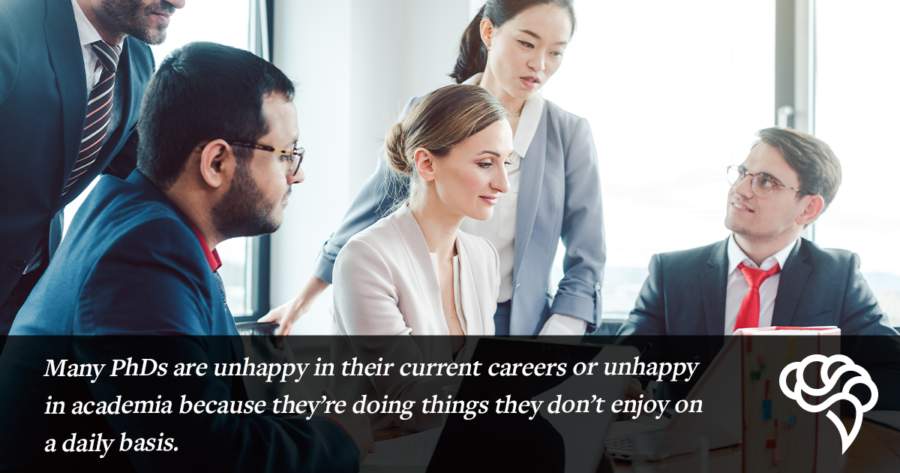 Start by figuring out what a perfect day looks like job-wise. What does a perfect week look like?
You can also consider what an average day looks like in academia and pinpoint the things you like the most and those you like the least.
Maybe you love performing experiments, but hate writing papers and grants. Or you love presenting in front of and interacting with large groups of people at conferences, but hate analyzing data on your own for hours on end.
Take a mental note of that. Many PhDs are unhappy in their current careers or unhappy in academia because they're doing things they don't enjoy on a daily basis.
You will never achieve professional fulfillment if you're doing things you don't like on a daily basis or an hourly basis.
I want you to get granular in terms of your professional lifestyle, picture your perfect day and your perfect week in your new career.
There are no right or wrong answers, these will look different for everyone. But be honest about what it's important to you.
Ask yourself the following questions:
What are you doing?
Are you working with a small team or a large team?
Are you presenting, traveling in the field, working with data, or writing all day?
Do you spend a significant amount of time in meetings?
Are you developing new products or improving existing products for your company?
Do you play a role in selling products or services for your company?
Are you working in the private or public sector?
Do you interact with people from different departments or just with your peers and direct managers?
Do you interact with the final client, regulatory agencies, or other stakeholders outside of the company?
Once you determine your professional lifestyle, you need to find the positions that better match it. Since there are over 20 PhD-level industry positions, this can be a bit tricky.
So, I recommend that as a first step, you consider the core career tracks that are available to you in industry and determine which one is a better fit.
Then, you can further explore your desired career track to find your target individual position.
5 Core Career Tracks Available To Every PhD
As a job candidate with an extensive technical background, you can excel at many top-level industry positions.
We have broken these down into five major career tracks, based on the kind of impact you want to have in your career and the tasks you like to do on a daily basis.
Below, we will take a look at each of the career tracks so you can compare and contrast them and determine which one is a better fit for you.
Once you have your core career track figured out, you can look into individual positions, which we will explore in future blogs.
1. Information, aggregation, and patents
This career track is right for you if you want to learn about, write about, edit, analyze, and patent the latest innovations and information related to these innovations. 
In other words, this is a good fit for you if you like to dig through information – research and analyze existing data, draw conclusions, and come up with actionable steps based on those analises.
The first core career track is so broad, it can be divided into three sub career tracks: intellectual property, writing and editing, and information and data management.
In the first sub-career track, you'll work helping companies register and protect their innovations so they can make them profitable. This track includes positions like patent examiner and technology transfer officer.
The second sub-career track is for those who want to deal with written data. This includes positions like technical writer or editor.
The final sub-career track focuses on extracting insights from numerical data and includes positions like data scientist and business analyst.
2. Sales and marketing
The sales and marketing career track is right for PhDs who want to communicate product information, build professional relationships, and/or engage in client-facing activities.
In this career track, you'll work with finalized products that are ready for commercialization and will have to display your client-facing skills.
This career track includes positions like application scientist, product manager, and technical sales specialist.
3. Research and development (R&D)
Unlike the previous career track, if you go the R&D route, you'll be developing new products or services that will hopefully be commercialized someday.
This career track is for those who want to conduct and manage research, test, analyze, and develop concepts, products, systems, and treatments.
If you don't like to do research, or designing and setting up experiments was your least favorite part of grad school, this career track is likely not for you.
But if these are the tasks you enjoy the most, you should further explore this career path, where you will work at the forefront of innovation in different industries.
The R&D career track includes job titles like R&D scientist or engineer, project manager, and user experience researcher.
4. Clinical and medical affairs
The fourth core career track is ideal for PhDs who want to liaise with medical staff and, or be involved in regulation and development of medical drugs, treatments, implants, and devices. 
If you don't want to work in a clinical setting with clinicians, or be involved with clinical trials, this career track is likely not right for you.
But if you think you'd enjoy serving as a bridge between your company and other stakeholders like clinicians, regulatory agencies, and key opinion leaders (KOLs), you should definitely take a closer look at this growing career path that includes job titles like clinical research associate, clinical trial manager, and medical science liaison.
5. Business, finance, and policy
The fifth career path is a good fit if you want to analyze and solve modern and classical business problems, understand business numbers, or influence scientific and business policy.
This is hardly the first career path that PhDs consider when they start to plan their transition, but it offers many opportunities to make significant contributions in the public and private sector.
This broad career path comprises three sub-career paths: financial services, business and strategy, and research policy, funding, and government.
In the first sub-career path, you'll be solving current problems faced by the financial sector. This path includes positions like quantitative research analyst and equity research analyst.
In the second sub-career path, you'll be solving classical business problems and can find positions like management consulting and business development manager.
The final sub-career path focuses on influencing scientific and/or business policy and includes job titles like science public policy advisor and grant facilitator. If you choose this path, you'll probably work for or in close proximity to the public sector.
Concluding Remarks
Landing any industry job doesn't guarantee that you'll have a fulfilling career. You need to find a job that aligns with your desired professional lifestyle to ensure job satisfaction. So, instead of chasing fancy-sounding job titles, start your job search by determining what your ideal work day and week look like. Once you have pinpointed your desired lifestyle, take a look at the 5 core career tracks that are available for PhDs in industry and determine which one is a better match for you. The five core career tracks are: information, aggregation, and patents; research and development; clinical and medical affairs; and business, finance, and policy. Once you have determined your top career track, it'll be time to look at the individual positions in more detail so you can focus your job search on positions where you'll make a significant contribution and have the professional satisfaction you deserve as a PhD.
If you're ready to start your transition into industry, you can apply to book a free Transition Call with our founder Isaiah Hankel, PhD or one of our Transition Specialists. Apply to book a Transition Call here.
Get Free Job Search Content Weekly
ABOUT ISAIAH HANKEL, PHD
CEO, CHEEKY SCIENTIST & SUCCESS MENTOR TO PHDS
Dr. Isaiah Hankel is the Founder and CEO of Cheeky Scientist. His articles, podcasts and trainings are consumed annually by millions of PhDs and other professionals in hundreds of different countries. He has helped PhDs transition into top companies like Amazon, Google, Apple, Intel, Dow Chemical, BASF, Merck, Genentech, Home Depot, Nestle, Hilton, SpaceX, Tesla, Syngenta, the CDC, UN and Ford Foundation.
Dr. Hankel has published 3X bestselling books and his latest book, The Power of a PhD, debuted on the Barnes & Noble bestseller list. His methods for getting PhDs hired have been featured in the Harvard Business Review, Nature, Forbes, The Guardian, Fast Company, Entrepreneur Magazine and Success Magazine.
More Written by Isaiah Hankel, PhD